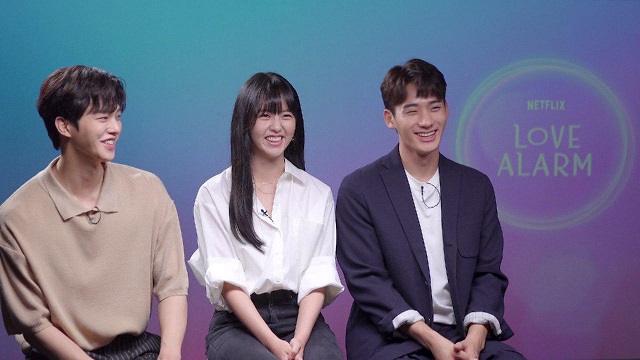 (SPOT.ph) Ah, to love and to be loved. Before the discovery of mutual affection comes the confusion, mixed signals, and the intricate dance that may ensue (sometimes unknowingly) between two people. Until one or both are forced to reveal or couldn't contain the feeling, there's no way to find out if somebody actually likes you or not. Unless, of course, an app like Love Alarm exists in real life.
The latest romance drama from Netflix revolves around this futuristic app. Based on a 2014 webcomic by Chon Kye-young, Love Alarm follows the lives of high school students Kim Jojo (Kim So-hyun), Lee Hye-young (Jung Ga-ram), and Hwang Sun-oh (Song Kang). They all use an app that rings when someone who likes you is within your 10-meter radius. In order for the app to work, you have to "sync your heart" to Love Alarm. 
The premise is relevant especially since we all likely have cherished memories of young love and that we now live in a world where not relying on smartphones is  unheard of. So what happens when we easily find out who likes us (and those who don't like us back)? We caught up with the stars of Love Alarm in Seoul and asked them a couple of questions about the show, unrequited love, and syncing their heart to an app.
ADVERTISEMENT - CONTINUE READING BELOW
"Unlike other dramas, it revolves around the app," Song Kang says when asked about what makes Love Alarm stand out. For him, the app "leads to all kinds of human emotions—joy, anger, sadness, and happiness" and the "very complex emotional aspect is what sets it apart." Kim So-hyun adds, "The real romance plus a sci-fi aspect of the application should give you something quite new." She also adds, "Our version is more realistic and a bit darker," referring to the show's roots as a young romance webtoon. The stark difference, for Jung Ga-ram, is that Love Alarm lets viewers get past the frustrating part of romance dramas where it's difficult to figure out which character likes who. "Seeing how each character deals with their exposed emotions will make the story interesting." 
The show also touches on unrequited love, so we also asked the cast their thoughts about it. Kim So-hyun hasn't experienced anything like it, yet tries to be optimistic about the idea. But for Jung Ga-ram, it's a delicate dance between two extremes. "It makes you feel really good, but on the other hand, it could make you really sad, because you don't know how it will end."
If they could come up with their own invention that has to do with love or relationships—quite how like the app in the show works—Song Kang has something in mind. He wants to invent a mind-reading device, which, come to think of it, is something similar to Love Alarm in concept but going beyond the "Do you like me or not?" route.
Out of curiosity, we also asked them if they would they consider syncing their heart with Love Alarm IRL. "I won't," says Kim So-hyun, to which Song Kang interjects in agreement, "Me neither." Jung Ga-ram, on the other hand, is ready to take the plunge.
Watch the rest of the interview:
Love Alarm is now streaming on Netflix.
Your guide to thriving in
this
strange new world.
Share this story with your friends!
---
Help us make Spot.ph better!
Take the short survey
More Videos You Can Watch
Load More Stories