Remember the times when you had to stay for a couple of minutes in the classroom after dismissal time to clean the blackboard, sweep the floors, and arrange the chairs? Writer-director Glenn Barit will take you back to your high school days with his debut feature, Cleaners. Set in the academic year of 2007-2008, this coming-of-age film is about a group of high school students assigned as the classroom cleaners for the day. The film is slated to compete at the QCinema International Film Festival in October under the Asian Next Wave Competition.
Barit says that interesting features from that period make the film a nostalgia piece. It was the period of OPM's resurgence in MYX and a time when the world was on the cusp of being taken over by social media and smartphones. 
The Reason Behind Photocopying the Entire Film's 43,000 Frames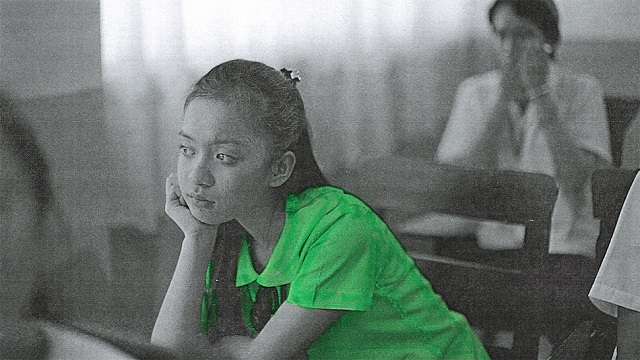 Today's technology makes filmmaking easier, resulting in movies that are crisper, sharper, and glossy. Barit wanted to do something different: Shoot a film, print its entire sequence frame by frame, photocopy each frame, color it with highlighters, and then scan each printed frame so they can digitally sequence it as a totally new visual masterpiece. "Since this film follows a thematic arc of what it means to be clean, I wanted to play with the film's form in a way that coincides with this theme as well. Shooting digital, in its very high-resolution, feels too glossy to me and wouldn't exactly match what the film would want to convey," says Barit.
ADVERTISEMENT - CONTINUE READING BELOW
How Photocopied Stills Will Be Transformed Into a Feature Film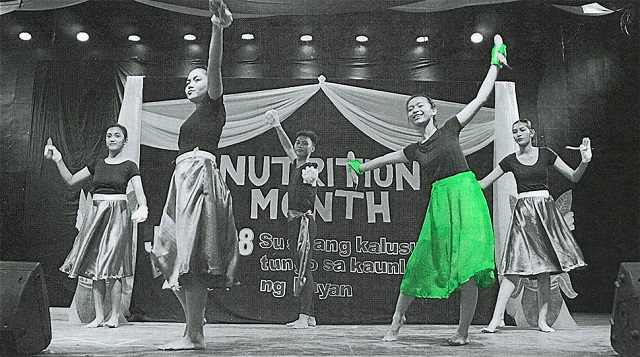 You can imagine the painstaking effort it takes to print an entire film's frames. Cleaners has eight frames per second and runs more than 60 minutes, meaning the film has more than 43,000 frames. Barit and his team then had to print and photocopy all the frames and color each one by hand using highlighters.
In fact, as of writing, Barit's team is busy highlighting the frames one by one, then carefully filing them in boxes per sequence so the team doesn't get confused during the digitizing process.
Barit says Cleaners will undergo many different stages before it finally sees its final version. "We shot it digitally in June, edited the materials, and then printed the entire film's frames using a photocopier. Now, we're in the process of highlighting each frame. After highlighting, we will scan them back digitally so it can play in digital theaters," he says.
Since they printed all the frames, Cleaners is technically a stop-motion picture. This is not the first time a similar film production was made. "Films in early cinema like A Trip to the Moon (1902) hand-painted celluloid film to bring out color. I've also watched this wonderful short film recently titled Copy Shop (2001), which also uses photocopied papers for each frame," explains Barit.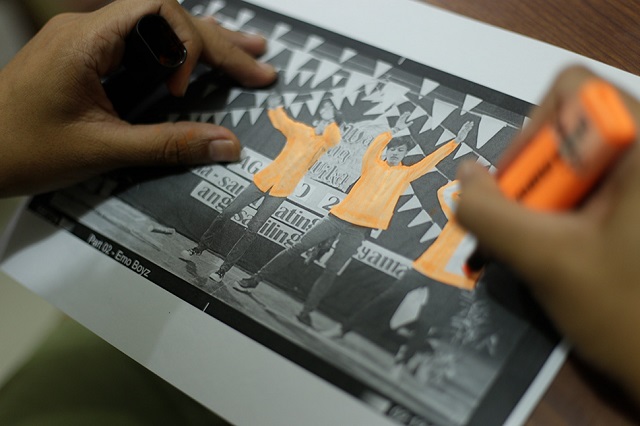 ADVERTISEMENT - CONTINUE READING BELOW
Although the film's form is not new, Cleaners would be the first feature film to employ both techniques of hand painting and the use of photocopied frames to produce a movie.
The Search for the Photocopier
For this film's printed frames, Barit wanted to achieve the kind of grittiness and coarseness you get from an old photocopier. The post-production team even sought the ugliest copier it could find.
"Since this is also a period film, we preferred an old, clanky photocopier because it will be more faithful to the actual texture of photocopied materials that time," Barit says.
"I actually went to different photocopier shops just to test the textures. I remember asking one of them to input the pinaka-panget setting just to achieve the texture I had in mind."
The team lives a few steps away from the University of the Philippines, so naturally, there were plenty of photocopying shops in the area. Barit's team eventually partnered with a certain photocopying shop because of its expertise and the low cost of its services.
Finding Funds
For the film to successfully compete at the QCinema International Film Festival in October, it needs more funding. "Post-production costs does not only include the process of photocopying and highlighting, it also includes sound design, pre-grading, post-grading, and musical scoring, among others," explains Barit.
"QCinema and other sponsors have been very generous to us in covering much of our costs," he continued. "But we still need a bit more to complete the film and ensure proper working conditions. We wanted to raise 200,000 more, and so far, we have raised 3% of that."
Currently, the production team is accepting donations via The Spark Project. Donors will be featured in the closing credits. 
Share this story with your friends!
---
Help us make Spot.ph better!
Take the short survey
Load More Stories