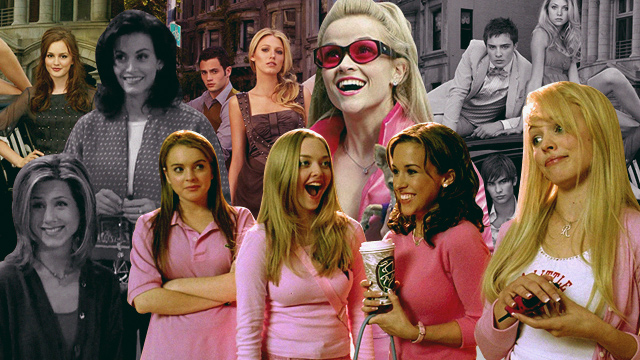 (SPOT.ph) These days, fashion inspo can be found everywhere—a quick search on Google, Instagram, or Pinterest yields countless results in seconds. But back in the '90s and '00s, OOTD inspiration was more commonly found on screens bigger than a smartphone's. Hollywood movies and TV shows were hugely influential, and some of them were so memorable that they still make waves in today's trends—especially with the renaissance of early aughts fashion.

ADVERTISEMENT - CONTINUE READING BELOW
Here are 10 movies and TV shows that still give us style inspiration to this day:
Friends (1994 to 2004)
It's been 15 years since Friends went off air, but it feels like it was just yesterday that the gang was hanging out at Rachel and Monica's NYC apartment. Aside from the hilarious scenes (one word: pivot!) and relatable moments ("We were on a break!"), one thing that has made the sitcom stand the test of time was its fashion. Rachel Green's (Jennifer Aniston) mini skirts and denim tops, Monica Geller's (Courteney Cox) mom jeans and classic pieces, and Phoebe Buffay's (Lisa Kudrow) slip dresses and boots won't seem the least bit out of place in today's lookbooks. In the '90s, "The Rachel" haircut was also all the rage with everyone wanting layered, super volumized hair with highlights. Even the guys served up looks: Chandler Bing (Matthew Perry) had his bowling shirts and Ross Geller (David Schwimmer) loved baggy clothes. As for Joey Tribbiani (Matt LeBlanc), the funny guy advocated for the man purse a.k.a. the "murse."
ADVERTISEMENT - CONTINUE READING BELOW
Recommended Videos
Sex and the City (1998 to 2004)
Sex and the City changed the game from the moment Carrie Bradshaw (Sarah Jessica Parker) walked the streets of New York in a pink tulle tutu skirt in the opening credits. It set the tone for Carrie's playful, try-it-all, highly covetable style, which complemented her girl gang's looks. Samantha Jones (Kim Cattrall) had her skin-tight power OOTDs, Miranda Hobbes' (Cynthia Nixon) tailored suits were a sharp contrast to her fiery cropped hair, and Charlotte York (Kristin Davis) was the epitome of preppy chic. Shoes were practically a main character on the show, with Carrie putting her signature Manolos on the mainstream map. While going broke from your love for heels—like the newspaper columnist did—isn't ideal, it's the girls' vintage dressing and high-low mix that resonate with women to this day.
ADVERTISEMENT - CONTINUE READING BELOW
Gossip Girl (2007 to 2012)
We could only wish our school uniforms and teen wardrobe were as chic as Blair Waldorf's and Serena Van Der Woodsen's on Gossip Girl. The best friends who ruled the Upper East Side had stand out yet contrasting styles characteristic of their personalities. Blair (Leighton Meester) loved polished, preppy pieces à la Audrey Hepburn—plus, who could forget her signature headbands? Serena (Blake Lively), on the other hand, rocked boho-chic-meets-disco-glam with an effortless, disheveled-on-purpose touch. Even the guys stepped up: Chuck Bass (Ed Westwick) was shameless in mixing prints, patterns, and colors, while Dan Humphrey (Penn Badgley) repped the Brooklyn vintage aesthetic.
The O.C. (2003 to 2007)
ADVERTISEMENT - CONTINUE READING BELOW
The kids from Orange County were all about laid-back, beach-ready looks in the early 2000s. Sunny California called for easy, breezy dressing: crop tops and low-rise jeans for the girls, graphic shirts for the boys, and white tank tops for one Ryan Atwood (Ben McKenzie). When it got a little chilly, BFFs Summer Roberts (Rachel Bilson) and Marissa Cooper (Mischa Barton) threw on skinny scarves, light cardigans, and crocheted boleros. Whether for casual or formal dressing, Summer, Marissa, and the other girls practically lived in strappy tops, now immortalized in the funny Instagram fan account @spaghettistrapsoftheoc.
The Devil Wears Prada (2006)
In The Devil Wears Prada, Andy Sachs (Anne Hathaway) got an education on fashion from Miranda Priestly (Meryl Streep), the steely editor in chief said to be inspired by Vogue's Anna Wintour (Fun fact: Wintour even wore Prada to the film's premiere). Thrown into the fires of high fashion, the style-clueless Andy learns the stories behind the "stuff" in her own closet (remember Miranda's infamous cerulean sweater speech?) and the value of dressing up, resulting in an ugly-duckling-turned-swan style transformation. With a little help, not to mention access to the magazine's huge fashion closet, she creates looks that are far more groundbreaking than florals for spring. In her fashion awakening, Andy wore Chanel, D&G, Prada (of course), and many other luxury brands, but in the end, she came into a style that's all her own. 
ADVERTISEMENT - CONTINUE READING BELOW
Clueless (1995)
It's no secret that Cher Horowitz (Alicia Silverstone) was butt crazy in love with plaid. The teen style icon practically lived in her plaid coords and skirts, which she kept track of with her super hi-tech closet organizer. Cher and her crew were big on hats: Cher loved a good beret, and Dionne Davenport (Stacey Dash) stole the scene with her knitted skullcaps and outrageous church hats. The girls were all about layering even at gym class—remember Cher's cropped tank top over a plain tee? And who could forget the checkered skirt and sheer blouse (in lieu of her missing white collarless shirt from Fred Segal) she wore for her driving license test? Their aesthetic is so memorable that it continues to inspire artists decades after the movie came out—Iggy Azalea's "Fancy" music video is just one example.
Coyote Ugly (2000)
At Coyote Ugly, you can't fight the moonlight—or skin-tight leather pants, buckled belts, and cropped everything. Country swag meets model-off-duty style in this movie set in an NYC bar where women serve drinks and dance on the bar. There's the requisite makeover scene where aspiring songwriter Violet Sanford (Piper Perabo) sheds her small town style for a look that's more becoming of a "coyote."
ADVERTISEMENT - CONTINUE READING BELOW
Legally Blonde (2001)
Law school, but make it fashion. Elle Woods (Reese Witherspoon) stood out from the Harvard crowd in her signature bright pink style. Think pink dresses, pencil skirts, blazers, heels, sunglasses, hats, bags, and even pink sweaters and accessories for her beloved dog, Bruiser Woods. Her commitment to her aesthetic put a target on her back from the moment she set foot on campus, but Elle made it work ("What—like it's hard?") and proved that smart comes in all colors.
Mean Girls (2004)
Let us count the ways that Mean Girls changed the fashion game since Cady Heron (Lindsay Lohan) infiltrated the Plastics: 1) on Wednesdays, we wear pink; 2) pleated mini skirts are totally fetch; 3) cool moms wear pink velour tracksuits; 4) animal ear headbands can make or break your Halloween costume; and 5) squad performances call for matchy-matchy outfits. Showing the movie's influence more than a decade after its release, Ariana Grande recreated some of its most unforgettable scenes in her "thank u, next" music video—and even got the actual Aaron Samuels (Jonathan Bennett) to make a cameo!
ADVERTISEMENT - CONTINUE READING BELOW
Spice World (1997)
It's a fact of life that every '90s kid had a favorite Spice Girl and tried to dress like her. In the movie Spice World, where the pop girl group played themselves, you can see their unique style that still spices up today's trends. Baby Spice (Emma Bunton) had her mini dresses, knee-high socks, and baby pigtails. Posh Spice (Victoria Beckham) lived up to her name with her sleek dresses and sky-high heels. Sporty Spice (Mel C) wore athleisure before it was called athleisure. Scary Spice (Mel B) couldn't get enough of loud prints and big, bold hair. Ginger Spice (Geri Halliwell) broke the fashion rules and made it work. Viva forever, indeed.
Share this story with your friends!
---
Help us make Spot.ph better!
Take the short survey
Load More Stories