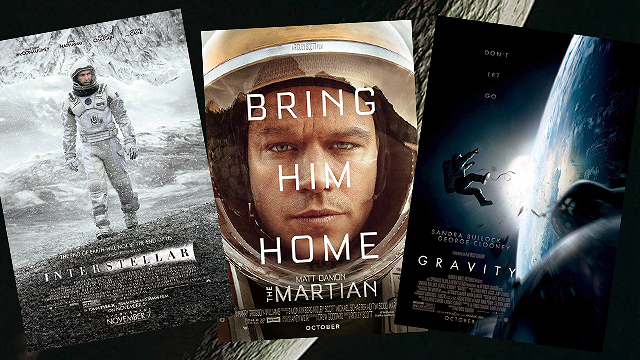 (SPOT.ph) Our planet is big as is, but the uncertainties suspended in the vastness of space presents a great adventure. If you're a fan of movies exploring the great beyond, you've probably checked out Ad Astra, starring Brad Pitt as a highly capable astronaut searching for answers in outer space, and within himself. If watching the film left you wanting more of the infinite universe, we rounded up 10 films that took the plunge into the dark void that is space.
ADVERTISEMENT - CONTINUE READING BELOW
Here are 10 more space films to watch if you liked Ad Astra:
Apollo 13 (1995)
Directed by: Ron Howard
Based on the actual Apollo 13 lunar mission, this docu-drama stars Tom Hanks as astronaut Jim Lovell, who aspires to set foot on the moon. The film chronicles the seventh crewed mission in charge of the third landing on the moon—and what should have been a smooth operation encounters logistical problems that put the crew's lives in danger. Risking your safety on Earth is scary enough, but hearing "Houston, we have a problem" will have you fearing for their lives as if you were sitting in that ship right along with them.
Contact (1997)
Directed by: Robert Zemeckis
Under the tutelage of her father, Dr. Ellie Arroway (Jodie Foster) listens to radio transmissions from space in the hopes of finding evidence that supports alien life. Funding is pulled from her program, but a mysterious sponsor (John Hurt) finances her research. Years later, a signal transmits back, confirming her suspicions. This movie, based on Carl Sagan's 1985 sci-fi novel with the same title, puts forward the belief that the universe is a "pretty big place," and "if it's just us, it seems like an awful waste of space."
Sunshine (2007)
Directed by: Danny Boyle
The Earth's sun is dying. With the planet frozen in perpetual winter, a crew of astronauts (Cillian Murphy, Chris Evans, Rose Byrne, Michelle Yeoh, Cliff Curtis, Troy Garity, Hiroyuki Sanada, Benedict Wong, and Chipo Chung) go on a high-risk voyage to reignite our solar system's most important star. They encounter the first ship that set off to fulfill that mission, and realize that what they're planning to accomplish may be more difficult than they initially thought.
Moon (2009)
Directed by: Duncan Jones
Set in the future, Moon follows the life of Sam Bell (Sam Rockwell), an astronaut-slash-miner. His three-year solitary stint involves maintaining the operations of a facility on the moon that harvests alternative fuel to power operations on Earth. Weeks before his intended return to the planet, he begins to hallucinate, and his failing health forces him to face unavoidable truths.
Gravity (2013)
Directed by: Alfonso Cuarón
Veteran astronaut Matt Kowalski (George Clooney) and Dr. Ryan Stone (Sandra Bullock) are in space to perform hardware upgrades on the Hubble Space Telescope. What was supposed to be a straightforward task ends up being disastrous as a missile strike inadvertently causes space debris to float and destroy their shuttle. Desperate to get back to Earth, the two look beyond their ship for help, only to find they're completely alone in space.
ADVERTISEMENT - CONTINUE READING BELOW
Interstellar (2014)
Directed by: Christopher Nolan
A lack of resources threatens life on Earth, and a shift in the gravitational force seems to be the cause for the changing conditions on the planet. Astronaut-turned-farmer Joseph Cooper (Matthew McConaughey) is tapped to find another habitable planet in order to save mankind, or at least a part of it. Dabbling in morse code, time-space continuums, and saving humanity, this film will have you thinking long after the credits have rolled.
The Martian (2015)
Directed by: Ridley Scott
Adapted from the Andy Weir novel of the same name, The Martian stars Matt Damon as Mark Watney, a lone astronaut who has been left behind on Mars. With his crew thinking that he did not survive, the astronaut is left to his own devices in order to survive until the next mission to Mars, which won't be for another four years. 
Life (2017)
Directed by: Daniel Espinosa
It's not a new theory that there might be life on Mars, but this movie presents the possibility that it might not be so good after all. A soil sample from the red planet contains a cell organism that can morph to become any cell, and has been named Calvin. Starring Jake Gyllenhaal, Rebecca Ferguson, and Ryan Reynolds, this film teeters on the edge of horror and shows just how powerful and scary alien life can be.
ADVERTISEMENT - CONTINUE READING BELOW
First Man (2018)
Directed by: Damien Chazelle
Based on the book First Man: The Life of Neil A. Armstrong by James R. Hansen, the film stars Ryan Gosling as Neil Armstrong and catalogs the years leading up to Apollo 11, the first successful mission to land on the moon. A look at one of mankind's greatest historical moments, the movie celebrates the success of taking one small step for man, and one giant leap for mankind.
High Life (2018)
Directed by: Claire Denis
Astronauts always seem to be making the next big discovery for the benefit of mankind, but what if being catapulted into space were a form of punishment? Dealing with the ethics of morals of crime and space exploration, this film features criminals forced to embark on a mission to find an alternative source of energy from a black hole. With horrid living conditions and harsh personalities onboard, chaos ensues and the crew turn their backs on one another. If that isn't enough to push you to the edge of your seat, space isn't exactly a safe environment for them to be in. The film stars Robert Pattinson and Juliette Binoche.
ADVERTISEMENT - CONTINUE READING BELOW
Share this story with your friends!
---
Help us make Spot.ph better!
Take the short survey
More Videos You Can Watch
Load More Stories