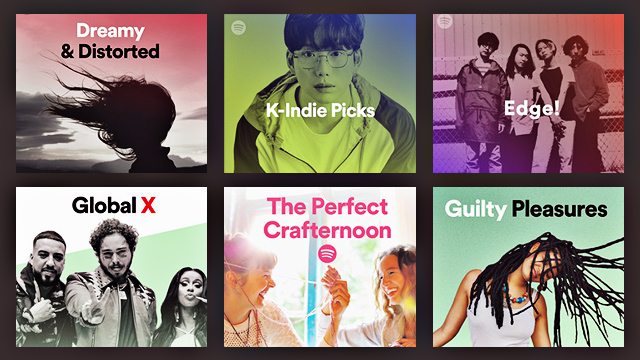 (SPOT.ph) As it is with food, we can crave a certain kind of music depending on our current mood or situation. So how cool is it that Spotify dedicates a portion of its resources and manpower to producing various playlists for just about every need? If you're not satisfied with the usual genre collections, well, it turns out there are super-specific playlists available out there—from tunes perfect for an afternoon crafting session to tracks that will feed your indie obsession. Plus, these playlists are updated regularly, so you get to discover something new all the time.
ADVERTISEMENT - CONTINUE READING BELOW
Here are playlists on Spotify for days when you're looking for something very specific:
Global X
Recommended for: Those who love a little bit of everything
Spotify describes this as the "sound of a new era." Global X compiles hits that mix pop with the sounds of different cultures. Be it Latin grooves or K-Pop bops, this playlist will get you moving and appreciating a wide range of influences. Global X is a good example of just how smaller and more connected the world is becoming.
Hear the likes of: BTS, Camila Cabello, Sebastian Yatra, Tiwa Savage
K-Indie Picks
Recommended for: Korean-indie fans and the curious ones
K-Pop has been all the rage the past few years, but Korea also has a thriving indie music scene. K-Indie Picks puts together the most loop-worthy tunes from Korea's independent artists. Sure, we love K-Pop, but you gotta hear what its indie counterparts have to offer. The music here has everything from electro-inspired numbers to jangly compositions and more experimental singles.
Hear the likes of: LambC, Kirara, Seoulmoon, UMT
Edge! - Japan Indie Picks
Recommended for: Japanese culture aficionados
Japan has a fascinating and admirable culture. Their music? Also topnotch. In Edge! - Japan Indie Picks, the Land of the Rising Sun's freshest and coolest indie releases take the spotlight. Rock is the focus here, with selections that highlight kickass guitars and drums. You see, Japan isn't just about the kawaii stuff; they can also rock it out.
Hear the likes of: myeahns, The Mirraz, Shuntaro Okino, Lucky Kilimanjaro
Orgánica
Recommended for: Those who want to get lost in tribal sounds
Spotify's Orgánica playlist brings you an immersive musical experience. Here, folk music from Africa, Latin America, and the Middle East are on offer. Traditional meets modern with the blend of organic instrumentation and electronic elements in this compilation. Listen to the sounds of nature while getting hypnotized by rhythmic electronic beats. It's an absolute trip!
ADVERTISEMENT - CONTINUE READING BELOW
Hear the likes of: islandman, Slow Nomaden, Satori, Holed Coin
Guilty Pleasures
Recommended for: Days when you just don't give a f*ck
Catchy hits come together in this Spotify playlist. Guilty Pleasures is pretty self-explanatory. Here, you can listen shamelessly to radio-friendly hits you once played on repeat (admit it). These are tracks you're likely to sing and dance to on a night out when the DJ decides to indulge a bit of throwback.
Hear the likes of: Miley Cyrus, Britney Spears, Destiny's Child, Justin Bieber
Dreamy & Distorted
Recommended for: Days when you want to feel warm and fuzzy inside
Spotify's Dreamy & Distorted playlist will make you realize the beauty in imperfections. The distorted sounds in the selected tracks will put you in a dreamy state. It's definitely rough around the edges, but that's a big part of the charm. The tunes here also sound perfect for long drives and beach trips.
ADVERTISEMENT - CONTINUE READING BELOW
Hear the likes of: Jay Som, Mint Field, Trementina, Mogwai
The Perfect Crafternoon
Recommended for: Crafters, makers, and hobbyists
Yes, Spotify has a music collection for crafters, too. This playlist culls mostly fun and feel-good tunes that are easy to sing along to while you work on your crafting projects either alone or with friends. The selections will remind you of tracks usually played in your favorite neighborhood coffee shops.
Hear the likes of: Regina Spektor, The Lumineers, Sara Bareilles, Natasha Bedingfield
Happy To Be Home
Recommended for: Introverts and homebodies
Nothing beats finally getting settled back home after a long day or an even longer work trip. Spotify's Happy To Be Home playlist presents cheery sounds and positive tunes to help you relax and really savor the peace and quiet. Mid-tempo and upbeat tracks with dreamy and jangly qualities dominate this sunny compilation.
Hear the likes of: Bay Ledges, Tame Impala, Bombay Bicycle Club, Clairo
ADVERTISEMENT - CONTINUE READING BELOW
Walk Like A Badass
Recommended for: Days when you need a lot of motivation
The pulsating guitars and thumping drums of the tracks in this carefully curated playlist will give you the push you need for the day. Whether it's to conquer the rush hour traffic or to nail that big pitch at work, let the rocking songs in Walk Like A Badass serve as your pep talk. You got this!
Hear the likes of: Arctic Monkeys, The Black Keys, Red Hot Chili Peppers, The White Stripes
Hangover Friendly
Recommended for: The morning after a whole night of partying
Keep Spotify's Hangover Friendly playlist handy, so you can enjoy gentler tunes the morning after getting smashed. Loud noises and explosive tracks can worsen your hangover, so opt for the softer selections in this set. It might just become your new BFF.
Hear the likes of: Sam Smith, Alina Baraz, Childish Gambino, Saint Claire
ADVERTISEMENT - CONTINUE READING BELOW
Share this story with your friends!
---
Help us make Spot.ph better!
Take the short survey
More Videos You Can Watch
Load More Stories