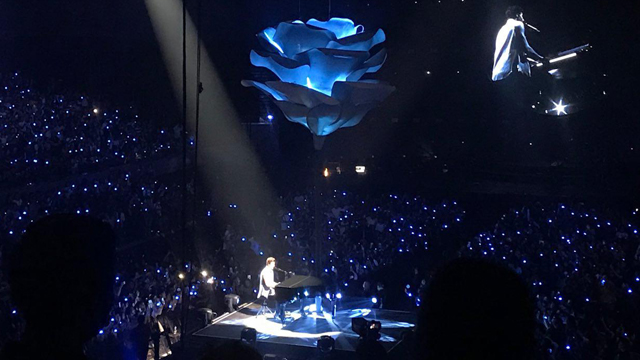 (SPOT.ph) Raw emotion, grit, and the right mix of push and pull were what Shawn Mendes brought to the Manila stop of his tour at the Mall of Asia Arena on October 10. From heartwrenching tracks to faster-paced songs to hype the crowd and get them dancing, the singer-songwriter got Manila onboard for a good time.
Mendes started the night with "Lost In Japan" and the entire arena looked and felt like a dream—front and center was a circular screen that projected images to match the song's beat and feel, and the crowd's wristbands looked like tiny stars swaying to the sultry track. Smack-dab in the middle was a white flower suspended above a piano situated towards the back of the VIP section. Mendes greeted Manila and the fans couldn't help but respond in a resounding scream. He followed this track with one of his other hits, "There's Nothing Holdin' Me Back."
ADVERTISEMENT - CONTINUE READING BELOW
He's known for his sleek falsetto and robust lows and "Nervous" showcased his repertoire, all the while pumping up a crowd eager to sing along. "Stitches" was next on his setlist and Mendes' vocals were raw and gritty, as if the heartbreak was fresh.
His latest single, "Señorita," came on next. Though collaborator Camila Cabello wasn't around to sing her part, Mendes carried it smoothly and it transitioned to "I Know What You Did Last Summer," which is also a collab track with Cabello. He added another song to the mix and ended the remix with "Mutual," with its endearing mix of confusion and frustration.
The high tension piped down with "Bad Reputation," and the crowd erupted into cheers as soon as it was over. As the first notes of the next song spread over the arena, a large moon was projected upfront and it was as if Mendes was the man on the moon singing "Never Be Alone" to countless stars.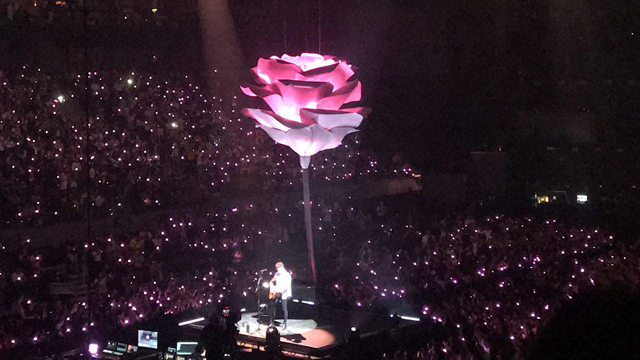 CONTINUE READING BELOW
Recommended Videos
Darkness consumed the arena and the large rose lit up as it descended over the piano. Mendes ran towards the B-stage, and the VIP crowd moved to catch a glimpse of the crooner working wonders on his piano. The lights came back on and he gently played the tune of Whitney Houston's "I Wanna Dance With Somebody" and softly sang as if no one was watching. The rose changed colors with the song and the crowd's lights matched to fit as he performed "Because I Had You," "A Little Too Much," "Patience", "When You're Ready," and "Life of the Party." Before he left his the stage, he sang "Like To Be You" and  "Ruin."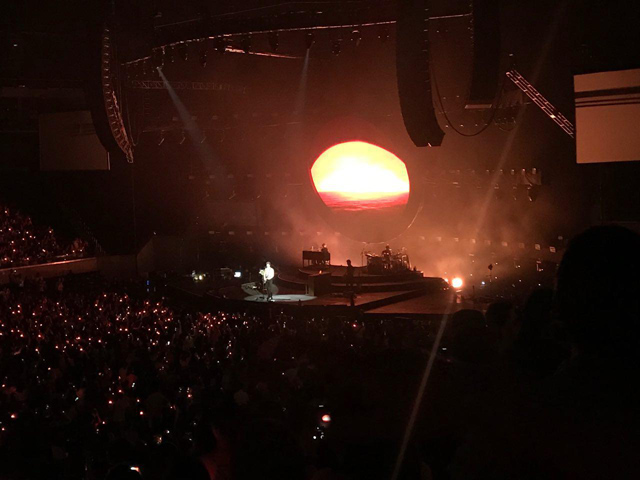 He retreated to the main stage once more and he changed the pace with "Treat You Better." He extended his microphone towards the crowd and right on cue, his own lyrics were echoed back at him. The entire arena was lit in pink and "Particular Taste" had everyone dancing. The fucshia faded into orange and the screen behind him was a sunrise, bathing him and the crowd in warm yellow sunlight. Mendes asked "How do you just walk away?" and went on to sing "Where Were You In The Morning" in full. The light dimmed and Mendes took this time to talk about this song: "I wrote this with Ed Sheeran. This one's called 'Fallin' All In You.' Let's go."
ADVERTISEMENT - CONTINUE READING BELOW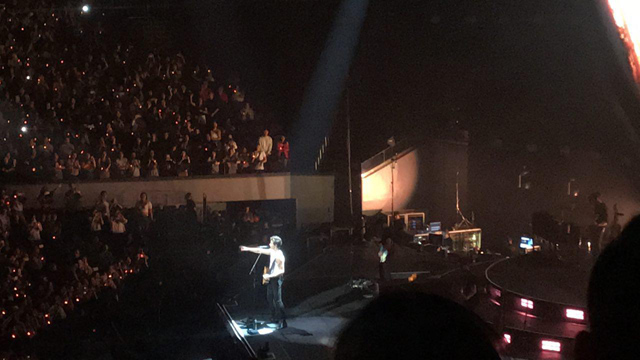 Taking a breath, Mendes got the crowd to repeat each riff he did. A few rounds later, he encouraged everyone to clap their hands, and he made his guitar sing, starting slow, then picking up speed. He sang the first few words of "Youth" and of course, the audience knew the words. "I want you to listen to me," Mendes began, "Youth is not an age. Youth is the feeling of freedom. It's the feeling of happiness," he finished, and the crowd yelled in agreement.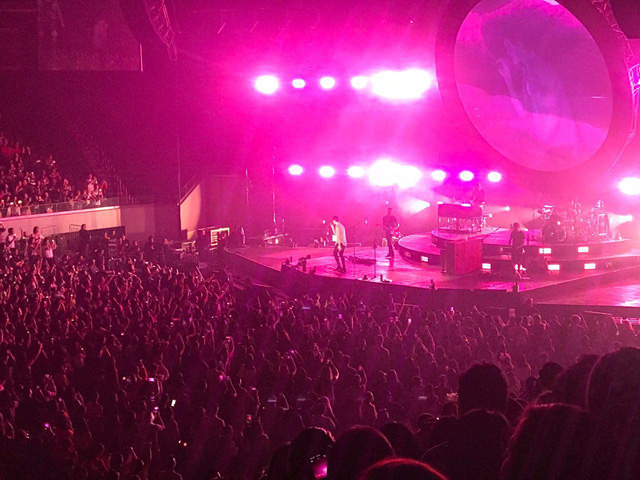 ADVERTISEMENT - CONTINUE READING BELOW
The energy built up with "If I Can't Have You" and Mendes cheekily changed "I'm in Toronto" to "I'm in Manila" and the crowd went wild. He pulled back and went for the mellow "Why," and he was silent as the arena sang "Why can't we just get over ourselves?" He performed his 2017 track "Mercy" and while the song isn't one of his most popular singles, the crowd knew it well, and when the bridge dropped, everyone was shouting "Will you please have mercy?"
He thanked his band and asked Manila to give them a round of applause, and this only signalled that his time was almost up. He performed a heartfelt rendition of one of his favorite songs, Coldplay's "Fix You," and it seamlessly blended into his track "In My Blood," which capped off the night. He addressed the crowd one last time, "Thank you, Manila!" and he disappeared into a cloud of smoke, as if the past two hours had been a crazy dream.
Share this story with your friends!
---
Help us make Spot.ph better!
Take the short survey
Load More Stories