(SPOT.ph) When a film is so good that it defines the careers of people and sets the standards for science-fiction films, anything that follows may never live up to that standard. Most remakes and sequels aim to be better than the original, but Terminator: Dark Fate, the direct sequel to Terminator 2: Judgment Day, refuses to do that, and it succeeds in its own right.
Let's lay the groundwork: Much like previous Terminator films, Dark Fate follows a seemingly normal woman live her mundane life, until an indestructible and persistent machine preys on her with only one intent—to terminate her. The plot follows that of The Terminator, with a woman being hunted down by a robot from the future. There's still a girl to protect, a Terminator (in its most advanced state), and someone who does all the guarding and protecting, all the while present and future meet and cooperate in order to create a new future where robots don't overtake us all and peace is kept.
Overall, the premise isn't something we haven't seen before, and while the plot is one of the most important components to make a successful film, Dark Fate's strongest suit lies in its characters and cast. Natalia Reyes plays protagonist Daniella "Dani" Ramos, the first woman of color leading a movie in the franchise. Full of spunk, she refuses to back down and is determined to eliminate Rev-9 (played by charismatic Gabriel Luna), who was sent from the future to kill her. Another Terminator newbie Mackenzie Davis plays Grace, a supersoldier from the horrid future who is tasked with protecting Dani from the advanced Terminator.
ADVERTISEMENT - CONTINUE READING BELOW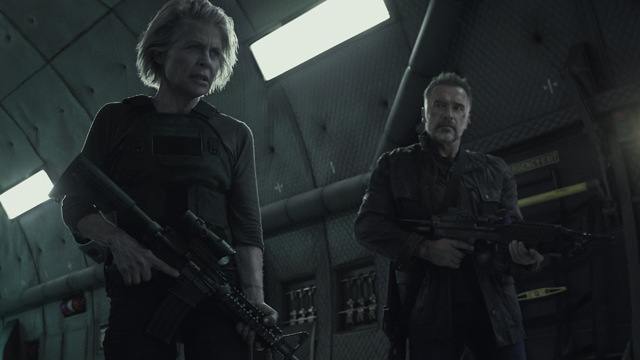 Though all relatively fresh and new, they carry their roles well and don't try to be anything they're not. With a grand franchise on their backs, it would be easy to slip into something fans and viewers would be familiar with, but they hold their ground and do their part in furthering the story from the original Terminator films without letting it get to their heads. Grace is unwavering in her pursuit of survival and Dani is persistent in getting rid of her enemy, while Rev-9 is utterly heartless and driven to terminate his goal. At the helm of all this is director Tim Miller, who wanted to pay homage to the original, while allowing this film, and its characters, to belong in its own time.
Old meets new in this film and while Reyes, Luna, and Davis bring a fresh take on a classic science-fiction movie, Dark Fate brings back Linda Hamilton as Sarah Connor and Arnold Schwarzenegger as the familiar T-800 Terminator. It's been 28 years since the two were last seen together for a Terminator film and aside from providing nostalgia, their characters return with new developments and motivations. Hamilton plays a bitter and jaded Sarah who's hellbent on killing every Terminator that appears in her timeline after her son John Connor was slain before her very eyes. Blurring the lines between good and evil, Schwarzenegger returns as an older, warmer, and almost human version of the T-800, one that has found purpose beyond commands and assassinations.
ADVERTISEMENT - CONTINUE READING BELOW
Recommended Videos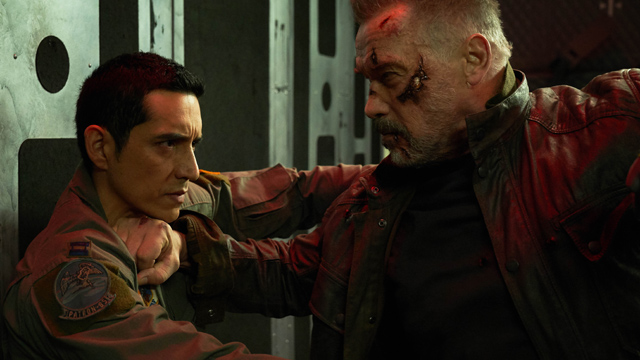 Motivation is at the very center of the film's thesis. Why do we do things? What makes these characters to act this way? What compels people to keep fighting? And although the answers vary from character to character and person to person, it ultimately drives the plot and the characters toward a resolution. 
But that's not the only department where the film wins—the graphics and action scenes up the ante even more. Everything is sharp, sleek, and clean, and with technological developments allowing for more hardcore stunts and epic fight scenes, it's only right to expect so much from this film, and it has delivered. Just when you think you can breathe after a series of exhausting kicks and car chases, let us warn you that there will be little room to relax. There's a lot going on at any time, and you'll be at the edge of your seat until the end.
ADVERTISEMENT - CONTINUE READING BELOW
There are many ways a successor can be better than its predecessors, and oftentimes, there is an expectation for the young blood and the new things to be better than those that came before them. It's only right to hold these sequels to a high standard (after all, they're part of the original's legacy and story), but it must be allowed to stand on its own. Terminator: Dark Fate might not be this grand sequel that out-performs the original films and knocks it out of the park, and it doesn't intend to be, but it does do its job of extending the film's narrative and holding its own ground despite all the pressure. Sequels don't always have to be better than the first film, and sometimes it's okay. And in this case, it is good.
RATING: 3.5 out of 5 Spots
Terminator: Dark Fate is in theaters October 30. Photos courtesy of Walt Disney Pictures.
Share this story with your friends!
---
Help us make Spot.ph better!
Take the short survey
Load More Stories