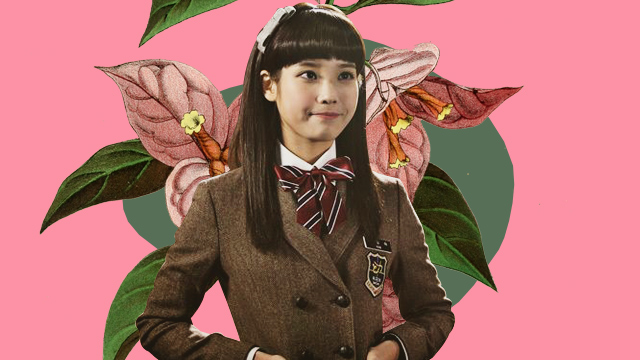 (SPOT.ph) The world of K-Drama has given us the likes of Song Joong Ki, Park Seo Joon, and Cha Eun Woo, and while the dreamy men of these binge-worthy series keep you hooked, the women are also worth a mention. Singer IU, or actress Lee Ji Eun as she is credited in her dramas, got her start in music, releasing an album called Lost and Found in 2008. She recently starred as Jang Man Wol in the 2019 drama Hotel Del Luna, and if you've gotten hooked on the series and her haunting performance, we can totally understand. From her fun and fresh roles to her more serious and manipulative characters, we round up 10 of her dramas, in case you wanted to see more of her.
ADVERTISEMENT - CONTINUE READING BELOW
Also read: The Top 50 Highest-Rating Korean Dramas of All Time
Here are 10 K-Dramas starring Korean singer-actress IU:
Dream High (2011)
Kirin High School is a special academy where aspiring actors and K-Pop stars train under industry professionals and experts. IU plays Kim Pil Sook, a shy and overweight girl discouraged from pursuing music and performance because of her appearance. Her character has the gift of perfect pitch, and with enough support from Jason (Jang Wooyoung of 2PM), she eventually emerges from her shell with confidence. You'll also spot idol faves in this drama: Former miss A member Bae Suzy, Ok Taecyon from 2PM, Ham Eun Jung of T-ARA, and actor Kim Soo Hyun. JYP Entertainment CEO Park Jin Young also plays a teacher in Dream High!
Salamander Guru and the Gang (2012)
After her stint as Pil Sook, IU went on to bag a cameo role in this drama starring Choi Min Ho of SHINee, Ryu Hyun Kung, Im Won Hee, Lee Byung Joon, and Oh Dal Su. She plays a fictionalized version of herself: IU has the dream of becoming a singer, but is terminally ill and has no financial means to jump-start her career. She pickpockets Won Sam's wallet, but gets more than she bargained for. Cheeky and hopeful, IU makes the most of her one-episode cameo!
Dream High 2 (2012)
The first season was so popular, there just had to be a second one. While there are new faces in Kirin High School's hallways—like GOT7's Jaebum and Jinyoung, vocalist Ailee, 2AM's Jinwoon, T-ARA's Jiyeon, former Sistar member Hyolyn, and actor Park Seo Joon—the old cast, IU included, appear in the first episode as an easter egg. They're all successful in their own right this season, with Pil Sook, now an established performer, encouraging an underclassman with the same dream of becoming a singer.
Bel Ami (2013)
IU plays Kim Bo Tong, which means average in Korean, but her character is out to prove she is anything but. Although considered ordinary by most, the young girl has had her eyes set on pretty boy Dokgo Ma Te (Jang Keun Suk) and is fiercely determined to help him overcome his troubles in order to discover who his real father is. IU is absolutely lovable and optimistic in this rom-com, and you can't help but hope her character gets the chance to be with the man of her dreams.
ADVERTISEMENT - CONTINUE READING BELOW
You Are the Best! (2013)
IU plays Lee Soo Shin, who knows only of a hard life, and does everything she can to make ends meet. When she's approached by talent scout Shin Joon Ho (Jo Jung Suk) with promises of turning her into a famous actress, she immediately signs a contract only to realize she has been scammed, and must now pay the debt of a stranger. Refusing to back down, she brings raw talent to the table, leading Soo Shin to rise to the occasion to pay off the debt, become a great actress, and discover the truth about her lineage.
The Producers (2015)
Veering away from her usual sunny characters, IU plays Cindy, a famous celebrity who made her entertainment industry debut at the age of 13. Stoic and controlled, she is called the ice princess because of her ability to conceal her emotions. She stars alongside Cha Tae Hyun and Gong Hyo Jin, and reunites with Dream High co-actor Kim Soo Hyun to explore the ins and outs of a television network's operations.
ADVERTISEMENT - CONTINUE READING BELOW
Moon Lovers: Scarlet Heart Ryeo (2016)
Modern woman Go Ha Jin must assimilate into life in ancient Goryeo Dynasty after a mysterious solar eclipse transports her to the past and puts her in the body of Hae Soo. Surrounded by attractive and valiant princes, she finds herself torn between the gentle Prince Wang Wook and the hardened Prince Wang So. This is IU's first foray into historical drama, and the series proved popular among foreign viewers. The series also stars Jo Min Ki, Park Ji Young, EXO's Baekhyun, Nam Joo Hyuk, and Jisoo, to name a few.
My Mister (2018)
After a year of no TV appearances, IU returns in this slice-of-life drama. The three middle-aged Park brothers—Dong Hoon (Lee Sun Kyun), Sang Hoon (Park Ho San), and Ki Hoon (Song Sae Byeok)—feel the weight of lives on their shoulders and struggle to move forward. They encounter IU's Lee Ji An, who also has her share of challenges, and takes on the task of gaining the trust of Dong Hoon at the behest of her boss. As Dong Hoon and Ji An's lives intertwine, they help each other heal from past scars.
ADVERTISEMENT - CONTINUE READING BELOW
Persona (2019)
This four-episode anthology web series from Netflix stars IU in the main role, with the actress-singer portraying different characters, and presenting the many facets to her persona. Four directors—Lee Kyoung Mi, Yim Pil Sung, Jeong Go Woon, and Kim Jong Kwan—direct an episode each, where IU transforms into a fictionalized iteration of herself.
Hotel Del Luna (2019)
Hidden during the day, Hotel Del Luna serves as an abode for ghosts and souls. Rebel Jang Man Wol from the Goguryeo era attempts to find the guest house for souls but unknowingly consumes a potion that appoints her as the owner of the hotel for an indefinite period of time. A thousand years later, Ku Chan Seong (Yeo Jin Goo) waltzes into the hotel and becomes the new general manager of Hotel Del Luna after his father strikes a deal with Man Wol.
Share this story with your friends!
---
Help us make Spot.ph better!
Take the short survey
More Videos You Can Watch
Load More Stories