(SPOT.ph) Throughout the holiday season of 2013 and all the way through to 2014, everyone had to deal with hearing Idina Menzel belting out "Let It Go," the centerpiece song from Frozen, everywhere we went. It's not even a bad song—it's quite wonderful—but by the 100th time in a week, it was a little much. Disney clearly knew this, and there's a quick little nod to just how much we're tired of hearing that Oscar-winning song in the more mature, more ambitious Frozen II. This highly anticipated sequel to the massive billion-dollar-earning 2013 hit uses a few seconds to poke fun at itself, as Elsa (Menzel) is embarrassed to hear that song once again. It's a cute nod to the past in a film that heavily deals with moving on from your past while also taking responsibility for it. Frozen II tackles more mature themes and a darker storyline, a sign of growing up just like the audience it once had back in 2013.
ADVERTISEMENT - CONTINUE READING BELOW
Frozen II starts off with a flashback to young Anna and Elsa being told a bedtime story by their father (Alfred Molina) and mother (Evan Rachel Wood) about an enchanted forest that housed magic and spirits but has since closed itself off to humanity because of a disagreement among humans. After this prologue, we are reintroduced to our merry band of characters. The events take place a few years after Frozen, though no exact time is said. Instead, there's a sweet little song that tells us how everyone's been doing called "Some Things Never Change"—a little bit ominous as the entire film deals with change and how we accept those changes or deal with the consequences.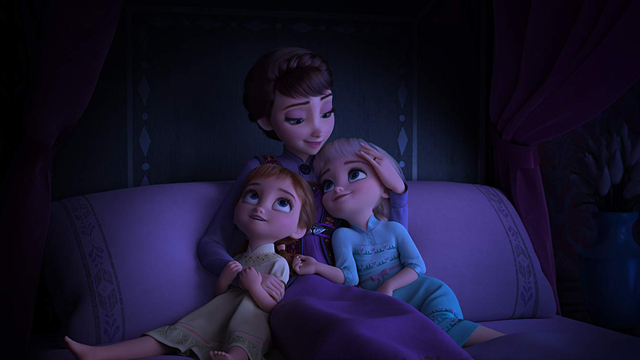 Elsa is living peacefully and happily with her sister Anna (Kristen Bell), Anna's boyfriend Kristoff (Jonathan Groff), their magical snowman friend Olaf (Josh Gad), and Kristoff's reindeer Sven. She's troubled, though, as she keeps hearing a mysterious voice calling out to her only. When a frightening amount of unexplainable things happen at Arendelle that forces the entire town to flee, Elsa decides she must confront this voice, which means having to travel into the enchanted forest. Elsa, Anna, and the gang go forth into the unknown, the title lyric Elsa's new centerpiece song bound to be screamed and yelled by every child in the next year.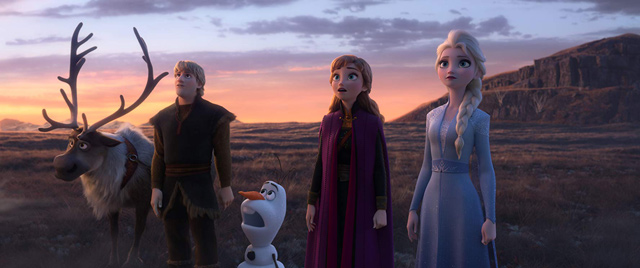 ADVERTISEMENT - CONTINUE READING BELOW
What made Frozen so memorable aside from its catchy songs was the way it uprooted Disney Princess conventions and molded something new. Elsa, for example, didn't have a Prince Charming, and the one that Anna had turned out to be the villain. Most importantly, Frozen hammered down the idea that familial love is true love—the sisterly bond being stronger than whatever romantic relationship comes. Frozen II doubles down on these metaphors, even going further with its upturning of the Disney Animated Film franchise. Familial versus romantic love is tested again, as Anna makes choices between her sister and her boyfriend, and again Elsa doesn't have that romantic interest. There isn't even an actual villain in this movie—another Disney convention Frozen II is willing to break. Instead, the film focuses on adventure, on longing, on finding your true self, on maturing to become the person you are or supposed to be.
ADVERTISEMENT - CONTINUE READING BELOW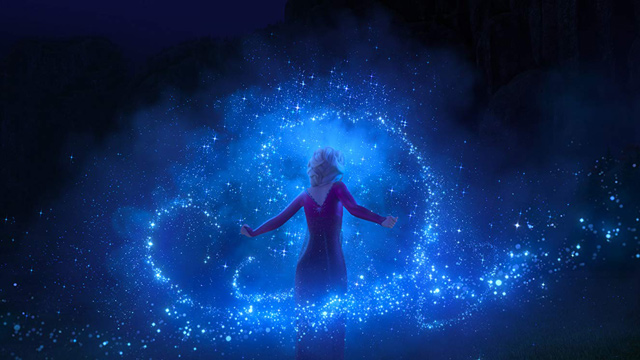 These deeper, more complex themes are tougher to really showcase in a film like this—one that still needs to cater to its audience. Not just that, but as with every sequel, things have to be bigger, bolder, and more epic. Frozen II definitely attempts to do that. It even goes way deeper in its metaphors, dealing with colonialism and "the sins of the father" while at the same time talking about maturity and finding your place in the world. There are just so many big themes crammed into this movie. The film expects that its Frozen audience, now six years older since the last film, can deal with more mature themes. At the start, Olaf looks straight into the camera, almost breaking the fourth wall, and sings a line that goes "You all look a little bit older." It's a cutesy and direct nod to the older audience, the kids who are now pre-teens and teens as if to say it's time to talk about some real stuff! What results is a mixed bag of metaphors and plot that becomes too overcomplicated that the film slips and slides on the ice it made for itself.
ADVERTISEMENT - CONTINUE READING BELOW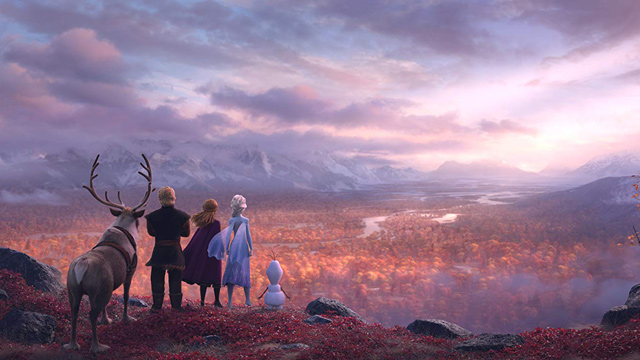 Frozen II's plotline is ambitious, for sure, but completely, unnecessarily over the top in its attempt to build a world outside Arendelle. There are four spirits that represent Earth, Fire, Water, and Air. There are Earth giants. There's an (admittedly adorable) new critter that fills in the "cute Disney animal" quota. A completely new group of people that come from absolutely nowhere. Screenwriter Jennifer Lee (who also co-directs with Chris Buck) takes this opportunity to go further out from what we saw in Frozen, but it never really feels like the film has a grasp on it, keeping a lot of the exposition in throwaway lines or in a hasty manner just to get to the next big set-piece. The wild plotline, one that goes out of its way to seem more epic than it needs to be, really doesn't help in making Frozen II as good as the first film.
ADVERTISEMENT - CONTINUE READING BELOW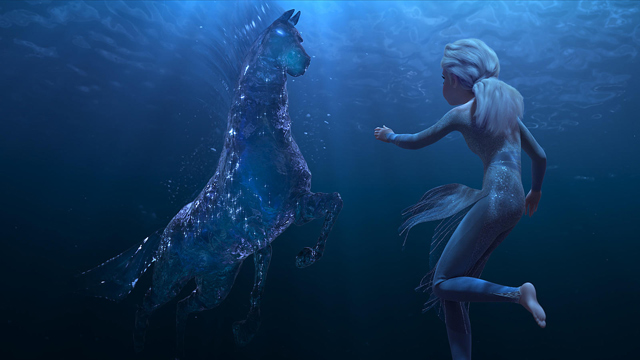 Fortunately, Frozen II is gorgeous to look at, with a beautiful autumn palette of colors throughout the film and much cleaner animation than the first. This includes the aforementioned set-pieces such as Elsa in a wetsuit-like outfit battling the sea. The animation is stunning, and the sound work is even better, really immersing the audience in this world. Frozen II also has some great songs—though none of them really match the first film's charm in that department. The songs this time are more often than not used to drive the plot forward—characters singing about what they must to, what the next step is (Anna's big number is actually called "The Next Right Thing"). However, Menzel, Bell, and the rest of the cast give great performances, whether it involves speaking or singing. Groff, a Broadway veteran, finally gets to sing his own song with Kristoff's hilarious, 80s power ballad parody "Lost in the Woods" and is maybe the film's most amazing part. Gad's Olaf also gets to double up on the silliness, providing some of the most hilarious scenes in the sequel, like when Olaf recounts the events of Frozen.
ADVERTISEMENT - CONTINUE READING BELOW
Ultimately, Frozen II is an entertaining and fun sequel from the Mouse House. It used to be that these Disney sequels went straight to DVD or were generally lesser than its sequel, but Frozen II is built to be a bigger, better, and more epic sequel, just like any typical blockbuster. It definitely nails the bigger and more epic parts, but that doesn't necessarily mean better. Frozen II is slowed down by its overly complex plot, but because of its lovely group of characters, a funny script, stunning scenery, eye-popping sequences, and catchy earworms, it's just comforting to be with these characters again.
Rating: 3.5 out of 5 Spots
Frozen II is in theaters November 20. Photos courtesy of Walt Disney Pictures.
Share this story with your friends!
---
Help us make Spot.ph better!
Take the short survey
More Videos You Can Watch
Load More Stories