(SPOT.ph) Filipinos love some good, old-fashioned, family-friendly holiday fun. Perpetual suckers for Jose Mari Chan holiday carols, we also can't resist a holiday rom-com to add a little chill to our tropical Christmas.
This year, Vanessa Hudgens heads back to our screens for Netflix's latest holiday flick, The Knight Before Christmas. Hudgens serves as executive producer and plays brokenhearted teacher Brooke, whose very straight-laced, black-and-white world is shook when she comes across a handsome, time-traveling medieval knight (played by British actor and musician Josh Whitehouse). Raise your tsokolate eh glasses, V Hudge fans—this is exactly the kind of warm and fuzzy, fantasy movie you're going to want to stay in and wear an ugly Christmas sweater for.
Vanessa Hudgens and Josh Whitehouse share reasons to give The Knight Before Christmas a go:
It teaches us a thing or two about chivalry.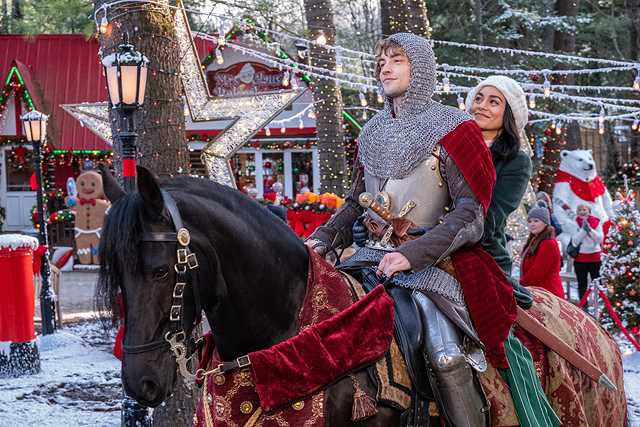 ADVERTISEMENT - CONTINUE READING BELOW
Brooke is flummoxed at first when she meets Sir Cole, whose genteel and caring demeanor was quite the opposite of the ex-boyfriend who left her disillusioned and jaded by love.
"Chivalry is always a wonderful thing," says Hudgens. "My boyfriend has always opened car doors for me, and eight years later, he's still doing it. Men these days should keep in mind that being a gentleman is a very attractive thing."
The costumes are fun. (Who doesn't love a knight in shining armor?)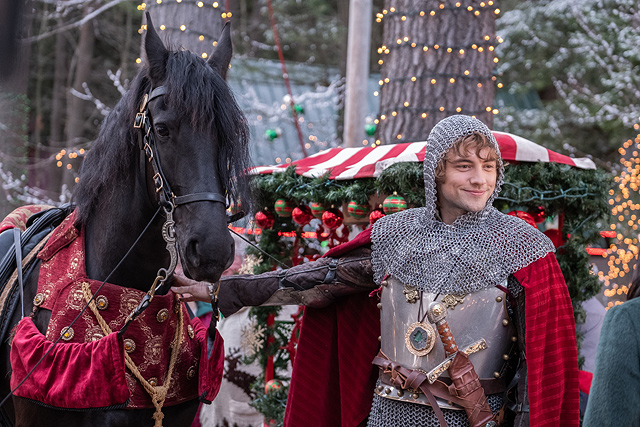 While Sir Cole eventually adapts to 2019 life and fashion, he starts out in his homebase—in a castle and in full metal. He's still wearing his suit once an enchantress' spell sets him time-traveling to Ohio, where he instantly becomes the center of attraction—armor and all.
"Wearing the suit was pretty tough at first, especially on the first day I tried it on and realized how heavy it was. It was about 100 pounds," says Whitehouse. "It gave me a bit of a backache and it made my leg shake, but I found that I got used to it as the days went on. I kind of looked forward to wearing it because it made me feel like I was in character." 
Christmastime is made for the feels.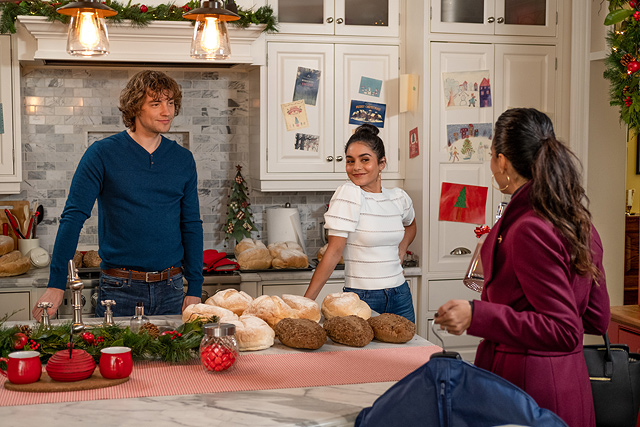 ADVERTISEMENT - CONTINUE READING BELOW
Watch for the montage-worthy moments between Brooke and Cole in The Knight Before Christmas. Every rom-com cliché, from baking together in the kitchen to the heroine seeing her knight step out of the shower is worth the butterflies in your stomach.
"[Netflix Christmas movies] give us a space where you can tell any story that gives you the feels," Vanessa explains. "I feel like love is always a beautiful thing to experience—especially around Christmastime. It's about instilling hope and instilling joy."
As much as The Knight Before Christmas subscribes to your traditional holiday rom-com playbook, it also has a few surprises for viewers.
The movie's She's All That moment—complete with Brooke walking down the stairs all dolled up—is one to pay attention to for its sweet little twist.
"One of my favorite scenes in the movie is a moment that we kind of came up with on the spot. It's right after Brooke walks down the stairs and she's all dressed up at the Christmas feast and Sir Cole is in his suit, having trouble with his tie," Hudgens says. "I got to help him, and the script was written so that she ties his tie and they get close."
ADVERTISEMENT - CONTINUE READING BELOW
"But, I actually have no idea how to tie a tie," she laughs, sharing that her inability to do the tie allowed them to shift the actual scene that makes the cut. "We just thought that it was a funny thing to do that goes against the cliché."
Plus, Netflix holiday movie fans will want to sit up and pay attention—there are many meta easter eggs all throughout the flick!
The comedy that comes with trying to reconcile someone's 14th-century reality with modern day technology.
When the guy you're into starts saying "milady" and talking about "mead" as his drink of choice, it's both ridiculous, and endearingly sweet.
"One of my favorite moments was when we had this giant fire that the art department put together," Whitehouse recalls. "I'm trying to hunt this skunk because I'm a little famished and Brooke comes running out with a fire extinguisher and puts it out, so Cole thinks she must be a witch."
ADVERTISEMENT - CONTINUE READING BELOW
The chance to suspend your belief.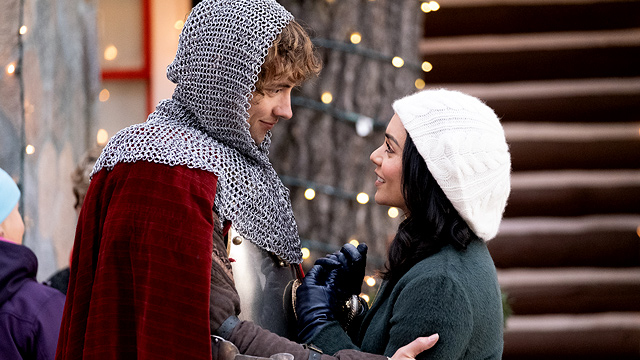 Time-traveling romance is usually the domain of tearjerkers, epic drama series, and fantasy—so to have everything set in a light-hearted holiday romp is a whole lot of fun. Suspending your belief isn't just about a couple discovering love, it's also about spells, quests, and knights.
ADVERTISEMENT - CONTINUE READING BELOW
"Getting to play a knight from the 14th century is just a really fun concept to me," says Whitehouse. "When I read the script, the whole idea of playing somebody from that era coming into such unknown territory was quite a difficult thing to wrap my head around."
"I quite enjoyed the challenge of having to take myself out of what it's like to have grown up in this time, and trying to think of everything that would be a surprise to me—which is basically everything in the film! You have to approach it with this kind of child-like vulnerability, almost."
"The fact that Brooke comes from a place of being very analytical and only really believing things that she can figure out for herself means that you have to suspend your belief a little bit," Hudgens adds. "It allows the audience to suspend their belief system with her."
ADVERTISEMENT - CONTINUE READING BELOW
The chemistry that fuels all that rom-com kilig.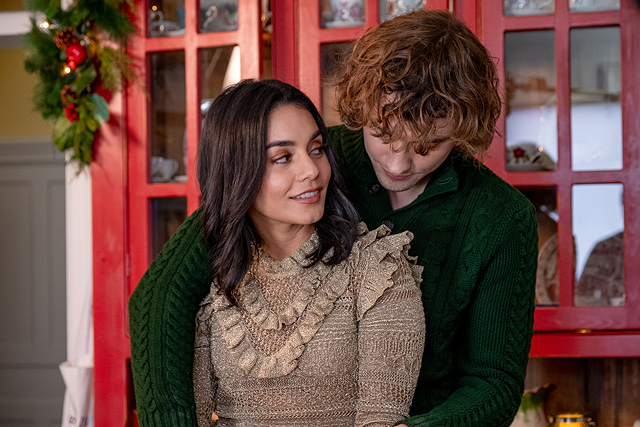 Rom-coms may be a dime a dozen but it's rare when the two leads get it right. You'll have no trouble sinking into the cute little relationship that builds up between modern-day Brooke and medieval Sir Cole—something brought on by the natural friendship between Hudgens and Whitehouse.
ADVERTISEMENT - CONTINUE READING BELOW
"We had a lot of fun (together)," Hudgens says. "I was told that we were kindred spirits and we hit it off right away."
"Yeah, I really enjoyed it," Whitehouse answers. "I felt like we just clicked really quickly. While we didn't have a long time to get to know one another, we are quite similar kinds of people. It was really easy to just sort of get to know each other and have a good time."
All the wholesome, family-friendly, festive fun.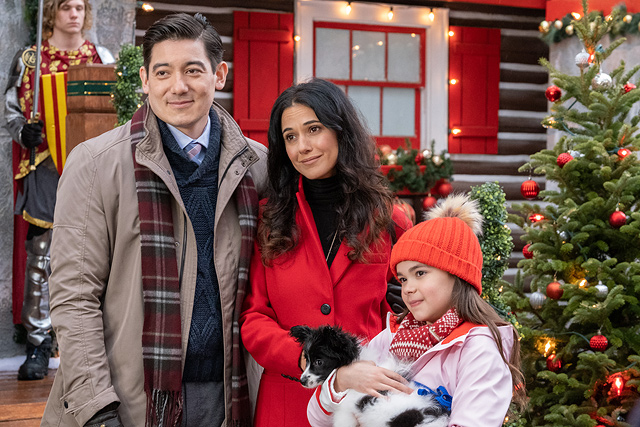 ADVERTISEMENT - CONTINUE READING BELOW
The Knight Before Christmas is a movie you can put on the TV and have everyone from your little sister to your grandfather enjoy. With touching banter between Brooke and her sister (played by Emmanuelle Chriqui), a wholesome twosome who are both kind-hearted and earnest, and an adorable little kid to appeal to the young ones, this movie has all the elements the whole family can enjoy together.
"Christmas is such a fun time—one that I always look back very fondly on," says Hudgens. "I thought that it's really special to do a Christmas movie because it's a time that can be stressful for families. To see a film and watch it at this time—you have a little bit of escapism."
"Believing in magic is a really beautiful thing. If I can be in people's living rooms and ignite feelings of joy like that, that's a wonderful thing to be remembered by."
ADVERTISEMENT - CONTINUE READING BELOW
The Knight Before Christmas is now streaming on Netflix.
Your guide to thriving in
this
strange new world.
Share this story with your friends!
---
Help us make Spot.ph better!
Take the short survey
More Videos You Can Watch
Load More Stories