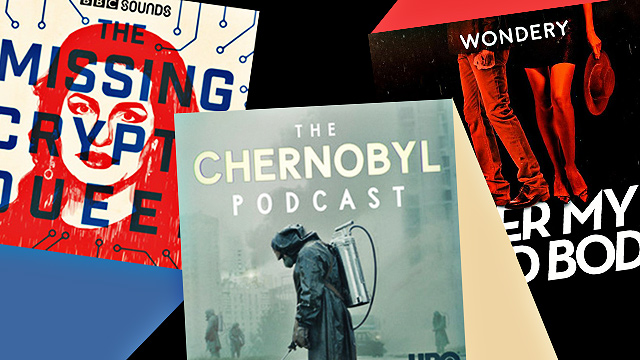 (SPOT.ph) It can get a tad overwhelming to sift through all the new podcasts that launched the past year. That's why we're here to make the task a little less daunting. We're cutting through the noise and bringing you 10 of 2019's follow-worthy podcasts. Kill two birds with one stone during your long commutes, laborious household chores, and quiet moments of curiosity with episodes that tackle everything from current affairs to history, comedy to true crime, and more. 
Here are interesting podcasts to check out in time for 2020:
Over My Dead Body by Wondery
Recommended for: the true-crime obsessed
Hands down the hottest genre in the podcast space, true crime never fails to gain fans. From the creators of the hit podcast Dirty John, Over My Dead Body delves deep into real-life events that pushed people beyond their limits. Love, revenge, justice, conspiracies, and plot twists–they're all here. Season 1 investigates the case of a young lawyer couple whose marriage ends in a bitter divorce and one gruesome murder. Take a listen and gear up for a wild ride. 
ADVERTISEMENT - CONTINUE READING BELOW
The Hottest Take by The Ringer
Recommended for: on-the-go folks looking for quick and funny takes on the day's hottest topics
At first listen, The Hottest Take might seem like all fun and games, but you can actually take away some helpful insights from their 10-minutes-or-less discussions. Per episode, a staff member presents their hot take and a rather chaotic roundtable discussion ensues. They discuss unpopular opinions on everything from dry-aged steak (are they actually really disgusting) to birthdays (should we celebrate after 40), paper straws (are they good or bad) to The Emmys (should it be twice a year), and more. 
The Intelligence by The Economist
Recommended for: your current affairs needs and then some
The Intelligence delivers facts and insights beyond the headlines. Every 20-minute episode features meaty reports and soundbites from correspondents and sources that help you make sense of the events happening around the world. Well-thought-out stories on politics, economics, health, and the environment, among others, are discussed to keep you informed and critical. 
Outrage and Optimism by Global Optimism
Recommended for: earth warriors who believe in our power to save the world 
From former UN Chief Christiana Figueres and the team behind the Paris Agreement, this podcast proves that outrage and optimism can co-exist. The show encourages listeners to channel their anger about today's issues to changing the world for future generations. Every episode features a special guest who discusses their efforts, be it in science, politics, development work, or business. Find out how thought leaders, CEOs, environmentalists, artists, and other advocates contribute to making our world a more sustainable place to live in. 
The Birthday Game by Remarkable Television
Recommended for: some light fun on your downtime
In The Birthday Game, host Richard Osman gathers three of his friends for an enjoyable guessing game. Players are asked to guess the ages of famous personalities celebrating their birthday on the week of the episode's release. The winner takes home the coveted prize: a delectable chocolate caterpillar cake. Peppered with funny side comments and attempts at deduction, this refreshing podcast is your best companion on your day off.
ADVERTISEMENT - CONTINUE READING BELOW
The Missing Cryptoqueen by BBC Sounds
Recommended for: tech nerds and investigative journalism fans
British journalist Jamie Bartlett and radio producer Georgia Catt investigate the case of Dr. Ruja Ignatova, who went missing in 2017 after luring hundreds of thousands of people to invest billions in her so-called cryptocurrency, OneCoin. The eight-episode podcast explores the complexities of cryptocurrency, cult mentality, and the missing "Cryptoqueen." It's an intriguing and gripping series that unravels stories of greed, ambition, and deception. 
You're Dead to Me by BBC Sounds
Recommended for: those who like their history with a side of comedy
History made fun—that's what You're Dead to Me is all about. Every episode, host Greg Jenner brings together a couple of keen guests: one comedian and one history expert. Informative and chock-full of British humor, this podcast will make you smarter and funnier with every 45-minute powwow. Toward the end of each episode, there's a quick quiz for the guest comedian during which you can also test your own recollection.
ADVERTISEMENT - CONTINUE READING BELOW
A Life Lived by Audioboom
Recommended for: those fascinated with the life of icons 
A Life Lived gives listeners an insider's look into the colorful lives of well-loved personalities who have left us. Each episode, which runs anywhere from 30 minutes to an hour, features exclusive interviews with people who knew the icons. Hear heartwarming anecdotes, inspiring messages, and intimate details about the people you admire. Journalist Stephanie Okupniak narrates the stories of Amy Winehouse, Anthony Bourdain, David Bowie, Stan Lee, and more. 
Encyclopedia Womannica by Wonder Media Network
Recommended for: everyone who needs bite-sized inspiration from groundbreaking women in history
In just five minutes, each Encyclopedia Womannica episode will fill you in on all the important details you need to know about one incredible woman in history. Wonder Media Network co-founder and award-winning journalist Jenny Kaplan hosts the podcast. A new episode is released almost every day, and every month, they follow a theme to put the spotlight on female game-changers across different fields and moments in history. The well-researched and engaging content will make you tune in regularly. 
ADVERTISEMENT - CONTINUE READING BELOW
The Ron Burgundy Podcast by iHeartRadio
Recommended for: those who want to hear random conversations go totally off the rails
Will Ferrell suits up as Ron Burgundy for this hilarious podcast. Every episode, Burgundy speaks with a special guest about a particular topic. As you would expect, things do get a little out of hand. There are already two seasons available online, where we've seen Burgundy chat with the likes of Gloria Steinem (about feminism), Deepak Chopra (meditation), and Peter Dinklage (poetry). He's also offered his unique thoughts about the supernatural, bullying, and the dark web. 
Share this story with your friends!
---
Help us make Spot.ph better!
Take the short survey
More Videos You Can Watch
Load More Stories