This New K-Drama Asks: Can You Fall in Love With a Hologram?
My Holo Love is the latest from Netflix.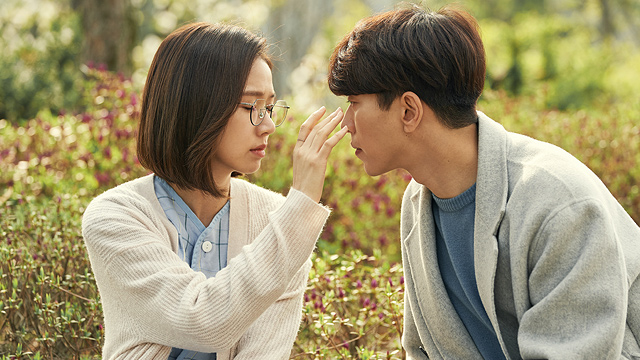 (SPOT.ph) Who doesn't want to have a picture-perfect love story? Plenty of shows tackle the concept of having the ideal romantic partner, but Netflix's upcoming K-Drama, My Holo Love, goes one step further and imagines a life where hologram companions are possible. In it, lonely office worker So-yeon (Ko Sung-hee) gets the chance of a lifetime when she ends up with special glasses that give her access to Holo (Yoon Hyun-min), the first ever holographic artificial intelligence program. Holo can be anything you want him to be; the catch is only you can see him. 
Fantasy and reality mix as the gentlemanly Holo takes on the role of So-yeon's love advisor, while a third player enters the picture: Holo's creator and doppelganger, Nan-do (Hyun-min), a prickly developer who thinks of love as hardship. Through Holo, this unique K-Drama explores the nuances of everyday romance with new eyes. 
ADVERTISEMENT - CONTINUE READING BELOW
The Thing About Artificial Intelligence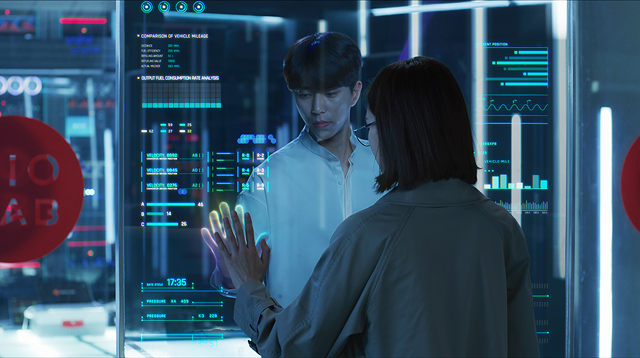 SPOT.ph got to chat with the show's lead stars, Ko Sung-hee and Yoon Hyun-Min, via video conference. Both actors are candid about how they'd use holographic companions if they were real. "I would probably use my Holo to ask for advice," Sung-hee says. "I'd want it to protect me…when I feel low or down."  
Meanwhile, Hyun-min cautions about the duality of having such technology: it can be both helpful and inconvenient. "We all have times when we feel a little blue and we need some comfort in our lives. When those times come…[having the hologram] will be very convenient in cheering us up," he shares. "On the other hand, it could be a little bit eerie to think that AIs could take the place of roles previously or currently played by human beings."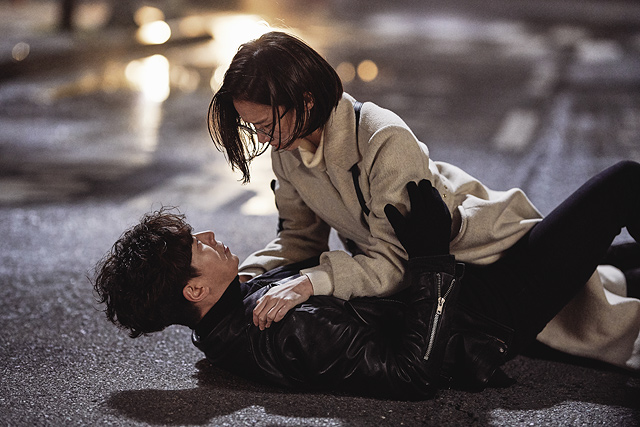 CONTINUE READING BELOW
Recommended Videos
My Holo Love's sci-fi premise opens up the possibility of a future with more advanced AI—perhaps even AI that humans can fall in love with. Hyun-min thinks it's not impossible, citing having a video conference across different countries as proof that things continue evolving. "This was something that I couldn't even imagine [happening] when I was a child, but here we are," he says. "This is our reality today. The world is changing at such a rapid pace. I feel that in the near future, maybe a human being can have a relationship with an AI. Who knows?
Sung-hee says she did think it might be possible after she filmed a scene where her character, So-yeon, starts developing feelings for Holo. "Obviously, it's not very easy [to fall in love with an AI], but you can see that Holo is very lovable and extremely charming." 
Challenges Behind the Scenes
Having a hologram as a main character made filming quite challenging for the show's other lead stars. "We had to shoot very emotional scenes and sometimes even action scenes with nothing in front of us," Sung-hee explained.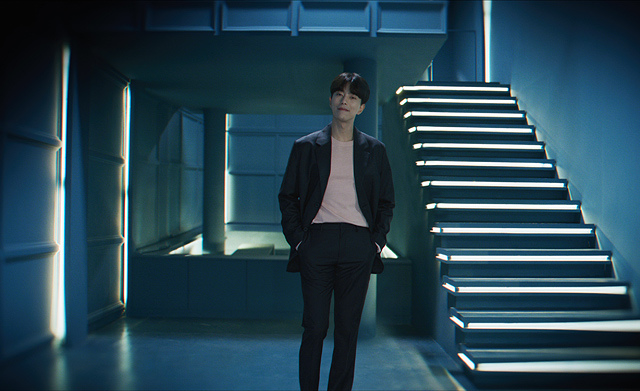 ADVERTISEMENT - CONTINUE READING BELOW
Hyun-min had his own struggles. Aside from having to play a hologram, he also had dual roles. He shared a memorable scene near the end of the drama where Holo and Nan-do have an emotionally intense conversation. "When I was playing both [the] roles of Holo and Nan-do, I couldn't hold back tears," he says. Holo wasn't supposed to cry because he was an AI, but Hyun-min managed to convince the director to allow a tear. The catch: Holo's tear needed to fall from the center of his eye instead from the side. "I had to act for two hours to get the tear to fall from the center."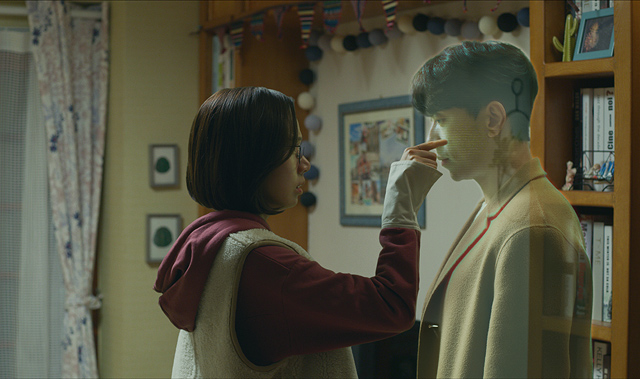 Thankfully, the stars' problems didn't extend to their acting; they found working with each other a great experience. "It was one of those times when I felt the closest and most open in terms of having an open conversation with a co-actor," says Sung-hee. "That chemistry is really evident in our portrayal of our characters." 
ADVERTISEMENT - CONTINUE READING BELOW
Hyun-min agrees, leading to a spirited fist bump between the two that had everyone in the conference laughing. "Seung-hee really exuded energy on set...We all had a great time thanks to her wonderful energy. I would love to get the chance to work with her again." 
"Every moment that I was with [Hyun-min] on set was memorable," Sung-hee adds. "That surprised me because he was just so charming." 
Going Beyond Romance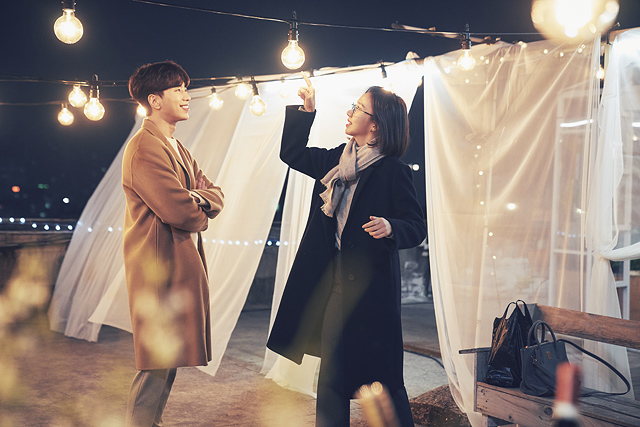 While My Holo Love is a romance, the show has an underlying theme of loneliness: the protagonists isolate themselves from the world after getting hurt by past experiences. "At the end of the day, we all carry a sense of loneliness," says Hyun-min. "We are all a little bit lonely, but ultimately, only other humans can fill that void."
Knowing this, if they could give each other's characters life advice, Hyun-min and Sung-hee would both give messages of encouragement. 
ADVERTISEMENT - CONTINUE READING BELOW
"If you feel lonely, don't take it all in by yourself," Hyun-min tells So-yeon. "Reach out; stretch out your hand because there is going to be someone that can help you."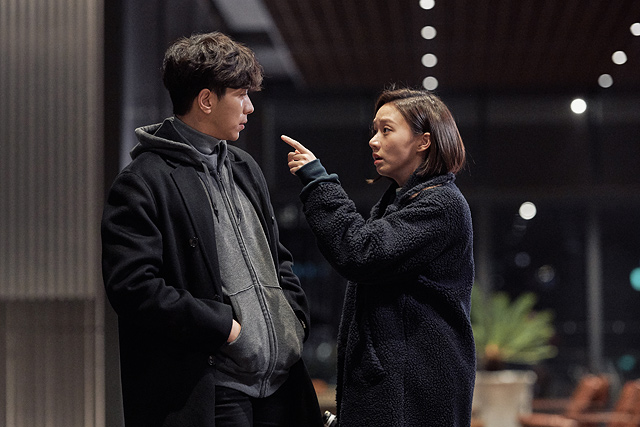 Sung-hee only has one piece of advice for Holo and Nan-do. "I would say that you are enough. Holo, even though you're an AI, you're enough. Sometimes, you're even better than a human being. Nan-do, despite all the hurt inside you and the way you isolate yourself to be lonelier, you are enough. You are already such a wonderful and amazing human being."
My Holo Love starts streaming on Netflix on February 7. Photos courtesy of Netflix.
Your guide to thriving in
this
strange new world.
Share this story with your friends!
---
Help us make Spot.ph better!
Take the short survey
Load More Stories