10 Highlights From Ebe Dancel's First Solo Concert
The singer-songwriter celebrates 20 years of music.
(SPOT.ph) Former Sugarfree frontman and singer-songrwriter Ebe Dancel has been in the local music industry for a while—20 years to be exact. Dance has seen great success in the band and continued to see the same results even as a solo act. He held his first ever solo concert on February 29 at the Metrotent in Ortigas, accompanied by the Manila String Machine. It's hard to believe it's his first ever solo concert given his prominence, but with his signature vocals on popular tracks like "Hari ng Sablay," "Tulog Na," "Burnout," and "Bawat Daan," it's no surprise that he sold out the venue in 12 hours. It was nothing short of magical and nostalgic, and here are some of the highlights of the night.
Here are the best moments from Ebe Dancel's first ever solo concert:
Starting the night off with "Prom."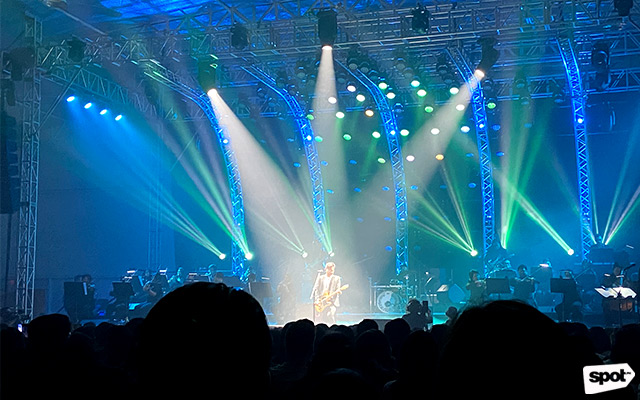 It only made sense to start the night with this song. Dancel sang "parang atin ang gabi" and with all the fans singing along to this prom anthem, it really felt like there was no world beyond Metrotent, and it's a fitting intro to the musical treat that was set to unfold for the rest of the night. Bonus: The arrangement had a classical touch courtesy of Manila String Machine and it adds a new layer to the 2004 classic.
ADVERTISEMENT - CONTINUE READING BELOW
Dedicating "Kasayaw" to his mom.
Before he played the next song, the singer took time to talk about his mom who sacrificed everything to take care of Dancel and his five other siblings. "Six children feels like 12," he joked. Dancel shared that his mother was a dancer, and he dedicated this track from his album Bawat Daan to her.
The singer-songwriter turning the crowd's attention to a very important message.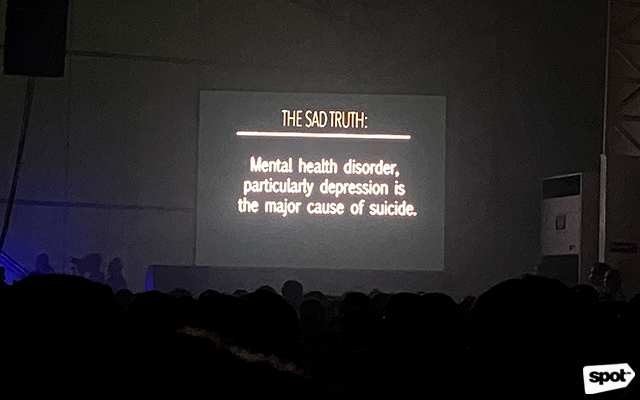 CONTINUE READING BELOW
Recommended Videos
After a few breaths, the singer spoke, encouraging audiences to look at the screen. The short presentation was all about mental health and depression, and how it affected countless individuals all over the globe. Dancel himself is a victim, and mentioned his trials with a mental illness. Sure, you came for the music, but he wanted to make sure people walked away with his advocacy in mind.
"Wag Ka Nang Umiyak."
ADVERTISEMENT - CONTINUE READING BELOW
That's it. Really, there's not much that needs to be said. The 2006 track from Sugarfree's Tala-Arawan album is one of the band's most memorable tracks, and it gained popularity after being used in ABS-CBN's Ang Probinsyano. The song's original arrangement is moving as is, but watching Dancel live singing his heart out with just a guitar was a different kind of magic. He told the crowd not to cry, but we'll be the first to admit that it was difficult not to.
The new "Mariposa" arrangement.
The guitar and drums-heavy 2003 track from Sugarfree's Sa Wakas album is all about earnestly wishing to be with someone and while it's quite the headbanger, it gave off a different a feeling with strings added to the arrangement. The original sounds a bit angsty when Dancel would sing "Ayoko nang mag-isa," but the Manila String Machine added a new dimension of longing and desire to reach out. We didn't think this song could hurt more, but strings brought out more emotion.
Dancel singing "Tulog Na" for his nephews and niece.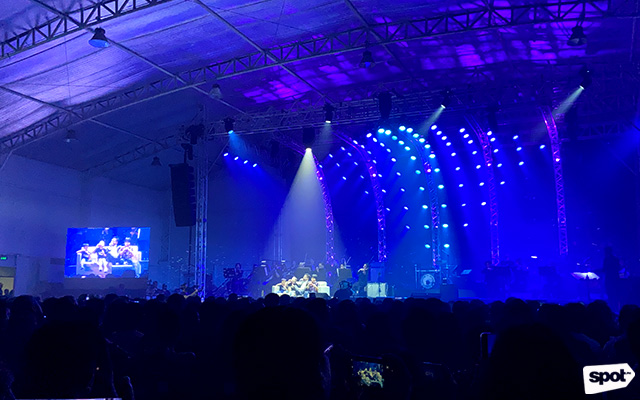 ADVERTISEMENT - CONTINUE READING BELOW
Dancel took several gulps of water, and the crowd was quick to see a couch on the side of the stage. He introduced the next song as a lullaby of sorts to kids, and went on to explain that he wrote the song for a friend with insomnia. He then invited three kids to the couch—his two nephews and one niece—and apologized to them for not being there for them all the time due to the shows he does. Accompanied by the Manila String Machine, Dancel serenaded the kids with a shaky voice punctuated by "You're going to make me cry," in between verses.
The crowd singing along to "Hari ng Sablay."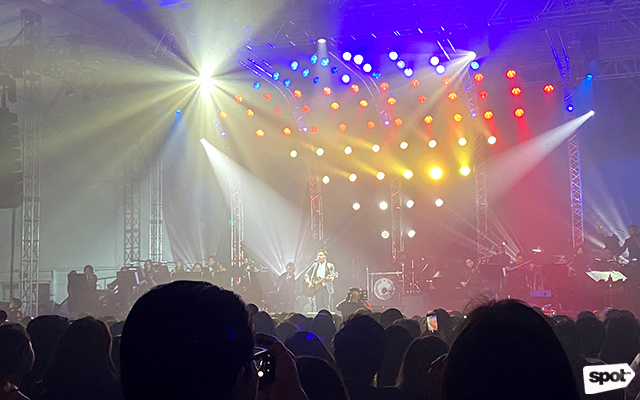 Nobody said life was easy, and "Hari Ng Sablay" sounds a bit too happy for a song that's all about setbacks. Everyone in the venue seemed to have their own share of failures, and with a little encouragement from the singer, the crowd sang along to every word on instinct. 
ADVERTISEMENT - CONTINUE READING BELOW
The first few seconds of "Burnout."
There was a small cheer before the song even started, the audience reacting naturally to something that sounded awfully familiar. This song talks of the highs and lows of a relationship and is one of the band's most popular tracks due to how relatable it is (it was even used in I'm Drunk, I Love You). The crowd fell silent as Dancel sang, his vocals cushioned by sweeping strings. "O, kay tagal din kitang mamahalin," he sang, and the crowd swayed along in silent agreement.
Closing the night with "Bawat Daan."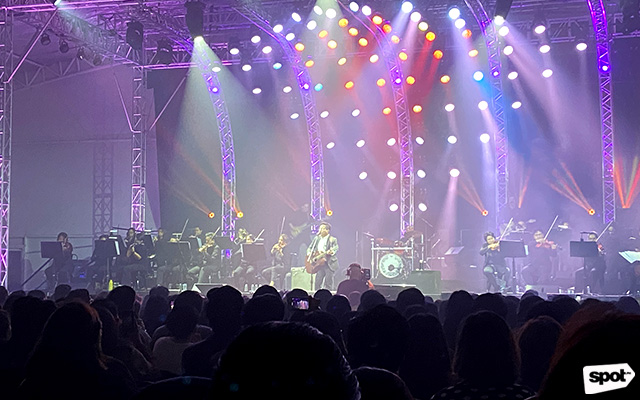 This was Dancel's last song for the night, after about 15 to 16 songs. "Bawat Daan" comes from the album of the same name and has been used in films like #WalangForever and Stranded, as well as teleserye The Killer Bride. Dancel admitted earlier on in the night that he sings of love because he can never understand it, but he continues to understand more with every passing day. The song is all about a great love that chooses to commit every single day no matter the path taken, and it seemed the apt way to end his setlist. Before singing, he promised to reach at least five more years, totaling his years in music to 25.
ADVERTISEMENT - CONTINUE READING BELOW
That standing ovation for Dancel and the Manila String Machine.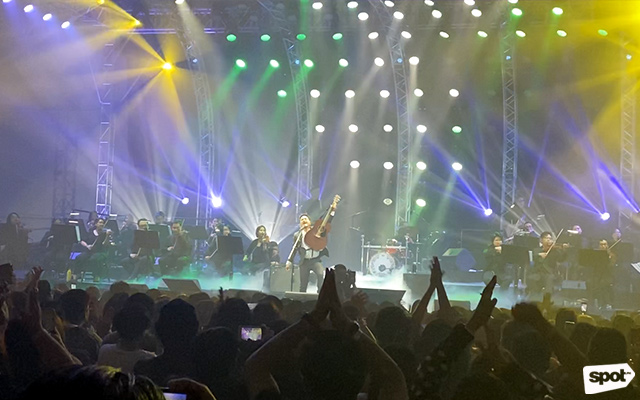 As the last note fell, Dancel took off his glasses and raised his guitar into the air. One by one, folks from the crowd stood up and clapped their hands nonstop. Dancel and the Manila String Machine got the standing ovation they deserved—the perfect way to cap the night.
Share this story with your friends!
---
Help us make Spot.ph better!
Take the short survey
Load More Stories