The Cast of Money Heist Spills What to Look Forward to in Part 4
New characters, new dilemmas, and more!
(SPOT.ph) It's been nine months since we last saw the red jumpsuits and the Dalí masks, but the gang from Money Heist is back at it again, this time to rob the Bank of Spain and make it out alive. Part 3 of the Spanish series saw the Professor's plan falling apart, along with disputes brewing within the supposedly no-fail group. Ideally, you get more answers the more episodes you watch, but the plot always thickens and there are still many questions left hanging in the air. Part 4 is out now and if you haven't watched it yet, we got the chance to chat with some of the cast members to talk about what to anticipate in Part 4.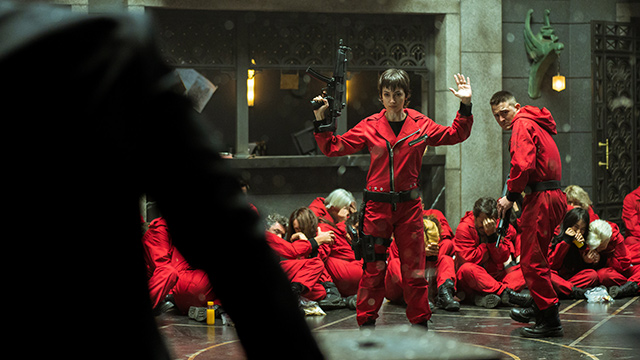 Before we talk about what the cast spilled, breathe easy—we'll have you know that there are no spoilers here.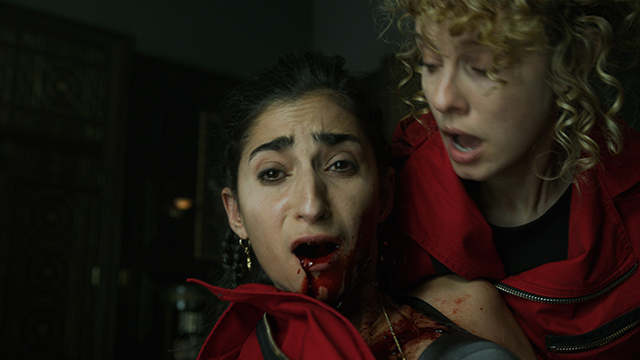 ADVERTISEMENT - CONTINUE READING BELOW
Every episode in the series has you biting your fingernails in anticipation, and Part 4 is no different. Even the actors don't know their character's fate. Alba Flores, who plays the optimistic Nairobi, reveals that she didn't know what to expect, and all she got was a warning that something shocking would happen to her character. Despite entering things blind, she has faith in the team that sews the story: "I just put myself in the hands of the script writers. You trust them to do anything they want to your character and—let's say they have the license to do whatever they want." We know you're dying to find out if Nairobi makes it or not, but judging by Flores' answer, you'll just have to watch and hope the writers let her live!
CONTINUE READING BELOW
Recommended Videos
Believe it or not, Manila makes an appearance—just not in the way you'd expect. You won't see the endless traffic of EDSA or jeeps in Part 4, but you will be introduced to Belen Cuesta, the actress who plays Manila, the newest member of the team. The Professor's OG students—with codenames after cities—is a tight-knit group and it can be a struggle to get along with people who have already worked together. It's a lot like being a new student in class "and everybody knows each other, but fortunately, I have wonderful co-actors, which made things easy," Cuesta shares. "I felt very much welcome and everything was very well explained to me," she adds. Everyone on the team has their own baggage and trauma and Manila's past and motivations will affect the team dynamic in a way you won't expect.
ADVERTISEMENT - CONTINUE READING BELOW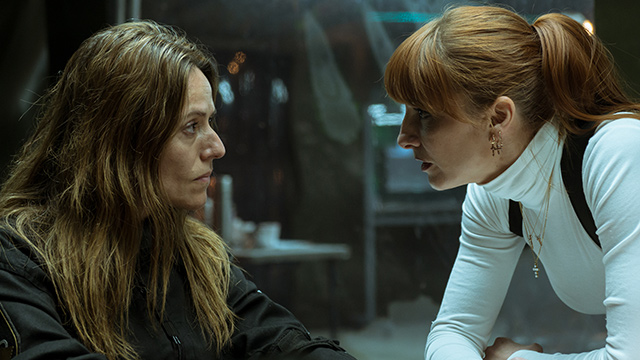 If the thieves get a new addition, the cops trying to catch them are bringing reinforcements. Inspector Alicia Sierra (Najwa Nimri) was featured in Part 3, but her negotiation skills in Part 4 will jumble up the Professor's plan like no other. He's got trouble brewing in his own head, and the pregnant lady's about to make it way worse—you never know what she's going to do next. That's why she contributes [so much] uncertainty [to Part 4]," Álvaro Morte, who plays the intelligent Professor, sums up.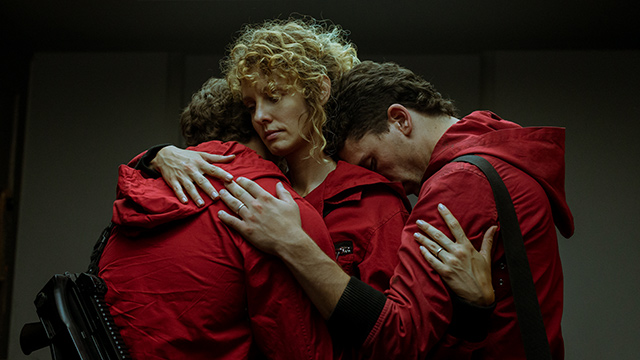 ADVERTISEMENT - CONTINUE READING BELOW
"The beauty of this new season is that we see the characters go down to hell. They are going to do things that are maybe questionable, morally speaking," Jaime Lorente teases, but not too much that he reveals major plot points for his character, Denver. "In the case of Denver, I think he has this wonderful heart," he shares. This leads the team to reevaluate who they are in each other's lives, and puts things back in perspective for everyone, but especially for the Professor.
Four parts in and the series is still as popular as ever, not just in Spain, but in the Philippines as well. "I believe that the world was craving to find someone to relate to," Flores starts, "And I think this is a script anyone can find [a character] to relate to, because it has to do with the system we live in," she finishes. Money Heist has always blurred the lines between good and bad, right and wrong, and legal and just. It shows the gray areas of life and ordinary people just trying to get by. Criminals are made out of people who have reached the end of the rope, but in the eyes of others, they're seen as social heroes. The past three parts have been full of that, and you can expect complications and conflicts to reach an even higher boiling point in Part 4. You'll just have to watch and simmer the moral dilemma yourself.
Money Heist Part 4 is now streaming on Netflix.
ADVERTISEMENT - CONTINUE READING BELOW
Your guide to thriving in
this
strange new world.
Share this story with your friends!
---
Help us make Spot.ph better!
Take the short survey
Load More Stories