10 Riveting Documentaries to See If You Love Anything Hallyu
Go beyond Korean dramas and movies.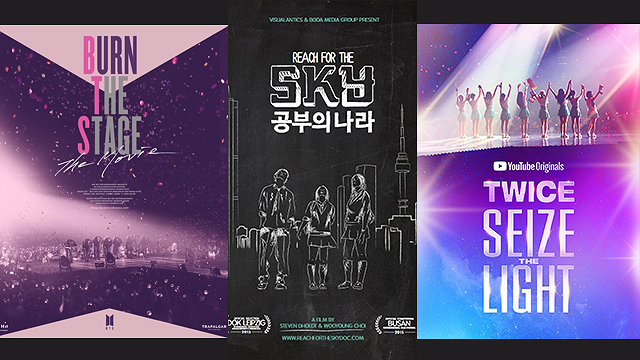 (SPOT.ph) Documentaries are ideal for people who want to learn more about a certain topic, theme, interest, or issue. If Korean culture is something you want to delve into these days, these picks should be next on your must-watch list. We've rounded up these documentaries that take a closer look into how K-Pop stars deal with the pressures of fame, what traditions are like in Korea, and how they uphold Korean values and cultures even when they're abroad. 
ADVERTISEMENT - CONTINUE READING BELOW
CONTINUE READING BELOW
Recommended Videos
Check out these documentaries on Korean culture and history:
Reach for the SKY (2015)
SKY represents the top three universities in South Korea: Seoul University, Korea University, and Yonsei University. Reach for the SKY focuses on the lives of three students who are set to take the college scholastic ability test or Suneung in Korea. Students prepare years before the test as a result of intense pressure and high expectations from society, as the results of your Suneung will determine whether or not you can get in a good university in South Korea.
The Korean Wedding Chest (2009)
A fascinating difference between Western and Korean weddings is the presence of wedding chest makers. This documentary starts with a chest maker curating what goes in a wedding chest and explaining what each item represents. From there, the documentary also touches on other customs and the common ground between traditional and modern wedding practices. Directed by Ulrike Ottinger, The Korean Wedding Chest provides a raw insight into the Korean wedding industry and how these rites are important to this day.
ADVERTISEMENT - CONTINUE READING BELOW
Mrs. B., a North Korean Woman (2017)
This documentary tells the story of Mrs. B, a North Korean woman who was sold into marriage in China. Mrs. B then becomes involved in trafficking North Korean women to Chinese men to earn her keep and help the family she left behind. Eventually, she follows her family and children who have escaped to South Korea, but gets held by the intelligence service upon arrival at the border. The documentary opens up a whole new side of human trafficking and a glimpse into the lives of people in North Korea.
TWICE Seize The Lights Documentary (2020)
Get to know more about the chart-toppers behind the songs "Fancy," Like Ooh-Aah," and more through this YouTube Original. The eight-episode docu-series shows footage of K-Pop girl group TWICE—comprised of Nayeon, Jeongyeon, Momo, Sana, Jihyo, Mina, Dahyun, Chaeyoung, and Tzuyu—during their trainee days, their debut, and now with hit songs and sold-out concerts to boot. It's a must-see for ONCEs—the collective name for fans of the band—as it showcases the members' personalities and struggles. You'll even see parts of their TWICELIGHTS tour in 2019, which includes a stop in Manila.
ADVERTISEMENT - CONTINUE READING BELOW
The Foreigner (2015)
South Koreans are considered as one of the top video gamers worldwide, and they are known to be pretty good at StarCraft. This short documentary is set during a 2011 gaming tournament called MLG Pro Circuit: Columbus in Ohio, where four elite Korean eSports gamers—SlayersMMA, Moon, Losira, and OGS MC—compete alongside American player IDRA, who is out to win it, too.
The Battle of Chosin Reservoir (2016)
The Battle of Chosin Reservoir has less to do with actual war tactics and more to do with how American veterans battled through unforgiving conditions in North Korea and a surprise attack by the People's Republic of China during the Korean War. The black-and-white documentary features combat footage and photos, as well as interviews with war veterans and historians.
Twinsters (2015)
ADVERTISEMENT - CONTINUE READING BELOW
Thanks to the Internet, it's pretty easy to find a long-lost friend or family member nowadays, and it is exactly how twin sisters Samantha Futerman and Anais Bordier discovered each other. Here's the catch: neither knew they had a twin sister. Anais contacted Samantha when she came across Samantha's Facebook video. She was taken aback about how extremely similar they looked like. It was merely coincidence at first, until they put the pieces together. They discover that they were both born on November 19, 1987 and from Busan until they were adopted by foreign families.
Our School (2007)
Our School revolves around the lives of Korean native students and teachers who study and work in a Korean school in Hokkaido, Japan. The documentary shows cultural differences and how the Korean natives celebrate and honor their own Korean culture while respecting the Japanese culture, and how this generation moves forward from the pain of war.
ADVERTISEMENT - CONTINUE READING BELOW
Night and Fog in Zona (2015) 
The perfect example of following the steps of a role model, Night and Fog in Zona was directed by Korean critic-turned-director, Jung Sung Il. He follows the work of renowned Chinese director Wang Bin who is famous for his long documentaries and movies. Jung Sung Il's "cine-essay" highlights Wang Bin in his natural habitat as he works on two film projects, and does so in Wang Bin's style too: The documentary is four hours long and has no narrations, just scenic landscapes and soothing music.
Burn The Stage: The Movie (2019)
This musical documentary is an adaptation of the YouTube Premium docuseries which came out in 2018. Burn The Stage: The Movie goes behind the scenes of the popular K-Pop boy group BTS' Wings tour in 2017, where they show the artistic process of creating songs or perfecting a stage, but also the ugly parts of being an idol. Burn The Stage: The Movie documents Jin, Suga, J-Hope, RM, Jimin, V, and Jungkook's journey from rejection to self-love and shows their human sides as they deal with mistakes and injuries during physically challenging world tours.
ADVERTISEMENT - CONTINUE READING BELOW
Load More Stories