Folklore Is Officially Here and We Need to Discuss Taylor Swift's New Songs
T. Swift has given 2020 actual redeeming value.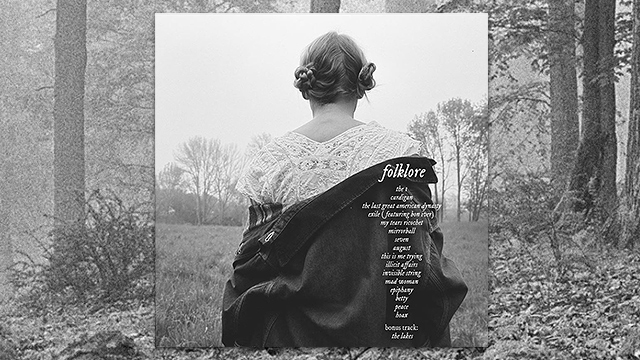 (SPOT.ph) That's it, 2020 has officially been declared over. Taylor Swift's brand spankin' new surprise album, Folklore, has dropped and we see no reason for 2020 to continue on the way it has. Swifties across the globe were shook into the next decade when the artist dropped news on July 22 (U.S. time) that an upcoming album would be released mere hours after her announcement—as opposed to her 2019 ultra-color masterpiece Lover, which had insane build-up with easter eggs and hints galore. 
ADVERTISEMENT - CONTINUE READING BELOW
CONTINUE READING BELOW
Recommended Videos
"Most of the things I had planned this summer didn't end up happening, but there is something I hadn't planned on that DID happen," wrote the artist in her caption; Said thing just happens to be her eight studio album full of entirely new songs. The tracks were written and recorded mostly while in quarantine, with Swift saying she started in April, and are full of all her "whims, dreams, fears, and musings."
ADVERTISEMENT - CONTINUE READING BELOW
The timing of her album wasn't planned either, she admitted, but she writes, "My gut is telling me that if you make something you love, you should just put it out into the world. That's the side of uncertainty I can get on board with." And for that, we're sure, all her fans are thankful (us included!).
The boho visuals for her latest album had everyone shivering in the best way possible—and the folksy, vulnerable, sounds that we all just heard have us all shaking even better. Swift posted several announcements in one go across her social media accounts—leading to a collective heart attack—of the album announcement, a track list for 16 whole songs, and a teaser for the music video of one of the tracks, "cardigan," which dropped around the same time as the album. A bonus track called "the lakes" is included in deluxe editions of the Folklore.
ADVERTISEMENT - CONTINUE READING BELOW
Swift has single-handedly made this year so much better and to celebrate, we discuss each track on her 2020 album—and what they could possibly mean. 
Let's discuss: What do all the tracks on Taylor Swift's Folklore album mean?
"the 1"
Louder for the people in the back: "It would've been fun, if you would have been the one."
ADVERTISEMENT - CONTINUE READING BELOW
How many times have you asked yourself "what if?" about a certain someone?  You know the feeling, having moved on when bam! It turns out you haven't, really. "It would have been sweet, if it could have been me." Cue the tears. Swift is probably reminiscing about past loves in this song—and sure we're in full support of her low-key relationship with British actor Joe Alwyn, but damn, Swift is only human, too.
"cardigan"
Louder for the people in the back: "When you are young they assume you know nothing."
Just like a warm, comforting cardigan, this song lulls you into a comforting sense of security—then shanks you with its lyrics. Swift wrote that "cardigan" talks about the everlasting mark of young, oft naive, first love (i.e. being worn and discraded like a cardigan, we know, it hurt us too). The fairytale #aesthetic music video dropped at the same time as the album, and the last few moments of her drowning (in toxic love, maybe?) had us all shaking. It was shot in line with all safety protocols for the novel coronavirus and was directed by T. Swift herself.
ADVERTISEMENT - CONTINUE READING BELOW
"the last great american dynasty"
Louder for the people in the back: "Who knows if she never showed up what could've been."
The entire album is a collection of stories, of myths, and tales, that she's heard of or experienced herself—and in "the last great american dynasty," she tackles an old narrative: "A misfit widow getting gleeful revenge on the town that cast her out." The song is reportedly inspired by Rebekah Harkness, a composer and patron of the arts who held sway in 20th century American society—and the original owner of Swift's Rhode Island home. Swift is also a master at clapping back at people who don't like what she's doing, so we don't think it's a stretch to speculate that this song is her big classy middle finger to critics who think she's what's wrong with the music industry. "I had a marvelous time ruining everything," she says. *mic drop*
ADVERTISEMENT - CONTINUE READING BELOW
"exile"
Louder for the people in the back: "You're not my homeland anymore, so what am I defending now?"
Featuring Bon Iver's deep vocals, we bet this had you in tears barely seconds in—no judgement here. When Swift replied "I gave so many signs," to Bon Iver's "You never gave a warning sign," it hit hard. The song sets the scene real good: a couple breaking up, trying to explain to each other what went wrong. 
"my tears ricochet"
Louder for the people in the back: "Even on my worst day, did I deserve, babe, all the hell you gave me?"
Swift reportedly wrote this song by herself, so all we can ask is with a whole lot of indignation: "Who hurt you?" Behind the dark theme, Swift also wrote that she took the story of "an embittered tormentor showing up at the funeral of his fallen object of obsession," and it looks like she's speaking from the perspective of a now-liberated victim. "If I'm dead to you, why are you at the wake?"
ADVERTISEMENT - CONTINUE READING BELOW
"mirrorball"
Louder for the people in the back: "I'm still on my tallest tiptoes, spinning in my highest heels, love, shining just for you."
This magical track took us on a ride back to some of the happiest nights of our lives, riding in a car, windows down, on our way to wherever from the disco (mirrorball, possibly?). But behind the chill sounds—which we can't wait to hear in the next hit indie film—is the story of a bunch of lovestruck kids learning what it is to be in an (ultimately fleeting) relationship. Anyone else hit by the "shining just for you" line?
"seven"
Louder for the people in the back: "Please picture me in the weeds before I learned civility."
The Pennsylvania-born and raised singer let us into her childhood with "seven." It's full of sweet imagery (running away to India, becoming pirates) hiding a heartbreaking story of an abused friend—and how she had to leave all that behind to grow. "I used to scream ferociously anytime I wanted," she sings.
ADVERTISEMENT - CONTINUE READING BELOW
"august"
Louder for the people in the back: "August sipped away like a bottle of wine, cause you were never mine."
A little more upbeat than the rest of her tracks in this relatively stripped back album, "august" carries a bit of the pop beat Swift is known for. Talking about one heck of an affair that didn't last, when they were living for the moment, who knows if Swift is talking about one of her own past relationships. Tom Hiddleston, anyone remember that?
"this is me trying"
Louder for the people in the back: "They told me all of my cages were mental, so I got wasted like all my potential."
It's no lie that Taylor Swift has had to reinvent herself again and again to stay at the top of the music industry. She's received flak for supposedly singing about one thing (i.e. her relationships) so we argue it's fair game this vulnerable song is her saying damn it, she's trying, okay? Or, it could also be her professing love to someone she can't have—we leave it to you.
ADVERTISEMENT - CONTINUE READING BELOW
"illicit affairs"
Louder for the people in the back: "And you knew damn well, for you I would ruin myself a million little times."
Who doesn't love the "secret relationships" trope? It almost never ends well, but it always makes for a real good story. This acoustic-based track puts the focus on Swift's pure vocals, singing about a bittersweet love story that started in "beautiful rooms" and ended terribly—with her at the losing end.
"invisible string"
Louder for the people in the back: "Time, mystical time, cutting me open then healing me fine."
We can't get enough of this simple, happy beat. Could this feel-good song about healing be dedicated to all the happy moments she's had with partner Alwyn? We can't confirm, but we are here for this big healing energy she's made with this song. 
"mad woman"
Louder for the people in the back: "Every time you call me crazy, I get more crazy."
ADVERTISEMENT - CONTINUE READING BELOW
Swift brought the mood from a chill 60 kph to a 1000°C with this piano-based track—kind of like "Reputation" but slicingly calm. We know people throw a lot of flak at Swift for hundreds of reasons, labeling her many things. This track is definitely one of her answers to being trapped in the narrative of a "mad woman" by society.
"epiphany"
Louder for the people in the back: "Holds your hand through plastic now, Doc, I think she's crashing out."
This track just stands out thanks to its mystic sounds, upped by an extra ethereal whisper in Swift's voice. And matched with the painful lyrics, singing about the experience of workers battling death on the frontlines, "epiphany" is a hard-hitting track that requires you to be in a sound place emotionally before listening.
"betty"
Louder for the people in the back: "I'm only seventeen, I don't know anything but I know I miss you."
ADVERTISEMENT - CONTINUE READING BELOW
Look, this song is bound to make the biggest splash with everyone asking the same question: "Who is Betty?" but with a whole lot more exclamation points. People are bound to point to former bestie and reported lover Karlie Kloss—but we're happy to just enjoy this upbeat country-folk song about a high-school fling (with our fingers crossed that it is).
"peace"
Louder for the people in the back: "All these people think love's for show, but I would die for you in secret."
For a track entitled "peace," this definitely got our hearts pumping. Swift brought out her guitar for this one, a heartfelt dedication to a soulmate—and a really sweet and humble one at that. She sings about not being good enough for her partner and we're left wondering if this is dedicated to Alwyn, who BTW, has two brothers (like in the song). It's obvious Alwyn is more into the low-key lifestyle, and with Swift being a freaking mega-star, it's a bit of a question whether she can give him the "peace" he deserves. Yes, we're heartbroken. 
ADVERTISEMENT - CONTINUE READING BELOW
"hoax"
Louder for the people in the back: "Don't want no other shade of blue but you, No other sadness in the world would do."
Once again, we need to ask, "Who hurt you, Taylor Swift?" Really, you did us bad when you said "Your faithless love's the only hoax I believe in," and we can't thank you enough for it. We don't know what happened to her in New York, but this deceitful lullabye is the perfect end to what is so far 2020's most perfect album.
Hey, Spotters! Check us out on Viber to join our Community and subscribe to our Chatbot.
Share this story with your friends!
---
Help us make Spot.ph better!
Take the short survey
Load More Stories