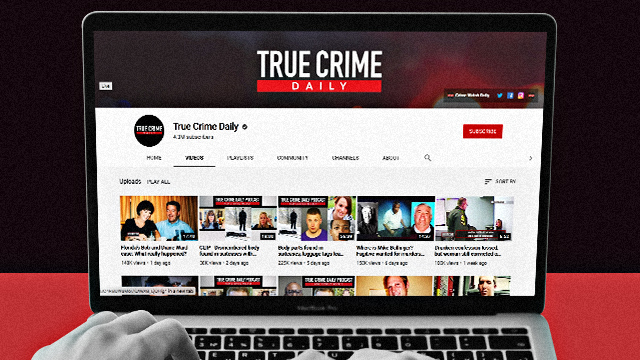 (SPOT.ph) You've finished your Tiger King binge, devoured all the current episodes of the Unsolved Mysteries reboot, completed watching I'll Be Gone in the Dark, and yet you're still (figuratively) dying to discover more cases and watch more true crime drama unfold. Look no further than the hallowed halls of YouTube, where some of the most dedicated and detailed true crime enthusiasts are sharing stories of unsolved crimes, caught killers, and more. So whether you're interested in learning more about different cases, looking for some haunting stories, or becoming a budding "citizen journalist" hoping to solve crimes from your own home like Don't F*** with Cats' Baudi Moovan, here are 10 true crime YouTube channels you should take a look at. 
ADVERTISEMENT - CONTINUE READING BELOW
Check out these YouTube channels for your fix of true crime mysteries:
BuzzFeed Unsolved
The popular Unsolved series shows that BuzzFeed isn't just for lists and quizzes. Hosted by Ryan Bergara and Shane Madej, BuzzFeed Unsolved tackles unsolved true crimes (and paranormal mysteries on the spin-off Supernatural series) in a way that blends the serious with the comedic. Bergara and Madej's funny conversations are intercut with detailed storytelling of various unsolved cases of the past. This makes for a lighter take on the true crime genre, and a bit of humor could be quite needed after watching hours of true crime videos.
True Crime Daily
Formerly a TV series called Crime Watch Daily hosted by To Catch a Predator's Chris Hansen, the True Crime Daily channel uploads videos taken directly from the TV series and presents them to a new audience, as well as continuing to post videos of current cases that deserve some attention. If you're looking for something more formal—more like you're watching TV news—then True Crime Daily's massive library of videos is ready to be binged.
Kendall Rae
Channel: https://www.youtube.com/channel/UCKBaL17hXLGJvi2KZKpja5w 
Women discussing true crime can be its own subgenre in the YouTube world, with the likes of Kendall Rae, Eleanor Neale , Bella Fiori, and Danelle Hallan among the many leading the charge by telling and shedding light on cases right from their homes. In 2020, Rae was able to film her own documentary (or "vlogumentary"), focusing on a case about a man who killed himself, but the family thinks otherwise. In the documentary series, she spent time with the family of the victim, and really got an in-depth look at the case—a real unique opportunity for a YouTube true crime vlogger. Rae also discusses a broad spectrum of topics on her channel, from famous scandals like the Nancy Kerrigan/Tonya Harding case to the truly bizarre.
JCS – Criminal Psychology
What sets Jim C. Swim or JCS apart from other true crime YouTube channels is that instead of focusing on the details of the crimes he discusses, his videos study investigation and interrogation techniques as well as the psychology of the criminals or suspects involved. JCS takes the time to break down the tapes of suspects being interviewed, picking apart their statements and mannerisms. It's a must-watch for viewers interested in behavioral science and criminal psychology.
ADVERTISEMENT - CONTINUE READING BELOW
Criminally Listed
If lists are your thing, then Criminally Listed has got you covered. Condensing several intricate cases into one video list is a difficult task, but Criminally Listed puts together interesting stories into a succinct and concise enough way that no stone is left unturned. At the same time, you get to learn about different cases about various topics you might be interested in, from horror movies based on real crimes to murders that came after appearances on reality shows.
FBI Files
Channel: https://www.youtube.com/channel/UCwxod2w5NT4qMWfMgZivCYQ
The FBI Files is a TV documentary series that ran from 1998 to 2006, looking behind the scenes of the Federal Bureau of Investigation's most notorious cases and crimes. Their YouTube channel is showcasing these previous TV episodes on the Internet. Though the production is a bit dated, the cases are still highly compelling, giving viewers great insight into the minds of FBI agents and forensic scientists that worked on them.
ADVERTISEMENT - CONTINUE READING BELOW
Dark Curiosities
Known for covering cases that haven't received as much or enough media attention, this Scottish YouTube channel explores many mysteries and unsolved cases in the hope of providing some insight to these lesser-known crimes. Dark Curiosities covers a wide range of stories from all over history, with some dating back to the 1900s, using old clippings and photos to tell some really awful but nonetheless engaging tales.
ReignBot
Focusing on the strange and disturbing, ReignBot's videos aren't all about true crime. With videos on odd Internet memes (like Momo), creepy TikTok accounts, and the weirdest parts of the web, their content can be a bit more off-putting and spine-chilling than one might expect. However, ReignBot does cover several unsolved and tragic, often gruesome cases that you may have never heard of (like several terrifying tales from Japan), covering them with the same unsettling tone as the other videos on their channel.
ADVERTISEMENT - CONTINUE READING BELOW
Bedtime Stories
Like ReignBot, Bedtime Stories is a channel that focuses more on the odd things in our world, with videos on cryptids, alien abductions, and cases that are right off the pages of "creepypasta." The channel does have a true crime section, though, detailing strange cases in history. Bedtime Stories, though, makes full use of its visual medium, telling its true stories through beautiful but haunting drawings of images from the cases themselves. Not for the faint-hearted, the channel states that the best way to watch their videos is to "turn off the lights, get into bed and plug in your earphones, because it's time for a creepy bedtime story."
Real Stories
Real Stories is a YouTube channel that puts together award-winning, critically acclaimed, and compelling documentaries from around the world. On their page, you'll find documentaries of all kinds—medical, sports, biographies, art, and of course, true crime. These are full-length, professionally produced documentaries that range from being about serial killers to missing persons and more, and with the vast amount of styles available, you'll definitely find one that fits best to your tastes.
ADVERTISEMENT - CONTINUE READING BELOW
Hey, Spotters! Check us out on Viber to join our Community and subscribe to our Chatbot.
Your guide to thriving in
this
strange new world.
Share this story with your friends!
---
Help us make Spot.ph better!
Take the short survey
More Videos You Can Watch
Load More Stories