Director James Gunn Literally Googled "The Dumbest Villain of All Time" for The Suicide Squad
And the cast and producers were all up for it.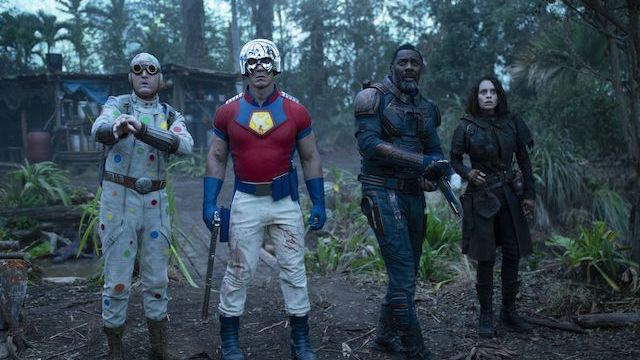 (SPOT.ph) It's probably not the first time you'll be hearing about the story of The Suicide Squad. After all, the biggest baddies of the DC Universe being tapped to team up together to be heroes is one of the most famous comic-book arcs. Not to be confused with 2016's Suicide Squad (directed by David Ayer), James Gunn's The Suicide Squad is a new, standalone (and canon!) film that puts its own out-of-this-world twist to the story. 
Government agent Amanda Waller (reprised by Viola Davis) enlists the help of supervillains desperate to get out of the hellish Belle Reve prison to join the shady Task Force X. Her team of the most sought-after delinquents include Harley Quinn (still played by Margot Robbie), Bloodsport (Idris Elba), Peacemaker (John Cena), Ratcatcher 2 (Daniela Melchior), Polka-Dot Man (David Dastmalchian), Captain Boomerang (played by a returning Jai Courtney), Savant (Michael Rooker), Blackguard (Pete Davidson), T.D.K. (Nathan Fillion), Javelin (Flula Borg), Mongal (Mayling Ng), and Weasel (Sean Gunn).
ADVERTISEMENT - CONTINUE READING BELOW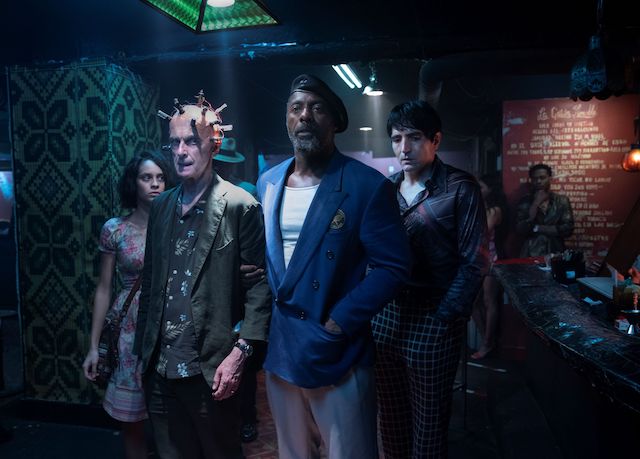 Colonel Rick Flag (still played by Joel Kinnaman) keeps the cons in line as they venture to the island nation of Corto Maltese, which is now controlled by anti-American dictator Silvio Luna (Juan Diego Botto) and his right-hand man Mateo Suárez (Joaquín Cosío).
Here's why James Gunn's Suicide Squad used characters you don't know of
Don't worry if you don't know a lot of the characters—you're not supposed to. In a panel interview with SPOT.ph, Gunn reveals that he specifically and purposely picked the villains for different reasons. "I selected them all in very different ways. I mean, I knew I needed this kind of story I needed to tell and there were some characters like Harley, who I wanted to put in the movie, and Boomerang. These [are] characters that I liked a lot. And I like the actors who played them."
CONTINUE READING BELOW
Recommended Videos
But there are some lesser known characters like Abner Krill a.k.a. Polka-Dot Man. He shares, "I really wanted to use a character who was thought of as a lame supervillain. And I literally, you know, put into Google, 'Who is the dumbest super villain of all time?' and Polka-Dot Man always came up near the top. And being able to take a character like that and then give him heart was fun for me."
Even Dastmalchian, who ended up getting the role, also didn't know who Polka-Dot Man was. "[James] said, 'Abner Krill!' and I was like, 'Uhhhh…' and he's like, 'Polka-Dot Man!' And I was so embarrassed because James knows how much I love comic books. And I spent my life collecting comic books. And I had no freaking clue who Polka-Dot Man was." Still, he was excited to even be in a James Gunn film at all, let alone The Suicide Squad. He shares, "James is like, 'Don't worry, David, read the script, and you'll see," and I read the script, and it was—I couldn't believe it."
Robbie, who was among the first to be officially cast for the film, couldn't believe it either. She reveals, "When I first read the script—without having had a single conversation with James or anyone else, no one else was announced or cast—I read Polka-Dot Man with Dave in my head. And I've never met Dave Dastmalchian until shooting this movie either."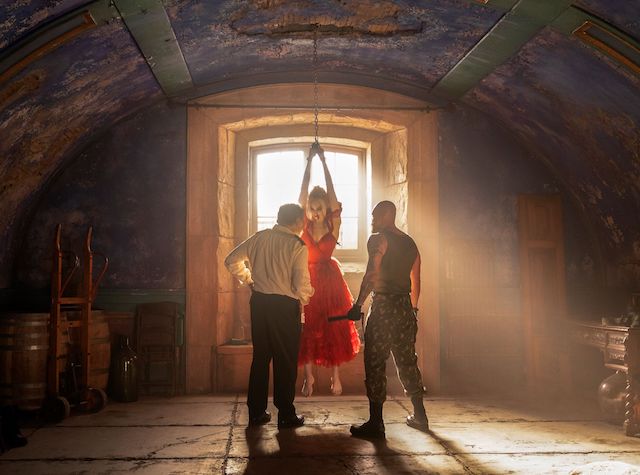 ADVERTISEMENT - CONTINUE READING BELOW
As for the Harley Quinn we'll see in The Suicide Squad, Robbie says she loved playing a Harley that was single and ready to mingle. "I haven't played that version of Harley before. She's always either been very committed to Mr. J or just fresh out of a breakup with Mr. J. And James put in a lot of very funny potential love interests throughout the film," she teases.
She also loved playing a Harley who was in mission mode. "Any time she's in a new group, there's always something fun and new to do because she reacts differently based on who her other teammates are."
Another character who showed up in Gunn's "Worst Villain" Google results? Ratcatcher 2. "I love rats. So Ratcatcher [2] was an easy one," he explains.
Melchior, who plays Ratcatcher 2, shares, "I was really happy that I had this freedom [given] by James that I didn't have to stick to already existing characters from the movie [and] the comics. It was really interesting that we could work on this supervillain—she doesn't know how to kill, how to fight, or how to do anything at all because she doesn't want to and also because she has this huge heart."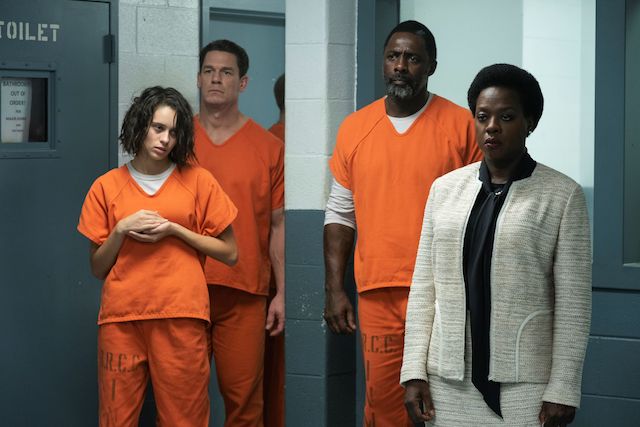 ADVERTISEMENT - CONTINUE READING BELOW
Stallone also plays an animal-related villain-slash-hero as Nanaue or King Shark, who wants to seem smart but has a penchant for eating human meat. "I'm a big fan of seafood. So when I was offered this, I thought, 'Oh, wow. I mean, how do I pass it?' I mean, I would have preferred to play a Grouper, but I'll take what I can get," he jokes.
As for Bloodsport, Gunn already had Elba in mind for the part. "I wrote Bloodsport for Idris. I wanted to work with Idris. I wanted Idris to star in this movie. It wasn't a matter of who the character was, it was, 'Let's find the character who's obscure and [we] can build' is our own cinematic creation for Idris. So every character was different."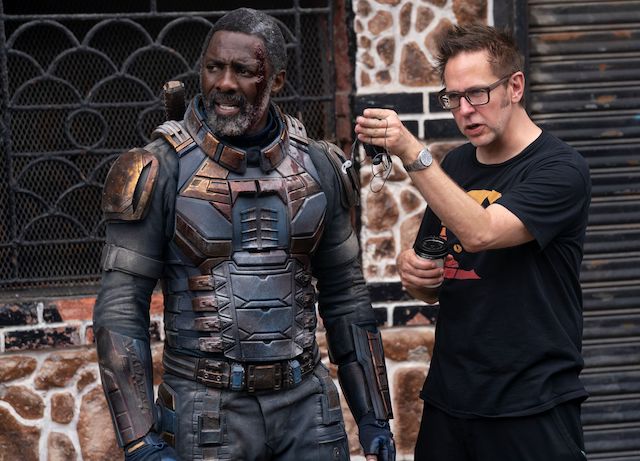 Elba chimes in, joking, "The first conversation was about me playing Ratcatcher. That was a really short conversation. We moved on very quickly."
ADVERTISEMENT - CONTINUE READING BELOW
Elba also finds himself going head to head with Cena's Peacemaker, who has the same skill set and backstory as Bloodsport. Cena says, "I think if you look at the personalities we have here, everybody. James has cast a very wide net. I think that really starts the fuel for the 'one-upsmanship.'"
Producer Charles Roven says the entire creative team was on board with Gunn's ideas for the film. "The amazing thing about it was—it was a consistent escalation of the OMG. First, we heard the pitch, right? And then we heard how James wanted to execute the script. And each step of the execution, 'Oh we're doing that! Oh, and we have to do that!' And so it was a constant upping of the wow and the difficulty. And it was a fantastic experience."
Rooker, who plays Savant (and has previously worked with Gunn as Yondu in the Guardians of the Galaxy movies), also shares how the whole cast's chemistry reflected on screen and helped with filming. "Going off-script is ridiculous—you laugh your asses off and it creates that camaraderie even more after. You can't stop laughing and the more you try to stop it, the worse it becomes. So you just let it go, let it be free. And after a minute runs itself out, and then you're closer. You got a better scene afterwards."
Elba agrees, saying, "You end up sort of having to really figure out who your character is. And that was really part of James's technique—to just allow us to throw at the wall. And so that really just brought the character out and the characters out more and more."
ADVERTISEMENT - CONTINUE READING BELOW
In between the underrated (and not-so-awesome) villains, flowery explosions, and on-set fun, The Suicide Squad proves itself to be not-your-usual superhero movie. Dastmalchian says, "That's why it's a James Gunn film. That's all that spectacle and all that amazing shit is so cool to look at. But there's a beating heart underneath this film, which is going to shock and really move people in ways that they don't see coming."
The Suicide Squad starts streaming on HBO Go on November 4.
Hey, Spotters! Check us out on Viber to join our Community and subscribe to our Chatbot.
We are now on Quento! Download the app and enjoy more articles and videos from SPOT.ph and other Summit Media websites.
Your guide to thriving in
this
strange new world.
Share this story with your friends!
---
Help us make Spot.ph better!
Take the short survey
Load More Stories