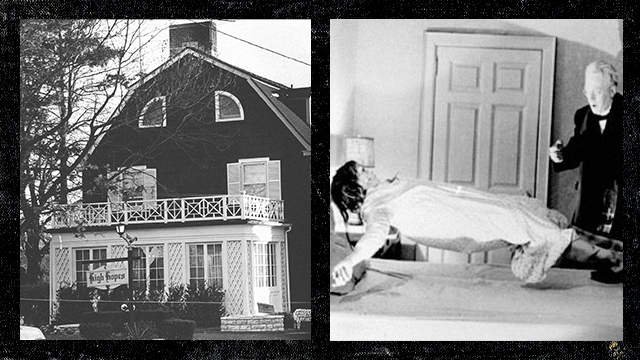 (SPOT.ph) While we demand explanations most of the time (i.e. "Why are we still in the middle of a pandemic?!"), there are some things on Earth (and beyond) that are still shrouded in mystery. It's either science has still to catch up or our world experts still have to do some digging (pun intended). Either way, the unexplained world of superhuman abilities, ghosts, extraterrestrial beings, and other unconventional phenomena make for the most interesting shows.
ADVERTISEMENT - CONTINUE READING BELOW
Also read:
10 Most Addicting True-Crime Documentaries to Check Out on discovery+
SPOT.ph Roadtest: Is the New discovery+ Streaming Platform Worth It?
Here are discovery+ paranormal shows that you can stream right now:
Eli Roth Presents: A Ghost Ruined My Life
Narrated by master storyteller Eli Roth, this eight-episode series follows the shocking experiences of people who have been through ghastly hauntings. There's one about a Mexican-American woman,who has a demonic stalker; an abandoned asylum with an undeniably evil presence; and not-so-friendly ghosts in an idyllic house in the country. 
The Devil Made Me Do It
If you've seen the 2021 film The Conjuring: The Devil Made Me Do It by director Michael Chaves, then Shock Docs' The Devil Made Me Do It may pique your interest. The documentary examines the 1980 case of David Glatzel, a Connecticut boy who claimed to have seen a ghostly old man in the house his family just rented. Arne Johnson, who was the boyfriend of David's sister Debbie, was believed to be possessed by a demon that supposedly made him stab his landlord 22 times. For the first time in American history, Johnson—through the help of demonologists Ed and Lorraine Warren—claimed demonic possession for a not-guilty defense. 
Nostradamus: End of Days
Released in 2021, the eight-episode Nostradamus: End of Days reveals the apocalyptic visions of French astrologer Nostradamus from five centuries ago. It combines the ancient seer's words, paintings, and pages to what is believed to be from his "lost book." From earthquakes to a nuclear war, this series uncover what may or may not be the end of our days. 
ADVERTISEMENT - CONTINUE READING BELOW
UFO Witness
Travel Channel's UFO Witness, which premiered on January 14, 2021, investigates evidence of alien abduction, eyewitness statements of allegedly secret underground alien bases, and even a supposed U.S. government cover-up of UFO sightings in Arizona. All eight episodes are narrated by Ben Hansen. 
Ghost Bait
ADVERTISEMENT - CONTINUE READING BELOW
While most people tremble at the idea of seeing ghosts or experiencing anything remotely paranormal, Bob Magill and Tina Storer seek out victims of hauntings in America. The two try to draw out entities that still lurk around these people and force confrontations with the hopes of reclaiming a sense of peace.
Amityville Horror House
In just a little over an hour, documentary Amityville Horror House tells the terrifying events at the infamous two-story house in Amityville, New York. Sure, there have been many shows about it, but this discovery+ special features a comprehensive lineup of interviews, evidence, news footage, and never-before-seen clips from the murderer Ronald J. DeFeo Jr. himself as well as the eventual house owner George Lutz.
Houdini's Last Secrets
ADVERTISEMENT - CONTINUE READING BELOW
Hungarian-American escape artist Harry Houdini was known for his death-defying acts, from getting out of Chinese water torture cell while hung upside down to freeing himself from a packing crate thrown overboard. In Houdini's Last Secrets, the illusionist's great nephew George Hardeen seeks the help of experts to recreate and figure out how his great uncle pulled off those stunts. 
NASA's Unexplained Files
A lot remains unknown in the vastness of the universe. And while the United States' National Aeronautics and Space Administration is responsible for space exploration and scientific discoveries, it turns out that they can't really explain everything happening in the great beyond—and they have a whole file cabinet of it, at least metaphorically. NASA's Unexplained Files has a total of four seasons, with only the second to last parts available on discovery+.
The Exorcism of Roland Doe
Another Shock Docs show in Discovery+, The Exorcism of Roland Doe follows what's believed to be the real-life demonic possession of an anonymous 13-year-old boy in 1940s Maryland. Documented under the name Roland Doe, he was later exorcized by priests of the Roman Catholic Church, who allegedly experienced supernatural events in the process. The one-hour documentary exposes the shocking true story behind this supposed possession. 
ADVERTISEMENT - CONTINUE READING BELOW
Scream: The True Story
The Gainesville Ripper (a.k.a. Daniel Harold Rolling) was known in American true-crime history as a serial killer who murdered five students in Florida in August 1990. His crime spree was the subject of 1996 slasher film Scream, which is set in a fictional town in California where a killer in a Halloween costume is on the loose. Scream: The True Story, on the other hand, follows paranormal investigators, who seek out the spirit of Rolling himself.
Your guide to thriving in
this
strange new world.
Share this story with your friends!
---
Help us make Spot.ph better!
Take the short survey
More Videos You Can Watch
Load More Stories