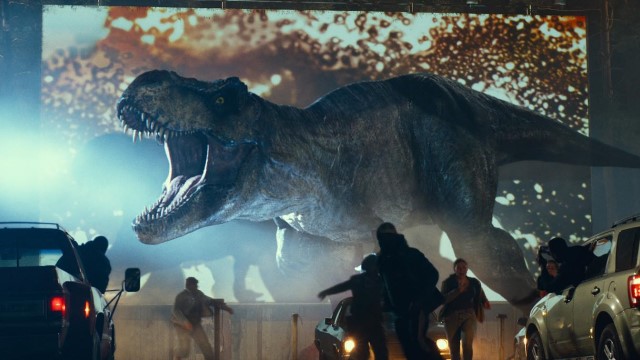 (SPOT.ph) It's a bit crazy that there are soon to be 30-year-olds who weren't even born when director Steven Spielberg's widely influential blockbuster Jurassic Park came out in 1993. Every time we revisit the film, as most of us do when a new Jurassic film releases, it's always jaw-dropping to be reminded that its visual effects and story all still hold up—a kind of blockbuster that'd be released to critical acclaim today.
In fact, the cast and director of the latest film in the saga Jurassic World Dominion tells us it's circling back to the 1993 film by bringing back original cast members such as Sam Neill, Jeff Goldblum, and Laura Dern in order to wrap up the dinosaur story that began in the labs of Isla Nubar nearly 30 years ago. We got the chance to speak with the cast, including Goldblum, Dern, and Isabella Sermon, as well as director Colin Trevorrow on how the last film of the Jurassic saga honors the legacy it's built over the years.
ADVERTISEMENT - CONTINUE READING BELOW
Here's everything the cast of Jurassic World Dominion revealed about the final film of the Jurassic saga:
We first spoke with Goldblum, who reprises his role as Dr. Ian Malcolm in the film, and asked him about his experiences being back in the thick of things and filming opposite practical dinosaurs on real sets. Goldblum said:
"Colin Trevorrow had a vision that, even though the technology was really developed—and with CGI you could do all sorts of things—he wanted all the dinosaurs for the most part [to be animatronics.] There are a couple times with tennis balls, having to pretend, and they fill it in later. John Nolan is the name of the fellow who had a creature shop, so called, in Pinewood Studios, and he and his team made this new array of bigger, better, and more fantastical—but from what I gather, scientifically accurate—dinosaurs."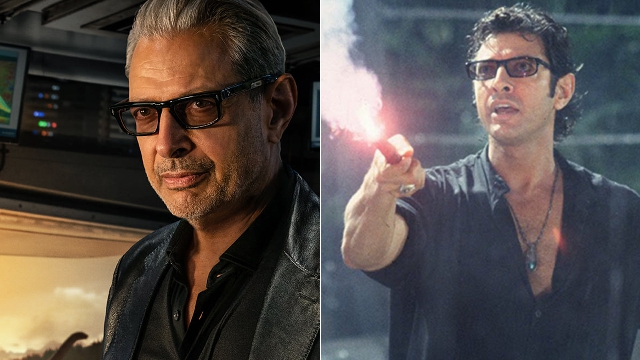 CONTINUE READING BELOW
Recommended Videos
Goldblum gets a particularly cheer-worthy moment involving this dinosaur in the film. When asked about the scene, he replied, "Our kids went to see the creature shop and them putting the last touches on that great, big dinosaur. […] When doing that scene, I just really got into it. It was not so hard to pretend."
Other cast members such as Bryce Dallas Howard, who portrays Claire throughout the Jurassic World trilogy, get breathtaking scenes with the dinosaurs as well. We asked Trevorrow about a particular scene wherein Claire finds herself submerged in water. The director chuckled, before he stated that it's his favorite scene in the film as well. He continued:
"It was one where I really got to strip away all of the big bombastic action and everything that happens in these movies, and do something that was purely about what I love about Jurassic Park. It's slow, it's suspenseful, and it holds a shot for a very, very long time, in a way that's almost painful. I make these movies for a massive audience—an audience of little kids, of adults, of people my age—and we all have different needs of what we get out of the movies, but that scene was for people who are my age, who need a certain kind of thing out of Jurassic Park, and I just wanted to let them know that I get it."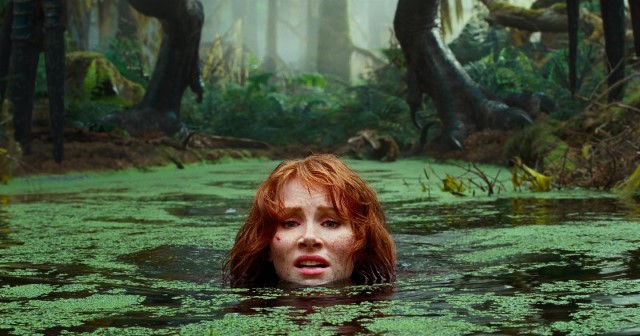 ADVERTISEMENT - CONTINUE READING BELOW
We then asked what Trevorrow himself likes out of watching and creating these "creature features," to which he answered: "To me, I just think a lot about the animals filling the empty space that exists. We have an animatronic that's happening naturally and we can place them in the frame and we can choose our lens and shoot them like we do any actor. When you're shooting something that isn't there yet, you really have to think about how much space it's going to fill up, where its focus is going to fall off, how to make it feel like it actually has weight and mass."
He continued, "it's something I've gained an instinct for over the years, just having learned from all of the brilliant visual effects supervisors I've worked with and just talking about how to achieve that. Even that scene we were just talking about, the Therizinosaurus scene, is a great example of everything I've learned about how to place an animal into a space and have it really feel like it's there."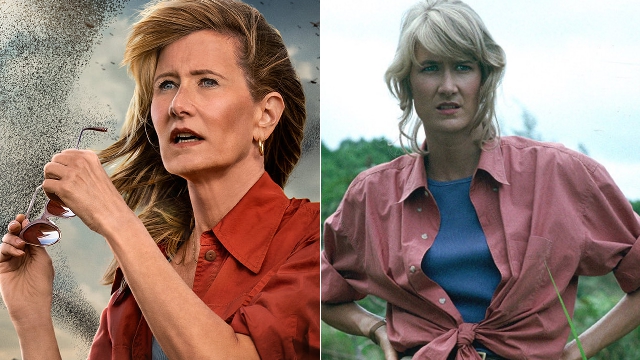 ADVERTISEMENT - CONTINUE READING BELOW
Dern, who portrays Dr. Ellie Satler in the film, returned to the Jurassic series after being away from all the action scenes since the first film. She had a minor role in Jurassic Park III, but was well-removed from the dinosaur adventure. We asked her what it was like coming back after much time had passed and what the differences there were between Spielberg's sets in the 1990's and Trevorrow's sets in the 2020's. She voiced out her praise for Trevorrow, in particular, saying:
"I am so grateful to Colin for his longing to pay homage to the entire legacy of the franchise, to want to go back to the origin story, and make sure we relied on animatronics and the mastery of practical dinosaurs, moreso than a bunch of fancy CGI [and] visual effects—even though they can do it! And, of course, there's magnificent visual effects, but we had—like we did on the first film—a lot of dinosaurs there with us. That made it feel very similar to the first, in its own way."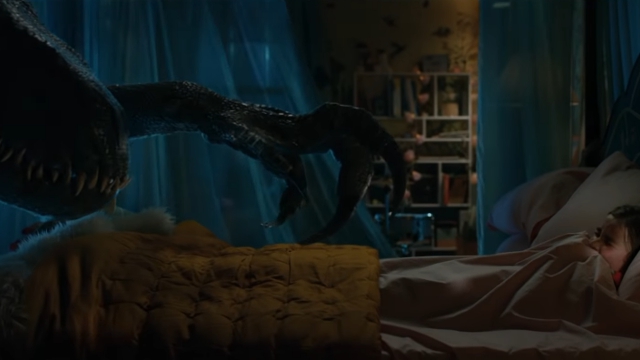 ADVERTISEMENT - CONTINUE READING BELOW
From returning OG cast members to—for the first time in Jurassic series history—returning child actors, Dominion truly rounded out its cast to properly close out this saga. Sermon returns to fill out the role of the youngest main cast member and even the emotional core of the film. We asked her what it was like to reprise her role from the previous film Jurassic World: Fallen Kingdom, as well as how shooting the "haunted house" finale in that film differed from the wider scope of this movie. She said:
"Even when I was younger, I didn't watch a lot of horror films [because] I was scared pretty easily. I remember when we were filming it, there was such an element of terror in it. In a lot of the shots, especially the one where the Indoraptor comes down off the roof, comes through the bedroom doors, and comes close to Maisie's face as she's lying in the bed, I remember filming that and being very scared. I remember watching it when it came out and I had shivers all over."
She continued, "working on this film was different because there was a lot less of this horror element than there was working on Fallen Kingdom, and that's something that I like about both films is that they're very different."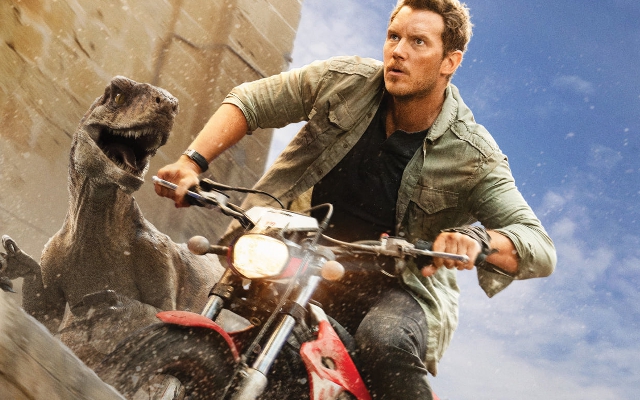 ADVERTISEMENT - CONTINUE READING BELOW
Echoing that statement on how the Jurassic films differ from each and every installment, we circled back to Goldblum and asked the esteemed actor about what his most treasured memories were between filming four out of six movies in the saga—the most of any of the main cast members—and getting to work with directors such as Spielberg, JA Bayona, and now Trevorrow.
On working with Spielberg on the original Jurassic Park and its sequel The Lost World: Jurassic Park, Goldblum shared, "We did those first two movies together. Just to see him improvise, be so prepared, and then be inventive on the set and full of this pure enthusiasm was just great. I remember one day, on the second one, he said he liked the way I did the speech—but obviously I had worked on it a lot. I'm nothing if not conscientious—but this time 'talk in your own words', and I remember that being a very special and kind of educational day."
This no doubt allowed Goldblum to emphasize more of his well-known improvisational skills, which also naturally manifest in this latest film. On working with Bayona on Fallen Kingdom, Goldblum recalled that "once I got there in England, in Pinewood Studios, JA Bayona and I got together. He had a clear idea about things but was still able to keep it loose and collaborative. I loved working with him."
Finally, in regards to finally getting to work with Trevorrow, who directed the first Jurassic World, in which Goldblum did not appear, Goldblum fondly reminisced that "[with] many things I'd say, he'd go 'Oh, that's funny, but no... that doesn't belong in this movie.' He had a very clear idea."
ADVERTISEMENT - CONTINUE READING BELOW
The end of the Jurassic era definitely looks to be an emotional one for all generations of audiences, so best to share in the thrills and goodbyes when Dominion makes landfall in cinemas on June 8.
Check out a quick recap from Studio Spot:
Jurassic World Dominion starts screening in PH theaters on June 8.
Hey, Spotters! Check us out on Viber to join our Community and subscribe to our Chatbot.
We are now on Quento! Download the app and enjoy more articles and videos from SPOT.ph and other Summit Media websites.
Share this story with your friends!
---
Help us make Spot.ph better!
Take the short survey
Load More Stories