10 Sassiest Quotes From Awkward Celebrity Interviews
"Panira ka ng araw ko, eh."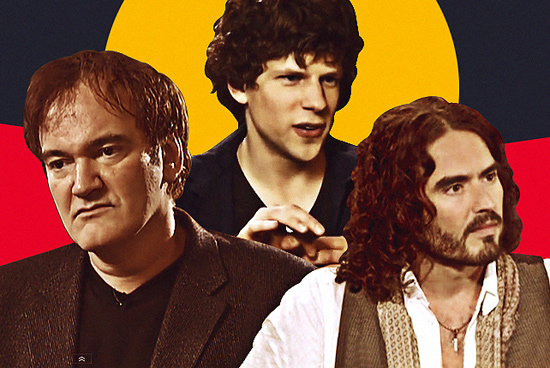 (SPOT.ph) Remember that time Kris Aquino drew flak for telling Andrew Garfield that her son's movie did better in the Pinoy box office than The Amazing Spider-Man 2? What about that infamous Cara Delevingne interview that had everybody cringing? Of course you do. As painful as they are to watch, some interviews are so awkward that you will always remember every cringeworthy detail.
Some celebrities laughed the discomfort off, others were a bit more...well, vocal. Here are 10 of the sassiest quotes from awkward celebrity interviews.
"We don't all look alike. We might all be black and famous, but we all don't look alike!"
Said by: Samuel L. Jackson
The scenario: Here's a useful tip: When you're interviewing a celebrity, at least get the name right. Entertainment reporter Sam Rubin learns this the hard way when he mistakes Samuel L. Jackson for Laurence Fishburne. He desperately tries to get the interview back on track, but Samuel is having none of it. He then goes on to express his astonishment that a reporter could make such a mistake, saying, "There must be a very short line for your job."
"You quoted me when, in fact, you haven't interviewed me."
Said by: Carla Abellana
The scenario: This confrontation dates back to a 2011 article from showbiz columnist Mario Bautista about actress Carla Abellana. In an-email sent to him, she denied the quotes stated in the story which apparently offended the latter. During the press conference for her film, My Neighbor's Wife, the reporter scolds Carla for never thanking him when he wrote good things about her. "Meron lang akong naisulat na binase ko lang sa press release ng Regal, sinulatan mo agad ako," he says. Unfortunately, the tension-filled moment is all on camera.
ADVERTISEMENT - CONTINUE READING BELOW
"All right, you don't have to see it, Jesus f**king Christ!"
Said by: Dakota Johnson
The scenario: While we've all had our fair share of misunderstandings with our moms, we were lucky enough to have a little privacy when it was happening. For mother-daughter duo Melanie Griffith and Dakota Johnson, theirs takes place on the 2015 Oscars red carpet. When ABC's Lara Spencer asks Melanie if she has seen Fifty Shades of Grey, the latter says no. From there, Dakota's exasperation quickly escalates.
"Panira ka ng araw ko, eh."
Said by: Arnold Clavio
The scenario: The tables are turned in the case of Arnold Clavio's telephone interview with Janet Lim-Napoles' lawyer, Alfred Villamor. His 2013 interview involves him repeatedly asking questions on the pork barrel scam, and interrupting Villamor who answers that he only represents her for her serious illegal detention case. Arnold demands to know who could answer his questions, chides the very confused lawyer for ruining his day, and tells him off for nervously laughing in an already cringeworthy interview.
CONTINUE READING BELOW
Recommended Videos
Si Shaina, ano kaya nararamdaman? Best friend ko, tapos dyowa niya dati. Ako ang nagwagi."
Said by: Angelica Panganiban
The scenario: Compared to the others on the list, Angelica's sassy quote isn't directed at the interviewer. Angelica and her best friend, John Prats make an appearance in an episode of Gandang Gabi Vice. Naturally, Shaina Magdayao comes up during the conversation. (Angelica is the current girlfriend of John Lloyd Cruz, while Shaina is the ex of both John and JLC.) Angelica admits that she and John used to bash Shaina's relationship with JLC and hints that she was the reason for their breakup. Even Vice looks a bit shocked when Angelica proclaims her victory.
ADVERTISEMENT - CONTINUE READING BELOW
"That's your question? That's your f**king question?!!"
Said by: Cate Blanchett
The scenario: When Oscar winner Cate Blanchett sat down to promote Cinderella, she probably wasn't expecting an interviewer who wanted to talk about anything but her movie. After asking her a series of off-topic questions, Cate tries to steer the topic back to Cinderella. Jonathan Hyla then asks about the cat Cate's character had in the movie. Exasperated, she ends the interview herself. After drawing flak when the interview went viral, Hyla later argued that Cate was "in on the joke," and posted the full, unedited version. It didn't make the clip any less awkward, though.
"You shouldn't say 'he' when a person is present—you should refer to the person by their name. That's basic good manners."
Said by: Russell Brand
The scenario: It was supposed to be a casual interview on a morning show. Comedian Russell Brand calls out presenters when they say they can't understand his accent and begin to chat as though he isn't there. In disbelief, he scoffs, "You're conveying news to the people of America?" then takes over the segment and starts promoting his stand-up tour by himself.
"Do you know the comedian, Carrot Top? [Romina says, "Yes. Horrible."] You are like the Carrot Top of interviewers."
Said by: Jesse Eisenberg
The scenario: During promotion of his 2013 movie, Now You See Me, a painfully awkward interview between Jesse Eisenberg and a young woman named Romina Puga went viral. The clip is a little under three minutes, but watching it feels so much longer than that. It starts off shaky after Jesse chides her for referring to his co-star Morgan Freeman as "Freeman" ("like you're on a little league softball team," he says). Then it all just goes downhill from there.
ADVERTISEMENT - CONTINUE READING BELOW
"I'm shutting your butt down [...] I refuse to repeat myself because you want me for your show and your ratings."
Said by: Quentin Tarantino
The scenario: This interview is probably as excruciating to watch as the gore in Quentin Tarantino's movies. During the promotion for his film Django Unchained, an interviewer asks him if there is a link between onscreen violence and real violence. Quentin refuses to answer point-blank but when the journalist pushes his line of questioning, things get out of hand. Maybe he should have taken a cue from one of Quentin's earlier interviews where the latter shut down a movie critic for questioning the violence in Kill Bill. That's worth a watch, too.
"Why don't you invite them? I think they'd much rather hear it from you."
Said by: Anne Hathaway
The scenario: Ricky Lo's sit-down with Anne Hathaway is probably one of the most memorable and talked-about local interviews ever—which is not necessarily a good thing. He starts off with the super-insightful question, "You lost 25 pounds for the role of Fantine. How did you do it and how did you gain it back?" It just gets worse from there. He asks her "very personal" questions, name-drops Lea Salonga twice, and asks her to invite Pinoys to watch the movie...hence her sassy response.
---
Help us make Spot.ph better!
Take the short survey
Load More Stories