Top 10 Sweetest Celebrity Wedding Videos (2015 Edition)
Romantic, picturesque, and swoon-worthy videos that can melt even the coldest hearts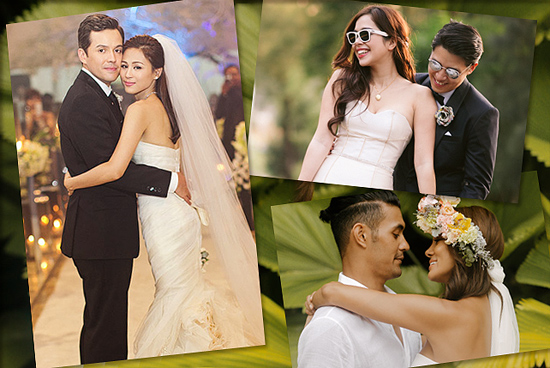 (SPOT.ph) Just as every couple and love story is unique, so are the wedding videos that capture their personality and love for each for other in one celebration. In the spirit of kilig, we round up 10 celebrity wedding videos that made us feel like we were part of the gorgeous ceremony, from the preparation to the long-awaited vows.
ADVERTISEMENT - CONTINUE READING BELOW
CONTINUE READING BELOW
Recommended Videos
Also read:
Top 10 Celebrity Wedding Videos
10 Sweetest Celebrity Wedding Vows
10 Local Celebrity Weddings You Weren't Invited To
10 Great Wedding Photographers for Any Wedding Theme
10. Chito Miranda and Neri Naig
Videography: Nice Print Photography
Venue: Angelfields Sanctuary, Tagaytay
When you have a wedding officiated by Ramon Bautista, you already know that you and your guests are going to have a lot of fun. Set to Rico Blanco's catchy "Say Forever," the star-studded video features the groom and his friends enjoying some pre-wedding revelry and plenty of dancing from...well, everyone.
Must-see moment: A lighthearted moment between the newlyweds as Neri recites her vows.
Kitchie and Carlos from Jason Magbanua on Vimeo
9. Carlos Lopez and Kitchie Nadal
Videography: Jason Magbanua
Venue: Hacienda Isabella, Cavite
OPM singer Kitchie Nadal made headlines this year when reports announced that she wore a P799 off-the-rack gown to her wedding. Her intimate and low-key ceremony reflected the same sentiment, but the video by Jason Magbanua made it look like a scene right out of a Spanish film. Think guitar strums and a dreamy vibe courtesy of the lighting and picture-perfect garden.
ADVERTISEMENT - CONTINUE READING BELOW
Must-see moment: An emotional Kitchie manages to crack a joke during her vows by saying, "You may now kiss me." His answer? He dips her and gives her a sweet kiss!
Liza and Aiza: Same Day Edit from Jason Magbanua on Vimeo
8. Aiza Seguerra and Liza Diño
Videography: Jason Magbanua
Venue: Laiya, San Juan, Batangas
There's just something that feels so personal about Aiza and Liza's wedding video. For instance, Jason Magbanua took the time to highlight the little details of the ceremony, from banners of their Instagram posts together to a typewriter where guests can type out their messages for the couple. Instead of just focusing on their vows, the video also zeroed in on the eloquent speech of Gang Badoy Capati. We quote, "You both will never imagine how much braver and kinder the Philippines is because you chose each other."
Must-see moment: The couple dancing post-wedding ceremony.
ADVERTISEMENT - CONTINUE READING BELOW
7. Dingdong Dantes and Marian Rivera
Videography: Mayad Studios
Venue: Immaculate Conception Church, Cubao
Dingdong and Marian's video plays like an elaborate wedding finale to a telenovela, whether it's the shots of Dingdong on a motorcycle or the bird's eye view of the crowd inside (and outside) the church. Still, it's the little moments that grounds the grand, star-studded affair, like the beautiful Marian having fun with family members before she walks down the aisle or that cute forehead kiss from Dingdong.
Must-see moment: The snippet dedicated to revealing Marian's jaw-dropping gown created by designer Michael Cinco.
6. Chiz Escudero and Heart Evangelista
Videography: Bob Nicolas
Venue: Balesin
Ace lensman Bob Nicolas really knows how to tug at the heartstrings. He focuses on the little details that make an impact: Heart's bouquet embellished with a photo of her parents (who were absent at the ceremony), sweeping landscape shots of the picturesque island, guests wiping tears from their eyes during heart-wrenching moments, and the bride's emotional hug with her sisters.
ADVERTISEMENT - CONTINUE READING BELOW
Must-see moment: Chiz's one-liners that had everyone laughing...and a look at that star-studded guest list.
The Wedding of JC Intal and Bianca Gonzalez from Jason Magbanua on Vimeo
5. JC Intal and Bianca Gonzalez
Videography: Jason Magbanua
Venue: El Nido Resorts, Palawan
JC and Bianca's surprise wedding was as intimate as they come: Only 35 guests, no media coverage, and no celebrity gowns or makeup artists. Just a lot of love from friends and family, which we can clearly see from the heartfelt speeches from their guests.
Must-see moment: The gorgeous Palawan landscape that makes us want to book a trip to the island—stat!
4. Jericho Rosales and Kim Jones
Videography: Bob Nicolas
Venue: Shangri-La's Boracay Resort and Spa, Boracay
We couldn't imagine a more perfect couple to exchange vows in a beach-themed wedding. Videographer extraordinaire Bob Nicolas walks us through the gorgeous garden-slash-beachside venue with smooth, sweeping camera motions as the couple begins to recite their vows. We also see Echo and Kim show off their goofy and adventurous sides.
ADVERTISEMENT - CONTINUE READING BELOW
Must-see moment: Jericho's playful mention of "sexy time" during his vows, and the stunning night-time reception, complete with lanterns and a slow dance from the couple. Plus, there's that beautiful Boracay sunset!
Gab Loves Tricia - Wedding Film 2015 from Bob Nicolas on Vimeo
3. Gab Valenciano and Tricia Centenera
Videography: Bob Nicolas and Gab Valenciano
Venue: Tagaytay Highlands Golf Club and Discovery Shores, Boracay
Gab and Tricia's video plays like a dance movie...or maybe an action film? Gab's dramatic monologue sets the stage for more romantic moments during their two wedding ceremonies, such as his vows (which he reveals he wrote even before meeting Tricia) and a look at their adrenaline-filled, outdoor adventures.
Must-see moment: The last two to three minutes of the video where the couple dances to a remixed instrumental of Coldplay's "Fix You." It kind of feels like Flashdance.
2. Paul Soriano and Toni Gonzaga
Videography: Bob Nicolas
ADVERTISEMENT - CONTINUE READING BELOW
Venue: Methodist Church, Taytay, Rizal
Paul and Toni's wedding, which they celebrated on their eighth anniversary together, is both adorable and aww-inducing. Whether it's Paul literally shouting his love or Toni reciting her touching and poignant vows, this is the kind of video that calls for a lot of tissues once you press "play." There's also that emotional dance Toni shares with her dad.
Must-see moment: Paul breaking into tears the moment he sees his bride walk down the aisle.
1. Jim Bacarro and Saab Magalona
Videography: Notion in Motion
Venue: St. Ignatius Chapel, Baguio City
A bit of fun and music goes a long way. Just ask Jim Bacarro and Saab Magalona, who tied the knot in the picturesque City of Pines early this year. It's not just about the pop culture references and the comic book boutonnière. Notion in Motion concocted the perfect balance of any girl's dream wedding and an intimate look at a celebration full of love and family.
ADVERTISEMENT - CONTINUE READING BELOW
Must-see moment: The heartfelt wedding vows that will definitely have you reaching for tissues. Oh, and the awesome lightsabers!
Also read:
Top 10 Celebrity Wedding Videos
10 Sweetest Celebrity Wedding Vows
10 Local Celebrity Weddings You Weren't Invited To
10 Great Wedding Photographers for Any Wedding Theme
Load More Stories