25 Most-Talked About Celebrity Moments of 2015
We look back on some of the most buzzed-about showbiz happenings in Manila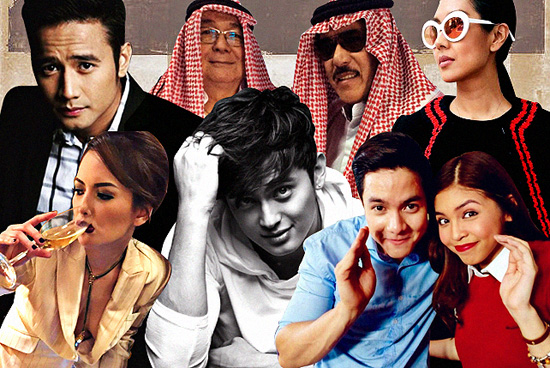 (SPOT.ph) If 2014 was the year of celebrity weddings, it's safe to say that 2015 was the year of competitive noontime shows, as well as a lot of controversy. (Spoiler: You're going to see a handful of drunken shenanigans on this list!) It's been an eventful year for local showbiz, and we round up 25 of the biggest headlines this 2015.
The meteoric rise of AlDub
No one could have ever predicted that Eat Bulaga's accidental love team would be 2015's biggest headliner. For years, Alden Richards mostly flew under the general public's radars, until he met showbiz newcomer and Internet star, Maine Mendoza. Their pairing sent EB's ratings skyrocketing, leaving all of its competitors in the dust (more on that later). In just months, Aldub trended online every day, made international headlines, earned dozens of endorsements, and headlined a massive concert at the Philippine Arena. That being said, it also had its share of controversy in the form of fans criticizing Lea Salonga for indirectly implying that noontime shows (and to a certain extent, AlDub) were shallow.
ADVERTISEMENT - CONTINUE READING BELOW
The love team will be making its silverscreen debut in the upcoming Metro Manila Film Festival (MMFF) entry, My Bebe Love: #KiligPaMore. They are also reportedly slated to have their own show next year.
Pastillas Girl's "BugawSerye"
Many have touted Pastillas Girl as It's Showtime's answer to AlDub. Similar to Maine Mendoza, Angelica Yap rose to Internet fame with a viral video where she narrates the steps to making bittersweet pastillas. ABS-CBN's noontime show gave her a segment where she searched for her next Mr. Pastillas through blind dates. However, loyal viewers weren't happy with the change, even going as far as asking Vice Ganda to bring back the old format. In October, the MTRCB summoned top executives of the show after receiving "pimping" complaints from viewers and Gabriela. The case has since been settled, and a few months later, the show moved on to Pinoy Big Brother's love team, Miho Nishida and Tommy Esguerra.
CONTINUE READING BELOW
Recommended Videos
Enrique Gil's drunken plane incident
Back in September, Enrique Gil shocked his fans after he got drunk and caused a scene during an international flight with his fellow ASAP members. According to reports, the young actor shouted expletives at his co-star and love team partner, Liza Soberano, along with a nearby Jessy Mendiola, forcing both Luis Manzano and Hayden Kho to intervene. Though the details of the incident were never fully disclosed, it was enough for Jessy's then-boyfriend, JM de Guzman, to challenge Enrique to a fight. He eventually owned up to the incident and apologized to both Jessy and JM.
ADVERTISEMENT - CONTINUE READING BELOW
JM de Guzman admits he has bipolar disorder
JM's challenge to Enrique was the first in a long line of controversial issues involving the troubled actor, who made a showbiz comeback after a stint in rehab. He was dropped from his MMFF entry, Walang Forever, due to alleged bad behavior on set. After weeks of speculation, Jessy finally admitted that she and JM ended their tumultuous relationship—but not before fans accused her of being a "jinx" to his career. They later expressed concern over a series of cryptic posts from the actor, including one where he wrote, "Hey dad, are you going to send me to rehab again?" JM apologized for his bizarre behavior and admitted he had "anxiety attacks, bipolar [disorder], and depression."
ADVERTISEMENT - CONTINUE READING BELOW
James Reid's dating life
It's not uncommon for fans to root for their favorite onscreen love teams to start a real-life romance. Despite the chemistry between On the Wings of Love co-stars James Reid and Nadine Lustre, the two actors have repeatedly insisted they are just friends. James' dating life was subject to plenty of bashing from fans, which led to an Instagram post captioned, "I get that you all want me to just live your fantasy. But sorry, this is my life." More recently, he was seen getting extra-cozy with Julia Barretto, and when fans didn't take the news lightly, he took to Facebook, saying, "If everyone wasn't so gullible, I wouldn't even have to be explaining my private life right now."
Julia Barretto allegedly snubs fans
Speaking of Julia Barretto, she was also subject to criticism this year, but for an entirely different reason. The 18-year-old was widely bashed after she was caught on camera allegedly snubbing fans who waited to see her during ASAP's trip to London. Despite her insistence that she didn't ignore fans, the actress apologized twice for the incident. This year, Julia was also in the middle of a legal battle with her father, Dennis Padilla, after the former filed a petition to change her name from Baldivia to Barretto. Dennis eventually dropped the case, and implied in an interview that he has no contact with his two daughters because he isn't well-off.
ADVERTISEMENT - CONTINUE READING BELOW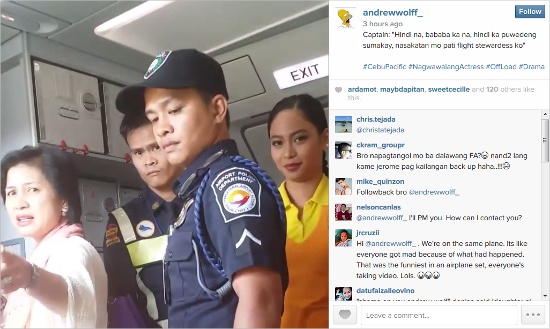 Melissa Mendez's airplane incident
Before Enrique's drunken antics on a plane, there was actress Melissa Mendez's altercation that led to her being escorted off a Cebu Pacific flight. She claimed that she sat in the reserved Seat 1A to take a photo of the clouds, but was rudely told to leave by actor and model, Andrew Wolff, and his friend, Rey Pamaran. She also said that she intended to apologize after the flight, but when she approached Rey, he accused her of having bad breath—causing her to slap him. Both Andrew and Rey, however, had conflicting reports. According to them, she flat-out refused to leave the seat until Cebu Pacific staff and security forced her to move, and she quickly caused a scene and had to be restrained. Andrew also alleged that she "smelled like a beer brewery" but Melissa chalked it up to a juice diet. (Sound familiar?) Eventually, she apologized for her behavior.
ADVERTISEMENT - CONTINUE READING BELOW
Sharon Cuneta and the cake metaphor
It all started when Sharon Cuneta admitted she was hurt over an "unnecessarily too sexy" photo of her 30-year-old daughter, KC Concepcion. In a lengthy Facebook post, the Megastar admitted that their rift was bigger than just sexy photos. Her post also included a rather confusing cake metaphor: "Sexy photos are just the icing that has been spread too soon and therefore has melted on this still-baking BIG and DEEP cake that can't seem to reach the 'baked and finished' stage. There are reasons that are more hurtful and much worse than just 'posing sexy.'"
ADVERTISEMENT - CONTINUE READING BELOW
Georgina Wilson is a "Was Girl"
In April, veteran talent manager Shirley Kuan announced that she was dropping Georgina Wilson as a talent—even going as far as branding her a "Was Girl." In an interview with Inquirer, she explained that Georgina bypassed her for an endorsement deal with Samsung. (Shirley had already been negotiating a deal with a different phone brand.) She also said that this wasn't the first time Georgina finalized a deal without her consent, citing the latter's hosting stint in Asia's Next Top Model as one of the instances. The report also dropped several bombshells about Georgina's "unprofessional" and "diva"-like attitude. Since the public spat, Shirley filed a complaint against Georgina with the Professional Artist Managers Inc. (PAMI), who announced that it would be imposing sanctions.
Toni Gonzaga and Paul Soriano's wedding
After eight years of dating, actress Toni Gonzaga and film director Paul Soriano finally tied the knot...coincidentally, on their eighth anniversary. The wedding (whose high-profile guests included Manny Pacquiao and Senator Bongbong Marcos) was held on June 12 in Toni's hometown of Taytay, Rizal. The gorgeous ceremony was the talk of the town, but it was their swoon-worthy vows that really made it memorable.
ADVERTISEMENT - CONTINUE READING BELOW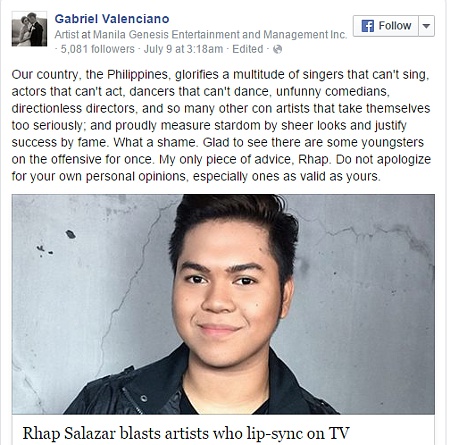 Rhap Salazar's lip-syncing comments
It all started with a series of tweets from singer Rhap Salazar, saying, "I hate seeing lip-syncing artists on TV. 'Yong iba, nagkaka-album pa." His comments snowballed into something much bigger, with various celebrities from Anne Curtis to Lea Salonga giving their two cents on the "non-singers" issue. The most notable comment, however, was from Gab Valenciano, who lamented how showbiz "glorifies [...] singers who can't sing, actors that can't act, dancers that can't dance…" While some celebrities (including Vice Ganda and Boy Abunda) felt otherwise, plenty of people agreed with his views.
ADVERTISEMENT - CONTINUE READING BELOW
Tito Sotto and Joey de Leon's Halloween costume
EB hosts Tito Sotto and Joey de Leon were at the center of yet another controversy over the Halloween weekend when they appeared on the show wearing "Muslim" garb. Many called their costume choice "disgusting," "racist," and "insensitive," while ARMM Governor Mujiv Hataman called for a public apology. Sotto, however, didn't see any reason to apologize, saying that the garment (a gift from a friend in Saudi Arabia) said it had nothing to do with religion, as it was an Arab "costume" and not a Muslim outfit.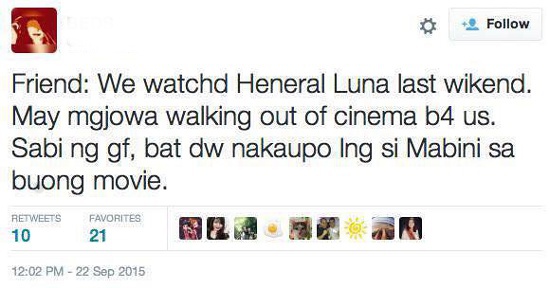 Epy Quizon's history lesson
Director Jerrold Tarog's critically acclaimed biopic, Heneral Luna, had everyone rushing to cinemas, but some people seem to have left theaters with more questions than answers. An audience member reportedly asked why Apolinario Mabini was seated throughout the entire movie. The story quickly spread like wildfire, spawning memes and even prompting Epy Quizon (who played Mabini in the film) to react to the issue. In a Facebook post, he wrote, "Ano kaya ang itinuturo sa history classes ng mga bata ngayon?" Even President Aquino expressed his frustrations on the issue, while DepEd chief Armin Luistro said that the comments were "not reflective of students' level of awareness on national heroes."
ADVERTISEMENT - CONTINUE READING BELOW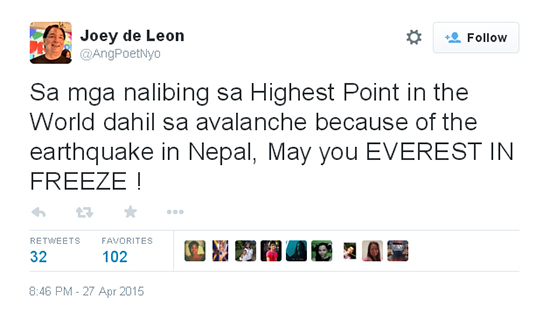 Joey de Leon's Nepal joke
They say comedy is all about timing, but maybe Joey de Leon should have reserved his joke for another time. After a massive earthquake hit Nepal in April, the comedian tweeted a joke about the victims who were buried under the avalanche that followed the quake. A handful of people respectfully told him that the joke was insensitive and inappropriate, but he said that people simply misinterpreted his "word play."
Ellen Adarna at the Star Magic Ball
Pasion de Amor actress Ellen Adarna has always been fun and outgoing, but she seemed to have taken the partying a little too far during this year's Star Magic Ball. According to a report from TV Patrol, Ellen was invited to the event by her co-star, Ejay Falcon, but she allegedly got drunk and ditched her date for Paulo Avelino. Her Instagram account was bombarded with comments on behavior, including one from Isabelle Daza that confirmed she did ditch Ejay. Rumors also spread of Ellen hooking up with Paulo during the event, to which she replied, "If ever may nangyari man talaga, if ever nag-quickie daw kami, well, so.. paki niyo?"
ADVERTISEMENT - CONTINUE READING BELOW
Jiro Manio runs away from home
In July, former child actor Jiro Manio was spotted roaming NAIA Terminal 3 in search of food and clothes. It turned out that Jiro, who entered rehab in 2011 for drug abuse, left home and relatives were unable to contact him until they heard of his whereabouts from media reports. Ai-Ai delas Alas (who played his mother in the Tanging Ina trilogy) took him under her wing, put him in rehab, and promised to search for his biological father in Japan. According to the comedienne, Jiro is currently doing well.
ADVERTISEMENT - CONTINUE READING BELOW
Liz Uy's libel suit against Fashion Pulis
In early November, celebrity stylist Liz Uy filed six cases of libel and one case of grave slander against popular gossip blogger Michael Sy Lim of FashionPulis.com. The issue stemmed from the latter's posts on Maine Mendoza's gown, which she wore during AlDub's Tamang Panahon concert on October 24. The dress by Francis Libiran caused an uproar after both fans and Fashion Pulis noticed that Kim Chiu previously wore the gown as a model for his runway show. Fashion Pulis responded with a countersuit and lamented the "suppression of freedom of the press and expression." The libel suit also spawned a #StopTheHate hashtag from celebrities, including James Reid, Nadine Lustre, Anne Curtis, and more.
Angel Locsin is no longer Darna
It's almost hard to imagine Darna without Angel Locsin, but it looks like fans will just have to get used to it. In an interview with Boy Abunda, the actress said that she would not be reprising her role in an upcoming movie due to a disc bulge that she developed while training for the role. She also said that her injury was devastating enough for her to consider leaving showbiz. (She later announced that she is set to do a new show in ABS-CBN, as well as a movie with Coco Martin.) Since she bowed out of the role, several names have already emerged as likely contenders, including Nadine Lustre, Liza Soberano, and Jessy Mendiola.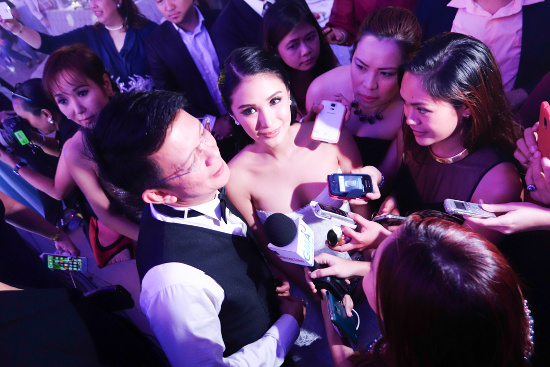 ADVERTISEMENT - CONTINUE READING BELOW
Photo by Alfred Mendoza
Chiz Escudero and Heart Evangelista's wedding
Earlier this year, Sen. Chiz Escudero and Heart Evangelista tied the knot in two lavish wedding ceremonies that included some very high-profile guests from showbiz, politics, and business. Prior to their celebration, the wedding was met with controversy after rumors Cesca Litton's scheduled wedding was supposedly bumped off in order to accommodate theirs. They eventually settled for February 15, while Cesca got married in a different venue. Heart's parents, who have long been vocal about their disapproval (to the point of intending to file charges against Chiz), weren't present during the wedding. Months later, Heart and her parents settled their differences, and she announced plans to marry again—this time in a more private ceremony with her parents.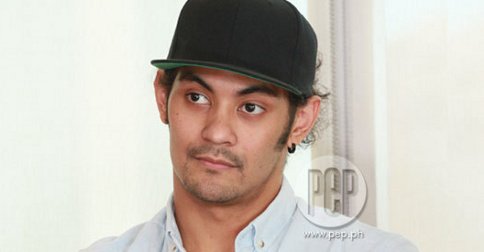 Gab Valenciano's showbiz commentary
In mid-September, another lengthy post fron Gab Valenciano went viral; this time, he revealed the reason why he left local showbiz in 2012. He explained that prior to his departure, he was secretly depressed for four years "in an industry [he] was never really accepted in." He admitted that showbiz made him feel "worthless" and said that it was a system that prioritized good looks and light skin over actual talent. Gab ended his post by saying that he wrote it for people who felt the same way.
ADVERTISEMENT - CONTINUE READING BELOW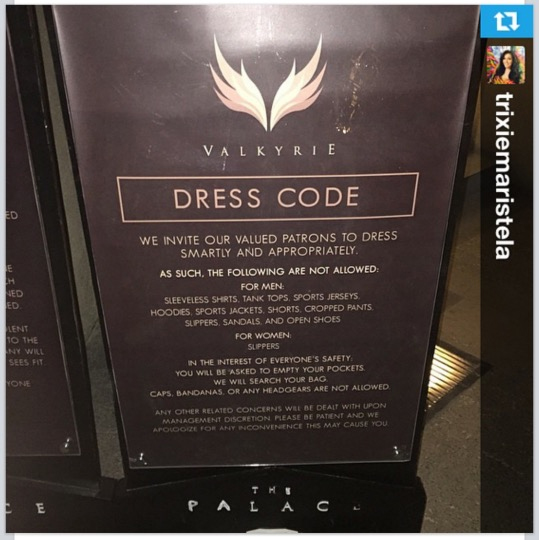 Transgender community calls out Valkyrie's "dehumanizing" policy
Back in June, designer Veejay Floresca was barred from entering Valkyrie club and was allegedly told "no crossdressers allowed." A similar incident also befell another transgender celebrity, Trixie Maristela, who was told that she was "not dressed appropriately." The incident snowballed into a call for a boycott from the transgender community, as well as a demand for Vice Ganda (one of several investors of the club) to issue a statement. Valkyrie eventually apologized, and clarified that it doesn't discriminate against transgender individuals.
KathNiel reportedly paid millions to endorse Mar
Celebrity endorsements are nothing new, but Kathryn Bernardo and Daniel Padilla still raised eyebrows after they publicly lent their support to LP presidential candidate Mar Roxas. Although the latter denied any financial arrangements with the love team, rumors alleged that KathNiel were given a staggering seven-figure deal...each. Kathryn, a notable Iglesia Ni Cristo member, was also criticized for her endorsement because individual INC members are not allowed to endorse politicians. As of writing, Kathryn and Daniel have yet to respond to the issue.
ADVERTISEMENT - CONTINUE READING BELOW
Mariel Rodriguez's second miscarriage
Robin Padilla was originally slated to co-star alongside Maria Ozawa in her upcoming MMFF entry, Nilalang, but he backed out just days before the scheduled filming. Robin left to care for his wife, Mariel, who was pregnant with triplets, but Maria was displeased with his "unprofessional" decision. Just two days after the couple announced their pregnancy, Robin announced that they lost their triplets. Meanwhile, Maria cried foul over comments from Robin's fans that blamed her for the miscarriage. Still, the movie pushed through...this time, with Cesar Montano as the lead.
ADVERTISEMENT - CONTINUE READING BELOW
Kris Aquino and her APEC sunburn
Browse the #APECtado and #APECFail hashtags and you'll find post after post of motorists stranded because of the heavy traffic. So it shouldn't come as a surprise when Kris Aquino was branded "insensitive" when she compared her sunburn to the woes of commuters during APEC week. Although she later apologized for her joke, a commenter later compared her to Imelda Marcos and accused her of being cheap. She fired back at the latter, saying, "I paid for the entertainment and decoration of the APEC Spouses' lunch unlike 'yong binibida mong nagnakaw sa Pilipinas."
DongYan welcome their first baby
Fellow celebrities and the Internet congratulated Marian Rivera and Dingdong Dantes for the birth of their first child, baby Maria Letizia. According to a report from PEP.ph, Marian was in labor for almost an entire day, and gave birth via normal delivery. DongYan aren't alone; these 10 other celebrity couples also recently welcomed new babies who, by the way, are just too cute for words!
ADVERTISEMENT - CONTINUE READING BELOW
---
Help us make Spot.ph better!
Take the short survey
Load More Stories