Pia Wurtzbach on the RH Law, HIV/AIDS, pursuing your dreams + more
She also shared the biggest lesson she learned from competing in Miss Universe.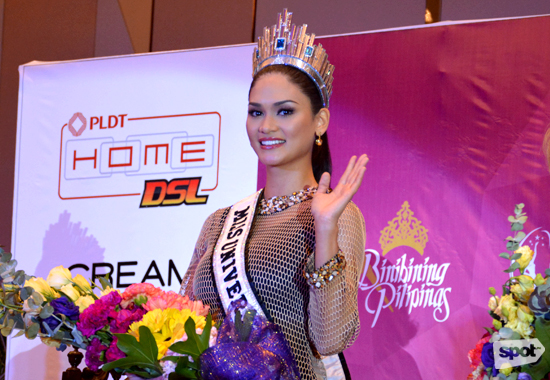 (SPOT.ph) The queen has come home! Pia Wurtzbach has finally returned to the Philippines, and she brought the same elegance and bubbly, down-to-earth charm that wowed judges and won her the Miss Universe crown. In her homecoming press conference, she was grilled on everything: from her HIV advocacy to whether she would change her answer on military presence in the Philippines (she stands by her answer!) and her plans after Miss Universe ("I want to be the next Bond girl," she laughs).
Here are 10 quotes from the eloquent beauty queen that are both inspiring and thought-provoking.
Photos by Jadrienne Ho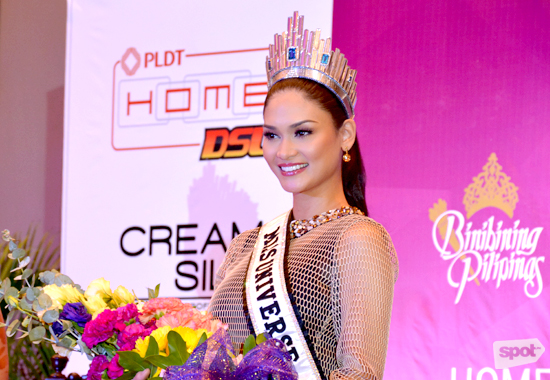 On being yourself
When you join a competition like [Miss Universe], you have to be authentic. You have to be genuine. You can't fake it, because it's exhausting. They say that you have to be yourself when competing in a pageant, and I know it sounds cliche and it's been said so many times, but when you're actually there—that's when I realized, now I understand [...] The biggest lesson I've learned is that you can't pretend to be somebody else.
ADVERTISEMENT - CONTINUE READING BELOW
On facing challenges
I feel like, this is what I've been waiting for. I have no right to complain. I've been dreaming about this since I was a kid, and then now I'm going to complain and be uncomfortable with it? No! I accept whatever is thrown at me.
On determination
You can't let go. You have to really believe that you can and you will. It's not gonna be easy. When I had that vision in my mind that I wanted to be Miss Universe, I didn't want any other crown. If you have a goal, you have to understand that it's not going to be easy. [...] You have to trust that this is what you really want, and that it's going to take awhile.
CONTINUE READING BELOW
Recommended Videos
On the importance of her HIV advocacy
You can live a normal life if you have HIV. The important thing is to have yourself tested first. Then you know how far along the disease you are, and then you get the right treatment for it. I think the most important thing [to realize] is that it's not the end of the world. There's still plenty of ways to live normally, just like everybody else. Also, I want people to get rid of the thinking that if you're with somebody who has the disease, you can't touch them or share a glass of water with them or hug them. That's not true! It's educating the people who have the disease, but it's also letting other people know that they don't have to treat others differently. It should work both ways.
ADVERTISEMENT - CONTINUE READING BELOW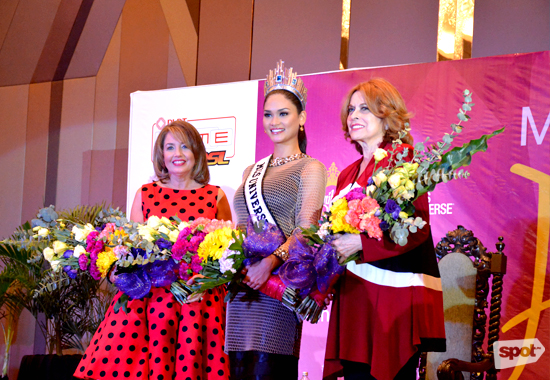 On working under pressure
I was thinking to myself, "The most important thing here is that I have to make my country proud, and I don't go into this with any regrets and thinking that I could have done this or I could have done that." I prepared for this for years, I've trained for it, so I'm going to give it my everything. So I went out there thinking this is the last time I'm competing for this crown, the last time I'm ever going to be asked a question on an international stage, the last time they'll see me as Miss Philippines. I'm used to pressure and I use that pressure to my advantage.
On gender equality and LGBTs
I'm so proud that I represent everybody now. I know I wear a sash that says Miss Universe and we're all about empowering women but more than that, I'm empowering everybody. I believe in gender equality that's for women, men, and everybody in between.
ADVERTISEMENT - CONTINUE READING BELOW
On the Reproductive Health Law
I'm in favor of [the] RH Law. It's a choice. It's up to you, anyway. I think it has a lot of benefits—it's giving the people options and I believe in that. So I'm in favor. I think it's about time.
On her Pinoy pride
I remember walking during the evening gown competition. I was wearing that beautiful, blue Albert Andrada gown. In every corner of Planet Hollywood, there was a Philippine flag. Every corner. And I was wearing the sash of the Philippines. I remember walking onstage and feeling very proud to be a Filipina. I just remember thinking, "I've made it this far. Whatever the results are going to be, you cannot take away this moment from me."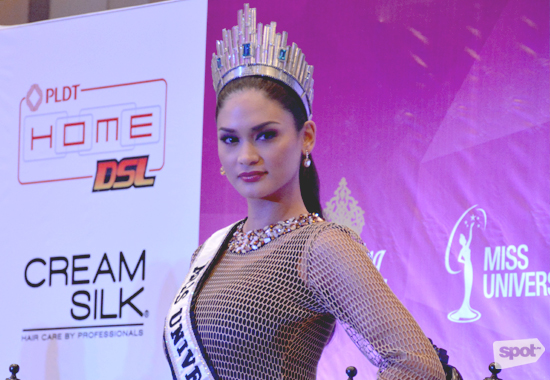 On the realities of life
If you have a goal, you have to understand that it's not going to be easy. Marami kasing mga tao na nag-iisip na madali lang, that if you exert this much effort, you get this in return. You can't expect that whatever effort you throw out there, may kapalit agad. Life is like that sometimes. You can throw in a 100% and still get nothing. You get a lesson, that's something.
ADVERTISEMENT - CONTINUE READING BELOW
On working for your dreams
In this life, there's no time to slack off and sit and wait for your dream to come in a snap. That's the kind of mentality I want to get rid of. Nothing is ever given to you for free. You work hard for it.
Also read: By the Numbers: 10 Fast Facts on Miss Universe 2015
Share this story with your friends!
---
Help us make Spot.ph better!
Take the short survey
Load More Stories