Top 10 Swoon-Worthy JaDine Moments
Sometimes, the sweetest moments happen when the cameras aren't rolling.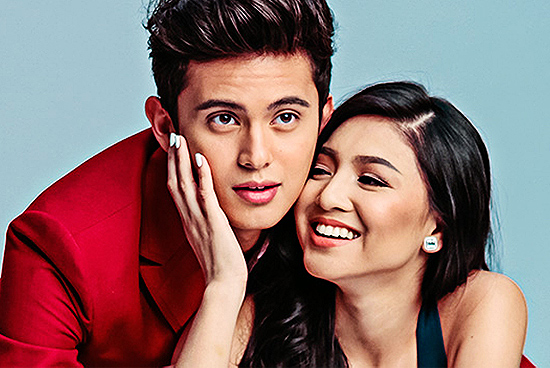 (SPOT.ph) It's a reel-to-real love story that began in 2014, when James Reid and Nadine Lustre were first paired together for Diary ng Panget. It was a gamble that paid off: The movie was a hit at the box-office, and fans quickly latched onto their pairing, dubbed JaDine. They were soon the subject of a lot of dating rumors, which they repeatedly denied. We rank 10 of the most swoon-worthy behind-the-scenes moments between JaDine.
10. James calls Nadine his "partner in crime"
The year 2014 was a big one for James and Nadine: Their film, Talk Back and You're Dead, reportedly earned over P69 million after just 10 days in theaters. It was also the same year when they went from "friends" to "partners in crime," after he posted a sweet birthday greeting for Nadine's birthday. He posted a photo from the day they first met and wrote, "We've come so far and I couldn't have done it without you."
ADVERTISEMENT - CONTINUE READING BELOW
CONTINUE READING BELOW
Recommended Videos
9. Nadine celebrates her birthday with James
For Nadine's 21st birthday, she threw a Halloween-themed birthday party where family and close friends attended in costume. Dubbed the "Witching Hour," she dressed as a Victorian Era-vampire, while James went as Edward Scissorhands. He reportedly serenaded her during the party, and Nadine posted a cozy photo of the two of them that was captioned with lyrics from Michael Jackson's "You Rock My World."
ADVERTISEMENT - CONTINUE READING BELOW
8. James gives Nadine an adorable birthday present
Although they didn't spend Nadine's 22nd birthday together, James still managed to make his onscreen partner (and fans) smile with a sweet present: A puppy! He had gifted Nadine with a teacup malteser puppy which they named Clarky, after James' character from On the Wings of Love.
7. James and Nadine get caught holding hands
Amid persistent rumors that they were in a relationship, the duo were photographed holding hands while sleeping during a flight in late January 2016. (James later explained that he was holding her hand because she was "scared of turbulence." That did nothing to dispel gossip, though.) In an interview with YES! Magazine that same month, Nadine insisted they were just "best friends" but said that she had "unconditional love" for him.
ADVERTISEMENT - CONTINUE READING BELOW
6. Nadine documents their second trip to the U.S.
Back in January 2016, James and Nadine returned to the U.S. to film scenes for OTWOL. To document their trip, Nadine released a sweet video that featured gorgeous shots in San Francisco, Sacramento, and Lake Tahoe. The clip, which she described as a "passion project," was set to music by Australian band Panama. Meanwhile, James admitted in an interview that their trip was a "turning point" in their relationship. Ahem.
5. JaDine makes first TV appearance as a couple
Just one day after they admitted they were dating, the two made their first TV appearance as a couple on ASAP, where they performed a swoon-worthy duet of Charlie Puth's "Marvin Gaye." After being egged on by the audience and ASAP hosts, the two exchanged "I love you's" on air. Nadine's smile during this moment was absolutely radiant.
— OFFICIAL TOGETHER ☁ (@marinellelotado) February 28, 2016
4. James reveals when he fell in love with Nadine
On February 28, James and Nadine had their first tell-all interview about their relationship. James admitted that he started falling for Nadine after their highly publicized fight back in November 2015. Cameras had caught them arguing backstage during a movie premiere, and they didn't talk for days. "It was then at that moment that it started creeping up on me because I realized how much she meant to me. You know what they say you don't realize what you have until you lose it? I kinda got a taste of that," he said. "When we became friends again, I appreciated her a lot more. I treasured her a lot more." In the same interview, James added, "I realized I'm completely myself when I'm with her and I don't have to try to be anyone else. It made falling in love with her so easy."
ADVERTISEMENT - CONTINUE READING BELOW
3. James and Nadine get steamy in BTS gag reels
It all started back in September 2015, when OTWOL aired the first major kissing scene between James and Nadine. And like a gift that kept on giving, the show rewarded fans with behind-the-scenes footage of JaDine filming the said scene. Sure enough, the steamy clip quickly went viral...and for good reason! The outtakes had everyone talking, and it kickstarted an immensely popular series of gag reels from the show.
2. James writes his own wedding vows during the OTWOL finale
You can always expect a teleserye to end with a grand wedding, but that Pinoy TV trope didn't stop fans from tuning in to watch Clark and Leah walk down the aisle. We all teared up when we saw them exchange emotional vows, but the clincher was when director Antoinette Jadaone revealed that James had written his vows for the show! This, of course, raises the question...did they film this scene before or after they got together?
ADVERTISEMENT - CONTINUE READING BELOW
1. James Reid publicly admits he and Nadine Lustre are dating
It was the ultimate kilig moment no JaDine fan saw coming. In the middle of their sold-out concert at the Araneta Coliseum, James had asked the crew to stop the music so he could make an announcement. Right there, in the middle of a screaming crowd, he finally confessed what every fan had fervently hoped and speculated about since the two first started working together over two years ago. He also said that the big moment was his last-minute request to the concert director. Swoon!
---
Help us make Spot.ph better!
Take the short survey
Load More Stories