Social Media Roundup: What Celebs Said During the #PiliPinasDebates2016
Everyone had something to say, even your favorite celebrities.
(SPOT.ph) If we could describe the March 20 presidential debates in one word, it would be "messy." First, Sen. Miriam Defensor-Santiago announced that she wouldn't be part of the debates because she will be undergoing treatment. Then the debates were delayed for over an hour...and well, it just escalated from there.
The hashtag, #PiliPinasDebates2016, trended worldwide even hours after the debate ended. The Internet, of course, had plenty to say—including some of your favorite local celebrities.
For instance, they couldn't help but comment on the hour-and-a-half delay...which was said to have been caused by Vice President Jejomar Binay because he wanted to bring "notes":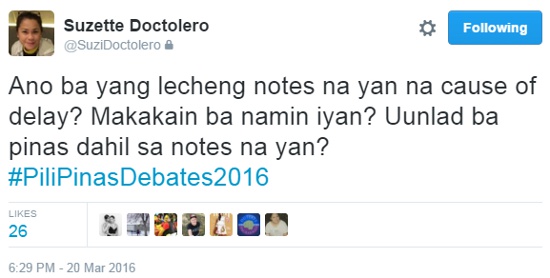 Suzette Doctolero, TV and film writer
— Jake Ejercito (@unoemilio) March 20, 2016
Jake Ejercito, celebrity
— raymund marasigan (@raymsmercygun) March 20, 2016
Raymund Marasigan, musician
— wanggo gallaga (@wanggo_g) March 20, 2016
Wanggo Gallaga, writer
— Tonette, Tonette (@tonetjadaone) March 20, 2016
Antoinette Jadaone, filmmaker
— Paolo Paraiso (@PaoloParaiso) March 20, 2016
Paolo Paraiso, celebrity
— Cj de Silva-Ong (@cjdesilva) March 20, 2016
CJ de Silva-Ong, artist
TV 5 also aired behind-the-scenes footage of the candidates while they were waiting for the debates to begin:
ADVERTISEMENT - CONTINUE READING BELOW
— Anne Curtis-Smith (@annecurtissmith) March 20, 2016
Anne Curtis, actress and TV host
— Mark Bautista (@iammarkbautista) March 20, 2016
Mark Bautista, musician
— John Lapus (@KorekKaJohn) March 20, 2016
John Lapus, comedian
A lot of people also felt for the debate's sign language interpreter...and TV 5 News Chief, Luchi Cruz-Valdez.
— kim chiu (@prinsesachinita) March 20, 2016
Kim Chiu, actress
— Jim (@Jimparedes) March 20, 2016
Jim Paredes, musician
— Perci Intalan (@percinotpercy) March 20, 2016
Perci Intalan, filmmaker
— Ramon Bautista (@ramonbautista) March 20, 2016
Ramon Bautista, comedian
— Amy Perez-Castillo (@amypcastillo) March 20, 2016
Amy Perez-Castillo, TV host
Meanwhile, others just had this to say about the debates in general:
— Luis Manzano (@luckymanzano) March 20, 2016
Luis Manzano, TV host
— Pepe Diokno (@PepeDiokno) March 20, 2016
Pepe Diokno, filmmaker
— Dawn Zulueta (@DawnZpost) March 20, 2016
Dawn Zulueta, actress
— Bianca Gonzalez (@iamsuperbianca) March 20, 2016
Bianca Gonzalez, TV host
— IG : @Ricochismoso (@ricorobles) March 20, 2016
Rico Robles, radio DJ
— bestfriend korics (@ricoblanco) March 20, 2016
Rico Blanco, musician
— bp v ✌(꒡͡ ો ̼̮ ꒡͡✌️) (@valenzuelabp) March 20, 2016
BP Valenzuela, musician
— Alfonso Miranda Jr (@chitomirandajr) March 20, 2016
Chito Miranda, musician
Also read:
2016 Election Primer: The Basics That You Need to Know
VIDEO: Your 3-Minute Guide to 2016 Presidential Candidates' Platforms
Load More Stories