Taylor Swift looks like a fish + more funny posts from #MetGala2016
Plus, Zayn Malik looks like a certain superhero!
(SPOT.ph) You can always expect the Internet to react in the most hilarious way when something big is happening. This time, it's the glamorous 2016 Met Gala, with Hollywood's biggest names walking the red carpet at the Metropolitan Museum of Art in New York. This year's theme Manus x Machina: Fashion in an Age of Technology, so you can expect celebrities to go all out. We round up some of the funniest memes from social media.
First off was Taylor Swift, who is reportedly co-chairing the event alongside actor Idris Elba, Apple's chief design officer Jonathan Ive, and Vogue magazine editor-in-chief Anna Wintour. However, not everyone was feeling her edgy look, with references to fish and Taylor Momsen's character from Gossip Girl:
— Neil (@oficialneil) May 2, 2016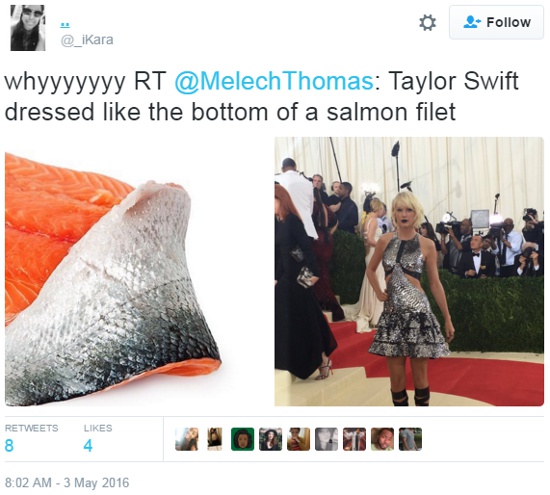 ADVERTISEMENT - CONTINUE READING BELOW
— BuzzFeed (@BuzzFeed) May 2, 2016
— FABW (@FineAssBlackWmn) May 2, 2016
— Dishon (@dishonrodriguez) May 3, 2016
Kanye West and the other Kardashians weren't spared from jokes, either:
— CYP Gamebooks (@ClickYourPoison) May 3, 2016
— MrsOhBitch (@CoochCakes) May 3, 2016
— Alexandra Nevermind (@INeedja_Kadeeja) May 3, 2016
— Lil Uzi Juan ひ (@CloutGod) May 3, 2016
Some people had thoughts about Nicki Minaj:
— Alexandra Nevermind (@INeedja_Kadeeja) May 3, 2016
— Ruva (@RuvaLM) May 2, 2016
Zayn Malik and Gigi Hadid looked gorgeous together, but all everyone could talk about was Zayn's robot arms:
— Neil (@oficialneil) May 2, 2016
— ️ (@margotrbbies) May 3, 2016
On Rita Ora, Solange Knowles, and Selena Gomez:
— sibby (@sib_sibby) May 2, 2016
— Alexandra Nevermind (@INeedja_Kadeeja) May 2, 2016
— Richard A. Mills (@RAMrants) May 3, 2016
— who is she (@moisturizeds) May 2, 2016
But really, we just want to show our appreciation for Claire Danes' dress:
— Alanna Bennett (@AlannaBennett) May 3, 2016
Recommended Videos
Load More Stories