On the Spot: Yassi Pressman on being a VJ, dancing to Rihanna + more
The MTV VJ dishes on her favorite songs to dance to, her long-time friendship with Nadine Lustre, and why sad songs are the best.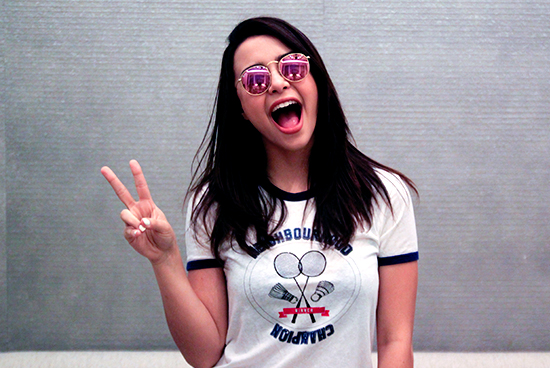 (SPOT.ph) It's hard to believe Yassi Pressman is only 21 years old, considering she's done pretty much everything. She's starred in rom-coms, hosted a series of shows for MTV Pinoy, and "works" (pun intended) to Rihanna's music on her YouTube page.
It turns out that Yassi is just as fun, bubbly, and outgoing as she appears to be on TV or social media. She gamely chatted with SPOT.ph about her upcoming hosting gig for MTV Music Evolution Manila, her friendship with Nadine Lustre, and why she absolutely loves belting out sad songs.
Photos and video by Criselda Carreon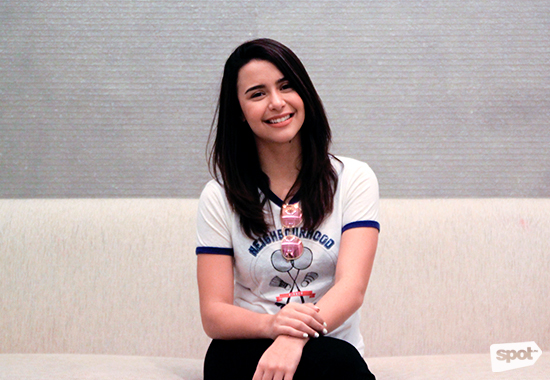 You've been a VJ for MTV Pinoy for some time now. How did that come about?
It was actually a surprise for me because I got a call [that said] MTV Pinoy was coming back, and they wanted me to be a part of it. That was quite amazing for me because I was not hosting at the time. I was doing a little show about music on the Viva Channel, but I wasn't hosting for real. It was my first big hosting job. I grew up with MTV. That's all I watched when I was young: Cartoons, wrestling, and MTV [laughs].
ADVERTISEMENT - CONTINUE READING BELOW
How has life as a VJ been for you so far?
It's just fun! It actually doesn't feel like work...especially when we started. Merong mga times na naglalakad kami sa may San Beda, minsan sa Taft where we eat street food, minsan sumakay kami sa likod ng jeepney...all these random videos na kapag pinapanood mo ng sabay sabay, you just end up thinking, "Wow, that was a good year."
You mentioned that MTV was a big part of your childhood. What were your favorite shows growing up?
It was actually about all the music for me. We didn't have Spotify or YouTube then. As a child, I didn't have a computer 24/7 kasi may [limited] time lahat 'yan with school and homework. So everything about music, I would get from MTV.
CONTINUE READING BELOW
Recommended Videos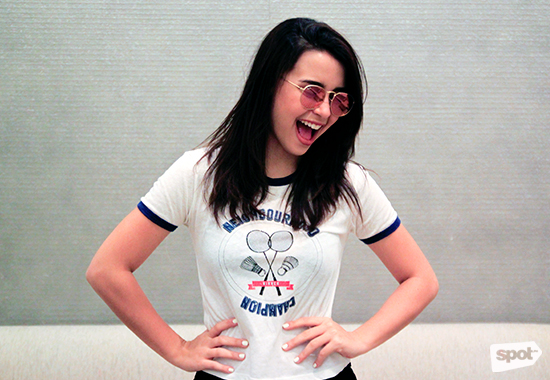 And now with your hosting stint, you've been exposed to a lot of music. How do you think that has changed your music preferences now?
ADVERTISEMENT - CONTINUE READING BELOW
My music taste has grown enormously in the past two years [that I've worked with MTV]. I never really got into indie music before; it was always just a lot of mainstream music. Then two years ago, I started digging into, say, Troye Sivan or Youth...and now, I'd listen to all his albums, all the music he put out before he was even Troye Sivan. Same with Ed Sheeran.
Now, you're hosting the upcoming MTV Music Evolution [concert]. Which musical acts are you most excited to see?
OneRepublic is so exciting for me, because I looove the kind of music that speaks to your pain [laughs]. Ang ganda no'n, super favorite ko 'yon. But it's in a catchy tune na parang hindi mo makalimutan. I loooove those songs [laughs]. They went here [in Manila] one time and I missed their concert. I had tickets, I made sure I had good seats, and then I had to go out of town...so that was so saddening for me.
You're used to hosting on TV, and now you're doing it on a much larger scale. How do you feel about that?
Concerts are always fun! I would do corporate [events] and I'm more formal for those, but for concerts, it's just really laidback. I just feel more at home and the energy is much more explosive, especially with the crowds.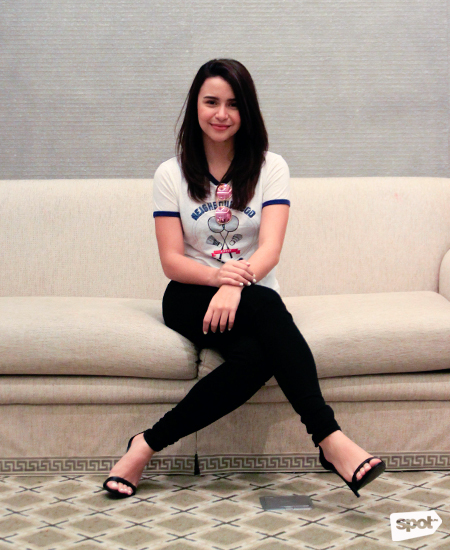 ADVERTISEMENT - CONTINUE READING BELOW
James Reid and Nadine Lustre will also be performing at the show. You guys are all close friends in real life, and you've all worked together in previous projects. How do you think is this concert going to be different?
We've done, maybe 12 concerts around the Philippines together? And our relationship is just...not showbiz at all, so it doesn't really matter what we're doing. You'll still see us whispering to each other, laughing about random stuff like normal teenagers. Everything is still the same. We'd still Snapchat, even [when I was] in Japan and [Nadine] was in L.A.
Your careers have really blown up this past year. Do you think that has affected your friendship in a way?
Alam mo, usually it would, but it just doesn't for us. The only thing that has changed is the time that [Nadine and I] have together, but even when we're apart, we still talk a lot. Nadine and I worked in GMA [Network] before, but she had her own group with the Pop Girls and I had my own group with all of the dancers. We rarely performed together, but Nadine and I have known each other since we were eight years old. We were even doing commercials together!
You've done so many things throughout your career, from hosting to dancing and acting. Is there anything else you want to do?
Well, I wanted to climb a mountain this year! [laughs] And I did because I promised that to myself. I read a blog that said this mountain [I was going to climb] was a Level 2. When we got there, all I could think was, "She lied to me!" [laughs] It was a Level 4! It was in Rizal, it's Mt. Pamitinan...don't go there if you haven't slept! [laughs] I wanted to go because I don't have a lot of free days. Nagtatampo na ako sa barkada ko because they didn't want to go, it was so early. Then na-guilty sila so at 1 a.m., we all decided to meet at my house at 6 a.m. Walang tulog talaga. It's all in my Instagram and it was just really fulfilling.
ADVERTISEMENT - CONTINUE READING BELOW
Watch the video for the full Top 3 interview with Yassi!
Here at SPOT.ph, we like to do a lot of Top 10 lists, but for you, it's going to be a quick Top 3 list. Let's start with your favorite artists right now?
Beyonce, always and forever. Rihanna, always and forever. And...Troye Sivan. Wait, ang hirap naman, bakit Top 3 lang? [laughs]
Top 3 music albums that you have on repeat?
Rihanna's Anti. I haven't heard Beyonce's Lemonade yet, so I'm still obsessed with songs like "7/11" and all of that. And Frank Ocean's albums [smiles]. I sleep beside him, I have a photo of him by my bed...it's true. Actually, I also really like Childish Gambino's new album, I will listen to that on the way home.
Top 3 songs to dance to?
Right now, "No Broken Hearts" [by Bebe Rexha]. Ang ganda ng music video, guys! I'm still hooked on "Work," my video almost has 20 million views so thank you so much...and third is Drake's "One Dance." I'm putting out a quick video [soon].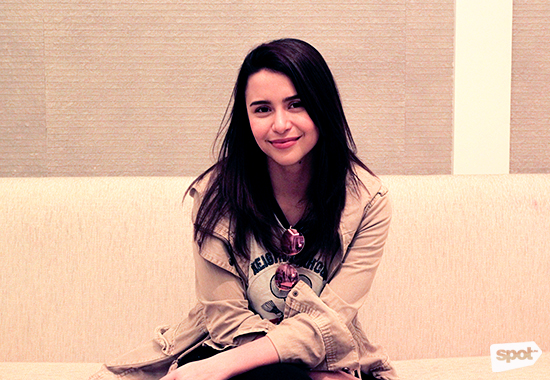 ADVERTISEMENT - CONTINUE READING BELOW
Top 3 Snapchat filters?
The one that's squished? That's my favorite one. It's not there anymore, but I also love the one where you scream out rainbows. And the last one is...the swirly warped face. [You don't like the flower crown or the dog filter?] No, kasi it's pa-cute. I like the stupid ones [laughs].
Top 3 comfort food?
Pizza, donuts, and...burgers.
Top 3 dream travel destinations?
Palawan, the States...I'm going there next week pero three days lang. And any stop in Europe, maybe London? I should go to London because my dad's from there.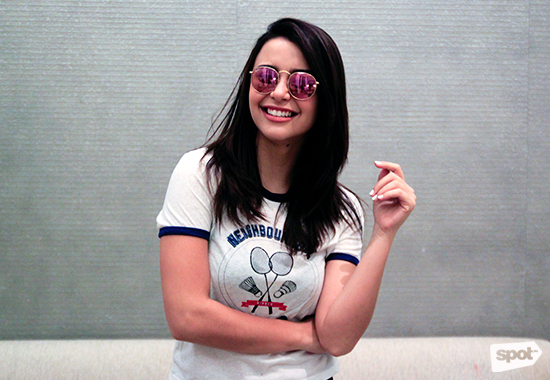 Top 3 places you've been to so far?
Boracay on an off time when no one's there and you feel like you're the foreigner. Doon ko nakita na paradise talaga 'yong Boracay. We were there in January and it was so beautiful. One of my favorites is Korea. And Hong Kong!
ADVERTISEMENT - CONTINUE READING BELOW
Top 3 favorite projects you've done so far?
Of everything? [Yeah!] Ang dami! But maybe, Diary ng Panget [in 2014], Girlfriend for Hire [in 2016], and my first album because that really paved the way to me singing.
Top 3 songs to sing in the shower?
Right now, Ariana Grande's "Dangerous Woman," Drake's "One Dance," and...Adele. With all the high notes, ang kapal 'di ba. [laughs] See, I told you, sad songs are so good.
MTV Music Evolution 2016 is happening on June 24 at the SM Mall of Asia Concert Grounds. Musical acts include OneRepublic, Bebe Rexha, K-pop girl group Apink, and James Reid and Nadine Lustre. Entrance is free, and fans may avail of passes by correctly answering a question on www.mtvmusicevo.com until June 12.
Photos taken at Discovery Primea in Makati City. Photos and video by Criselda Carreon.
Share this story with your friends!
---
Help us make Spot.ph better!
Take the short survey
Load More Stories