15 Minutes With James Reid and Nadine Lustre
JaDine dish on the song they'd use to describe their relationship. (We never would have guessed!)
(SPOT.ph) Most of us know James Reid and Nadine Lustre from their hit show On the Wings of Love and their string of box-office hits. Little did we know that JaDine actually have some music in them, too. (Seriously, what can't they do?) The reel-to-real couple will be hitting the stage of MTV Music Evolution on June 24, alongside artists like OneRepublic, K-pop girl group Apink, and American singer-songwriter Bebe Rexha.
The couple spoke to the press before the big show, dishing on everything from their recent world tour to even the song they'd use to describe their relationship. (You'll never guess!)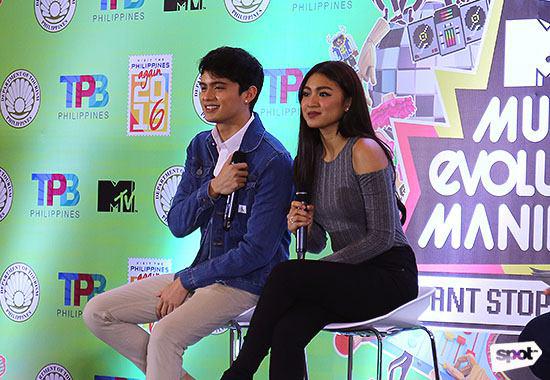 You both just completed your world tour. How different is the crowd at each of your pitstops around the world compared to the crowd here in the Philippines?
J: It's really not that much different. At the end of the day, they're all still Filipinos. They all miss home. So it's like bringing home to them, whether it's San Francisco or New York or wherever. But it's really amazing to meet all of the fans, our OTWOL followers, just everyone.
ADVERTISEMENT - CONTINUE READING BELOW
What can fans expect from your performance at MTV Evo?
N: Well, we'll be performing our songs but for tonight, I'll be [singing] "Me and You." I haven't performed that song in a really long time, so I'm so excited.
J: We'll be singing songs that we know our fans love.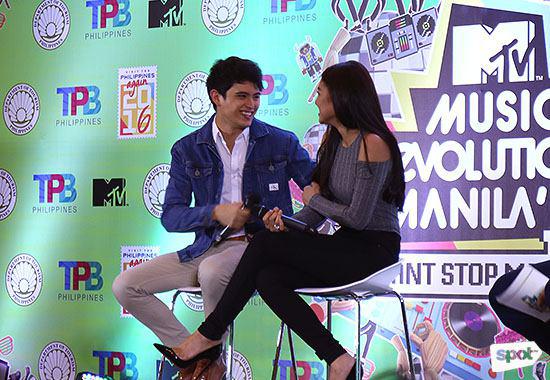 CONTINUE READING BELOW
Recommended Videos
How does it feel to be part of such a huge, international lineup?
J: I was really happy. but when I heard that OneRepublic, Apink and other artists [would be performing]...I started freaking out.
N: Well, I was just really freaked out from the start. [laughs]
Do you still get stage fright?
N: Yeah, I still do! Maybe it's because I want to do well? But it's fun. After a while, it just goes away.
J: I still get butterflies in my stomach. It's the adrenaline, and it helps me.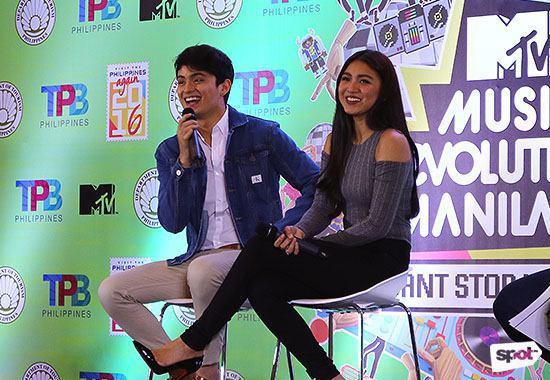 ADVERTISEMENT - CONTINUE READING BELOW
Nadine, you started your career as a member of the group Pop Girls. How would you describe your growth throughout your career?
N: Well, Pop Girls was a stepping stone for me. I was very young at the time. I remember all our outfits being so colorful, the dance steps were really cutesy. And now that I'm much older, music is more serious...more mature for me.
How would you two describe your journey as music artists?
J: Unexpected. You know, I never really expected to go down this path or working in show business.
N: I was already studying [in school] and I thought I was going to quit showbiz. Then when Diary ng Panget happened, everything just started falling into place. That sort of started everything.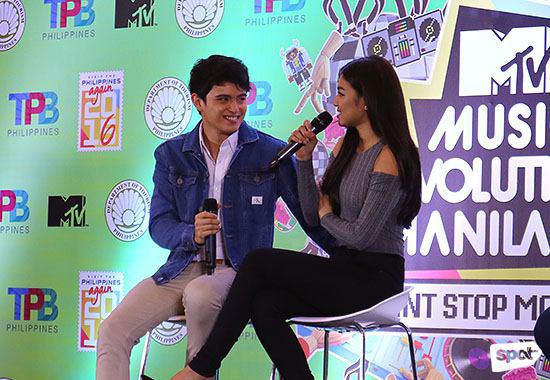 What do you think is your asset that made you one of the most sought-after love teams today?
J: As musical artists? I think it's because we can dance? [laughs] But in general, I think it really has more to do with our fans. They're amazing. We have the best fans in the world.
ADVERTISEMENT - CONTINUE READING BELOW
Is there any chance for a couple album from you?
J: I have an album coming out soon, also Nadine. We also have a teleserye coming up, and a new movie...but right now, we're really excited about MTV Music Evo.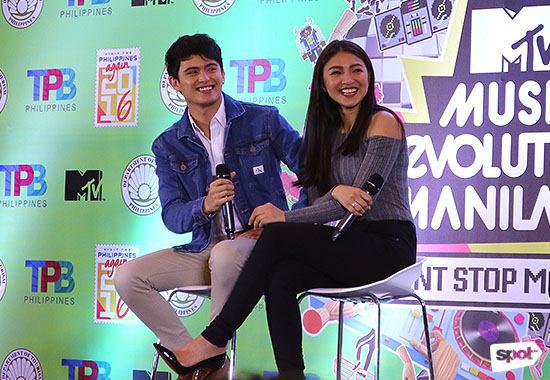 What song would you use to describe your relationship?
J: That's a really tough question! [laughs]
N: I would say "Firestone" by Kygo. I love that song, and I always use its lyrics as captions for my Instagram posts. [laughs] There's this line that goes, "When they strike, we light up the world." I think that applies for us? [laughs]
And if you could pick a genre to describe your relationship, what would it be?
J: I would say slow R&B...just because when we're together, it's really chill and low-key.
N: That's a hard question, but I think I'd go with EDM. You know how dance music is just a lot of energy? I think that describes me. But you know, we're always working, we're always on tour...and it's always an exciting experience.
ADVERTISEMENT - CONTINUE READING BELOW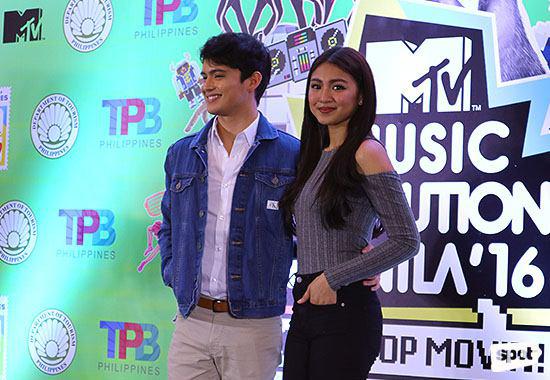 You two are at the height of your careers with your TV shows, movies, and tours. What do you see yourselves doing in the future?
J: Honestly, I can't see myself doing anything else. [smiles]
N: Well, right now we're just really focusing on our careers and what we have at the moment. But who knows, right? Like for me, I'd really want to go into directing. We'll see!
J: But of course, we both have so far to go. I think I'd just like to see it where it goes and if it goes all the way.
---
Help us make Spot.ph better!
Take the short survey
Load More Stories