The Funniest Reactions to the Video of Taylor Swift Approving Kanye West's Lyrics
No one was spared from the Internet's jokes.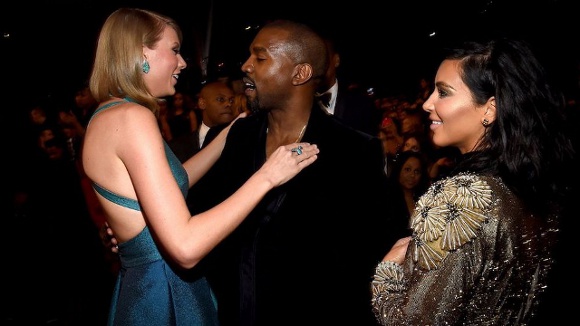 Photo via Mashable's Twitter account
(SPOT.ph) The Taylor Swift-Kanye West saga just never ends. In case you haven't been keeping up, West's new song, "Famous" was at the center of controversy because of a line that said he made Swift famous. The rapper said he got her approval for the lyrics, which Swift denied. She then infamously took a shot at him during her Grammys speech for "undercutting [her] success."
ADVERTISEMENT - CONTINUE READING BELOW
The whole affair quieted down until this past June, when Kim Kardashian claimed that Swift had lied to...well, everyone. Today, July 18, she took to Snapchat to show footage of West on the phone with Swift and getting her approval. At one point, West explained why he asked for her approval beforehand, saying, "I just felt I had a responsibility to you as a friend. I mean, thanks for being so cool about it." (Here's a full transcript of the conversation.)
Shortly after, Swift took to Instagram (above) to air her side of the story. Still, that hasn't stopped the Internet from exploding with the big news. Here are some of the funniest reactions, like these two newcomers:
— Zainab Hashim Khan (@Zainabhashk) July 18, 2016
— Eric (@MrEAnders) July 18, 2016
Some people were just waiting for the impending musical collaborations:
— LOUDPVCK (@LOUDPVCK) July 18, 2016
— Chelo (@chelokebab) July 18, 2016
— champagne bubby (@marlenvargas) July 18, 2016
Others just took the opportunity to poke fun at everyone involved:
— Papi HATHAWAY (@HeadcACE1906) July 18, 2016
— Isdamid Seylin (@sideeyespecial) July 18, 2016
— Adam Buongiovanni (@AdamBongo) July 18, 2016
— Colin Jones (@colinjones) July 18, 2016
— Dominic Riccitello (@DominicScott) July 18, 2016
— nathan (@junmyeonns) July 18, 2016
— Gabe Ortíz (@TUSK81) July 18, 2016
And finally, our favorite reaction of all:
— carly aquilino (@carlyaquilino) July 18, 2016
Load More Stories