10 Sweetest Quotes About Love and Marriage From Brad Pitt and Angelina Jolie
Or should we say heartbreaking because...well, walang forever.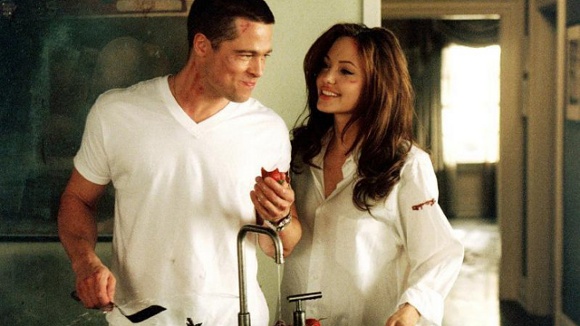 (SPOT.ph) On September 20, word broke out that Angelina Jolie has filed for divorce from Brad Pitt after 12 years and six kids together. Sparks first flew between Brangelina in the 2005 hit film, Mr. and Mrs. Smith. 10 years later, the A-list couple tied the knot in a small ceremony in France. Two years later, we can safely say that love is dead and nothing is real.
Some say Pitt was allegedly having an affair with his Allied co-star Marion Cotillard. TMZ.com claims that Jolie cited irreconcilable differences, and that there was "no third person" involved. Instead, the rift reportedly stemmed from his "parenting methods." She is seeking physical custody of their kids while Pitt gets visitation rights.
In a statement from Jolie's attorney, the actress said the decision was for the "health of the family." Meanwhile, Pitt told PEOPLE that he was "very saddened" and that what matters most  is the "wellbeing of [their] kids."
Just to break your heart (and ours) even more, we round up 10 of the sweetest quotes shared by the former couple over the years.
"It's not just that I love being in Brad's company, which obviously I do, but it's that we both roll up our sleeves and take on what we care about in the same way. I have a lot of respect for him, and he helps me to be better and fight hard for things that I love."
—Jolie to W Magazine, November 2008
"I'm still a bad girl. It's just in its place now. It belongs to Brad."
—Jolie to 60 Minutes, December 2011
ADVERTISEMENT - CONTINUE READING BELOW
"I have a handful of close friends and I have my family and I haven't known life to be any happier. I'm making things. I just haven't known life to be any happier."
—Pitt to Esquire, May 2013
"Brad has expanded my life in ways I never imagined. We built a family. He is not just the love of my life, he is my family."
—Jolie to Marie Claire, January 2012
[On waking up next to Angelina] "I get up some mornings and gasp."
—Pitt to E! News, December 2008
"The children certainly tie us together, but a relationship won't hold if it's only about the kids. You also must be really interested in each other and have a really, really wonderful, exciting time together. We do. Brad and I love being together. We enjoy it."
CONTINUE READING BELOW
Recommended Videos
—Jolie to Parade, July 2010
"There's a more profound feeling when I look back at all the things my wife and I have gone through; all the successes and failures and great passions and great fights and that we have that together is something I can't quite get my arms around but, to me, it's much more enticing than the newness of relationships."
—Pitt to BBC News, December 2015
"After all these years, we have history—and when you have history with somebody, you're friends in such a very real, deep way that there's such a comfort, and an ease, and a deep love that comes from having been through quite a lot together."
ADVERTISEMENT - CONTINUE READING BELOW
—Jolie to Elle Magazine, May 2014
"There are no secrets at our house. We tell the kids, 'Mom and Dad are going off to kiss.' They go, 'Eww, gross!' But we demand it."
—Pitt to USA Weekend, May 2011
"I think it's a reality of marriage that you go through hard times and that you have to embrace those hard times and challenges and know that it's a part of your marriage and it's the pulling through together that actually makes the bond."
—Jolie to BBC News, December 2015
Share this story with your friends!
---
Help us make Spot.ph better!
Take the short survey
Load More Stories