A Timeline of Heart Evangelista and Marian Rivera's Rivalry
It all started in 2011...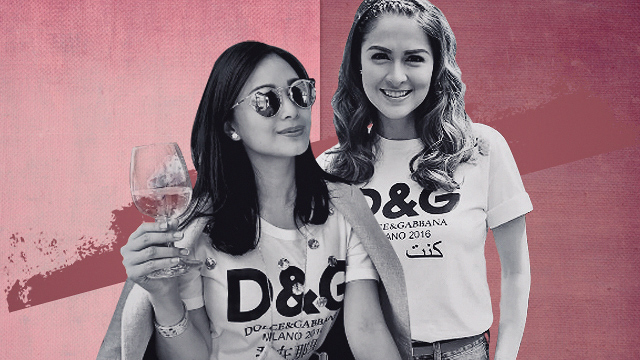 (SPOT.ph) Die-hard showbiz fans always enjoy a successful love team or a viral hit show, but if there's something that unites everyone—yes, even the casual Facebook user—it's some real-life celebrity drama. Admit it: You may not know or even understand everything about local showbiz, but you do get curious every time you hear that Celebrity A publicly yelled at, cheated on, or broke up with Celebrity B.
ADVERTISEMENT - CONTINUE READING BELOW
The latest showbiz drama to hit our newsfeeds is between Heart Evangelista and Marian Rivera over a Dolce & Gabbana shirt. Although their involvement in the issue is mostly because of what they were wearing, their rivalry actually dates to as far back as 2011. Here, we relive the colorful drama between the two stars over the years.
June 2011
It all began with their respective significant others. Heart's then-boyfriend, Daniel Matsunaga, expressed interest in being paired with Marian for a project. Meanwhile, Heart also reportedly said she was excited to partner with Marian's beau, Dingdong Dantes, for an upcoming project with GMA Network. Rumors of a rift were already circulating, but Heart denied the issue via Twitter, saying, "Let's not make a fuss. Marian and I are okay."
At the time, the two were co-stars in the remake of Temptation Island, and were filming scenes in Ilocos. According to PEP.ph, they had ironed things out before flying back to Manila but everything blew up when Heart's mother, Cecile Ongpauco, allegedly stormed to the airport with a team of bodyguards and yelled at Marian to "stay away from [her] daughter."
ADVERTISEMENT - CONTINUE READING BELOW
During a press conference later that month, Marian broke down while explaining what happened. She called it a "misunderstanding" and added that there was no issue between them, so she was shocked at what happened at the airport.
July 2011
The controversy even spread on social media just a few weeks later. Heart claimed that Marian's fans had hacked into her Twitter account, with tweets that called the latter "bobita." She also said that Marian had threatened her when they were in Ilocos after she got "excited" at the prospect of working with Dingdong. "She told me in that room, 'hawak ko lahat ng president ng fans club ko kaya isang text papatayin ka nila.'"
Eventually, both Heart and her mother held their own press conference to air their side of the story. They both denied that Cecile had yelled at Marian or brought bodyguards to the scene. "Hindi po totoo na nagdala kami ng napakaraming police. It was airport security po," Heart said, according to a PEP.ph report. Since the feud blew up, four of Heart's endorsements were reportedly "on hold" and a TV project was "shelved."
ADVERTISEMENT - CONTINUE READING BELOW
GMA 7 also released a statement, saying, "The issue between Marian Rivera and Heart Evangelista is a personal one. Though it happened during the shooting of Temptation Island, both actresses were advised by the producers of the movie (GMA Films and Regal Entertainment) to put this unpleasant issue to rest. Whatever statements or actions issued or done by either party are their own. GMA Network still hopes that the issue will be resolved and that the friendship of both stars be renewed."
As for Marian, she decided that she would no longer speak on the incident for the "sake of peace and out of respect for GMA."
September 2012
A year later, the two quietly settled their differences during the Dolphy Tribute Special at the Mall of Asia Arena. In an interview, Heart said that she had approached Marian in the event; the latter confirmed what happened and said, "Basta okay kami. Wala nang intriga. Ako, okay naman, e, walang problema."
ADVERTISEMENT - CONTINUE READING BELOW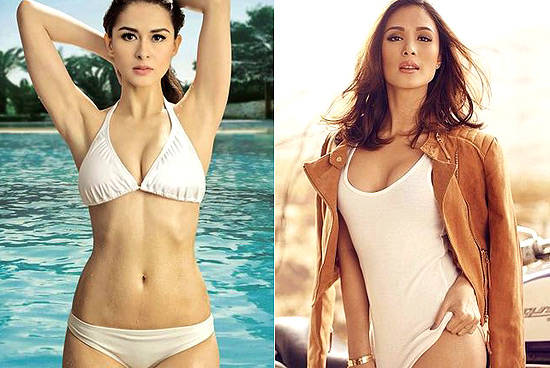 January 2014
Although it wasn't exactly a face-to-face showdown, the two were once again pitted against each other in an issue many dubbed, "Battle of Sexy Calendars," when they were both named Calendar Girls for different alcohol brands. Heart was the face for Tanduay in 2014, while Marian struck a sexy pose for Ginebra that same year.
ADVERTISEMENT - CONTINUE READING BELOW
When asked about the drama, Heart simply responded, "I'm so tired of all of that."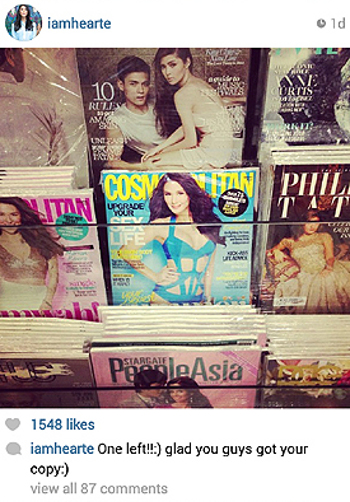 March 2014
Social media controversy reared its ugly head again just two months later when Heart took to Instagram to celebrate her cover for Cosmopolitan Philippines. She took a photo of the magazine on a bookstore shelf and captioned the post saying, "One [copy] left!" The problem? Next to Heart's magazine was Marian's February 2014 issue—which had a lot more copies visible.
ADVERTISEMENT - CONTINUE READING BELOW
Some people accused Heart of removing copies of her cover from the rack to make it look like she was selling more, while others called her "childish" and "papansin." In an Instagram comment, Heart explained, "I thanked my supporters. It's not my fault my magazine was placed beside 'her.' I've always been honest and outspoken…she isn't my favorite person because of what she did to me and others but that was years ago. We are not friends nor enemies."
— LoveMarie O.Escudero (@heart021485) February 24, 2014
Even Heart's tweet (above), where she praised ABS-CBN's then-airing teleserye Got to Believe, was criticized because the KathNiel show was at the same timeslot as Marian's GMA 7 show, Carmela.
May 2015
Over a year went by and another name somehow got involved in the long-standing feud: Angelica Panganiban. The actress poked fun at their rivalry as part of Banana Split's segment called "Your Dubsmash Sounds Familiar" by comparing the similar outfits of Marian and Heart.
ADVERTISEMENT - CONTINUE READING BELOW
She quoted Cherie Gil's famous Bituing Walang Ningning line ("You're nothing but a second-rate, trying-hard, copycat!"), holding up Marian's photo at first then switching to Heart's photo at "copycat."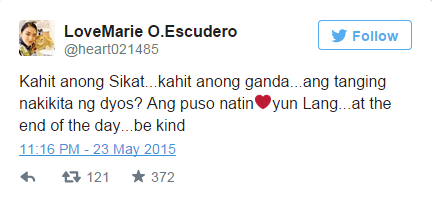 Heart didn't directly respond to the skit, but she posted a cryptic tweet (above) when the episode aired.
ADVERTISEMENT - CONTINUE READING BELOW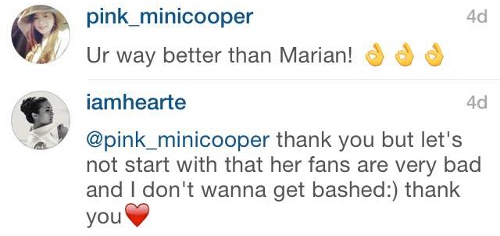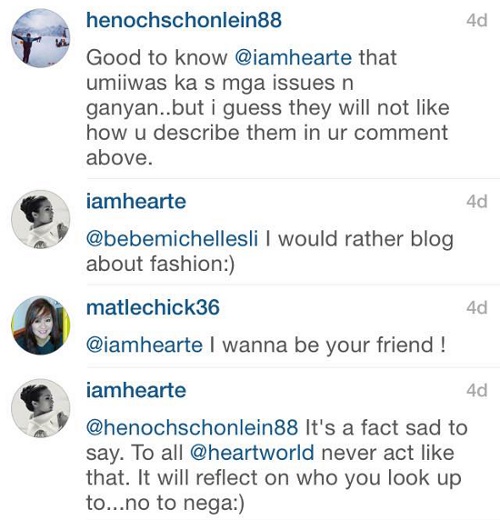 ADVERTISEMENT - CONTINUE READING BELOW
July to August 2015
It didn't take very long until a fan reignited the comparisons, telling Heart in an Instagram comment that she was "way better than Marian." Heart advised her not to bring up the issue because she did not want to be bashed by Marian's "very bad" fans. She also told her fanbase to "never act like that [because] it will reflect on who you look up to."
Even Dingdong came to his wife's defense, saying, "I really hope hindi siya nadye-generalize...The people that are with us ay mabubuting tao." Marian, meanwhile, simply said she loved her fans.
It was also around that time when Marian expressed the desire to "move on" from all the drama. When asked about a possible reconciliation, she simply said, "Wala naman kasing problema sa akin, 'e." In an interview with StarTalk, Heart thanked Marian for wanting to move on and said, "Thank you kasi masaya naman na kaming lahat. Para everyone [is] happy, and also to the fans, be happy na."
ADVERTISEMENT - CONTINUE READING BELOW
April 2016
Despite both parties' previous statements, it seemed their fans just couldn't let the issue go. After being asked by the press, Marian finally admitted she was hurt at how Heart described her fans and said, "Ganito na lang, siguro sana, 'yong mga sinasabi niyang salita, e, tumutugma sa mga ikinikilos niya." However, she also expressed her frustration at how their rivalry never seemed to end, saying, "Nagtataka ako bakit paulit-ulit, paulit-ulit na nabubuhay?"
April 2017
A year later, and their names reappear together in headlines after they both sported almost-identical Dolce & Gabbana shirts. Heart's friend (who goes by the Instagram username @anne__bonhomme) detailed why she thought Marian's shirt was "fake," which led to Marian's personal shopper, Aimee Hashim (@loveluxebags on Instagram) to retaliate and said, "[I am] a personal shopper contacted by Gabbana themselves. What else is there to prove?"
In an interview with Preview.ph, Aimee said that Marian's shirt was from the children's line and said that the design was "extremely limited." She also backed up her argument with a receipt of her purchase at the Dolce & Gabbana boutique in Dubai, and said, "I am recognized by Dolce & Gabbana Company with a contract. They asked me to sell their items in Manila. They will give me a percentage."
ADVERTISEMENT - CONTINUE READING BELOW
In a separate interview with PEP.ph, Aimee stood behind her claims that the shirt was real and said she was "awaiting documents" to prove it. To counter the point that the flower's placement on Marian's shirt was too high—hence its supposed fakeness—she explained that it was because Marian was wearing a design specifically for 12-year-old kids. "Marian has a very small frame. Some brands, she wears XXS, some 0. The fit of the shirt is loose," she told PEP. "[It is] still the same detail, but [it's] adjusted based on the length."
As of writing, neither D&G nor the two celebrities have issued a statement.
Load More Stories