10 IG-Worthy Spots Around the World According to Cole Sprouse
...and his enviable Instagram feed!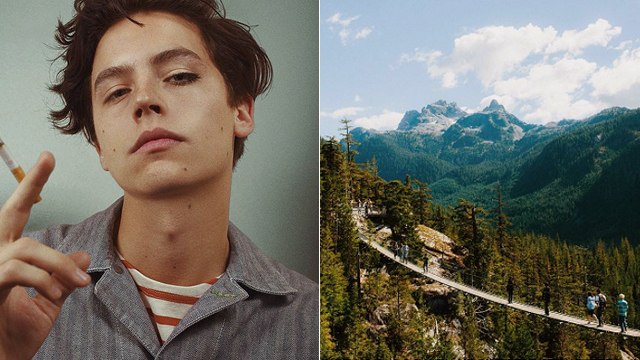 (SPOT.ph) With summer winding down to a close and Riverdale's addictive first season coming to a shocking end, we figured it's a perfect opportunity to put together two of the things we currently love the most: travel and Cole Sprouse. When he isn't shooting the dark teen show, he's busy shooting his fellow cast mates, beautiful models, and the gorgeous scenery that seems to constantly surround him.
ADVERTISEMENT - CONTINUE READING BELOW
Cole once called his work "trespass photography" because "the best locations are locations you break into." Don't worry, though; you don't need to violate any laws to see these 10 picture-perfect destinations from his Instagram account. All you need is a camera…and okay, maybe a visa, too. The view is definitely worth it, though!
Photo by Cole Sprouse
ADVERTISEMENT - CONTINUE READING BELOW
 Photo by Giulia Fiore (flickr)
Teotihuacan in Mexico
In April, the real-life Riverdale gang flew to Mexico City for some much-deserved R&R, which included a stop at the holy city of Teotihuacan—one of the most popular tourist spots for day trips. The ancient city was one of the largest and most flourishing urban centers of its time, up until its mysterious destruction by fire in 600 CE. Today, visitors flock to the city to see its archaeological structures, including: The Avenue of the Dead (the city's main street), the Pyramid of the Moon (a 150-foot-tall pyramid), the Pyramid of the Sun (standing at a massive 200-foot height with a 730-foot base), and the Citadel (the royal residential complex).
 Photo by Cole Sprouse
ADVERTISEMENT - CONTINUE READING BELOW
 Photo by California State Parks (flickr)
Antelope Valley California Reserve
There's more to California than sunny sidewalks and swaying palm trees. Each spring (mid-February to May), the Antelope Valley California Reserve comes alive—literally—with a multi-colored carpet of blooming wildflowers. Think eight miles of rolling hills and a breathtaking mosaic of colors! The park is open from sunrise to sunset all year, and also offers recreation areas such as picnic tables, walking trails, and wildflower exhibits. (Keep checking the park's official website to make sure you'll be there while the flowers are blooming in full color.)
 Photo by Cole Sprouse
ADVERTISEMENT - CONTINUE READING BELOW
 Photo by Colognid (flickr)
Okavango Delta in Botswana, Africa
Ever wondered what it's like to see an African safari? Cole's stunning yet intimate photographs of the untouched Okavango Delta should convince you. He was enlisted by Condé Nast Traveler to capture this Bostwana safari and all its freely roaming wildlife. Tourists can explore the delta by car, foot, canoe, motorboat, or even atop an elephant, and they offer customized itineraries for even the pickiest of travelers. The Okavango Delta is a protected reserve that's home to some of the world's most endangered animals, and is part of UNESCO's World Heritage list—making it a must-see for any adventure-seeker.
 Photo by Cole Sprouse
ADVERTISEMENT - CONTINUE READING BELOW
Photo by Jeffrey Sullivan (flickr)
Mono Lake in California
Located near Yosemite National Park, this 70-square-mile natural wonder is one of the oldest lakes in the western hemisphere. The beautiful tourist spot offers a great view of the Sierra Nevada mountains, as well as natural limestone formations that rise from the saltwater's surface. For visitors, you can take a boat or go on a walking tour, though they also recommend the sunset tour so you can score that perfect Instagram shot.
 Photo by Cole Sprouse
ADVERTISEMENT - CONTINUE READING BELOW
Photo by Rob (flickr)
The Grand Canyon in Arizona
What is a trip around the U.S. without a visit to one of its world-famous locations? The massive canyons can be explored from different areas: The South Rim, North Rim, Grand Canyon West, and Grand Canyon East. Each point offers a different experience, depending on how much time you have, how many people you're with, and the kind of adventure you're willing to do. Go hiking, take a bicycle tour, try your hand at whitewater rafting, visit the infamous glass sky bridge (if you dare!), or go camping—the choices are endless. Either way, you'll have access to that jaw-dropping view.
 Photo by Cole Sprouse
ADVERTISEMENT - CONTINUE READING BELOW
Photo by Mauricio Fernandez (flickr)
Untermeyer Park in New York
This picturesque patch of green has been around since the '20s and was allegedly used as a venue for satanic cults in the '70s during its time of neglect. Today, the sprawling grounds—which spans about 150 acres—boasts a variety of elaborately constructed temples and fountains. Guided tours will give you a glimpse at several well-known structures, including the Walled Garden, which features Persian and Greek-inspired architecture; the Vista, which gives a spectacular view of the Hudson River amid ancient Roman columns; and the Temple of Love, which overlooks the south of the Hudson River and is flanked by naturally formed rock formations and waterfalls.
Photo by Cole Sprouse
ADVERTISEMENT - CONTINUE READING BELOW
Photo by Michael Rymer (flickr)
Okanagan Valley in British Columbia, Canada
Located in British Columbia (where a majority of Riverdale is filmed), Okanagan Valley is a well-loved holiday spot for Canadians looking to escape the cold. It's also the second largest wine region in the country, so a pit-stop in several wineries is a must. During the summer, tourists flock to their sandy beaches, go rock climbing, or visit its unique sightseeing spots. In the winter, the valley transforms into a skiing destination—particularly the nearby Big White Resort in Kelowna.
Photo by Cole Sprouse
ADVERTISEMENT - CONTINUE READING BELOW
Photo by Norman Peters (flickr)
Death Valley in California
Don't be fooled by its ominous name; the Death Valley's stretch of sand dunes, mountains, craters, and lakes make for an IG-worthy adventure. For folks who prefer roughing it up, the Death Valley National Park offers camping grounds, as well as tours to its stunning sights. Or you could make like the real-life Archie and Jughead and have a photoshoot at the Mesquite Flat Sand Dunes, with smoothly rolling hills that provide the perfect, breathtaking backdrop to your next profile photo.
 Photo by Cole Sprouse
ADVERTISEMENT - CONTINUE READING BELOW
Photo by Lois Stavsky (flickr)
Williamsburg in Brooklyn, New York
This hip and vibrant Brooklyn neighborhood is home to many of New York's best restaurants, shopping and nightlife, and a thriving art scene. You can head to the Williamsburg waterfront to sample culinary fare from dozens of popular restaurants, or shop for vintage clothes as they have plenty of stores that cater to your needs. Williamsburg is also a great place to go record-shopping; for book lovers, a visit to the Spoonbill & Sugartown bookstore is a must.
Photo by Cole Sprouse
ADVERTISEMENT - CONTINUE READING BELOW
Photo by Steven Paul Shappell (flickr)
Squamish in British Columbia, Canada
Over the past few years, Squamish has become a must-visit destination for adrenaline junkies, from whitewater rafting to mountain biking and challenging hiking trails. (Don't worry, there's a doable option for even the thrill-seeking newbie!) One of Squamish's most popular tourist spots is the Skypilot Suspension Bridge (as photographed by Cole above): a 100-meter-long bridge that hangs thousands of feet above land. You'll get an incredible 360-view—that is, if you get over your fear of heights.
Load More Stories