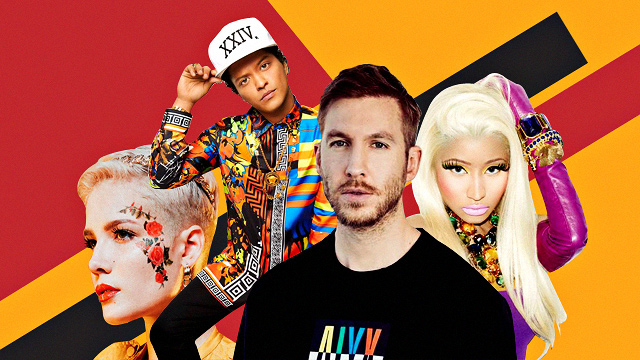 (SPOT.ph) What's in a name? Most artists go by their birth name, but like some musicians, there are those who have an interesting backstory to their chosen stage name. Here are 10 artists who dropped their real names and went for a brand new professional name.
ADVERTISEMENT - CONTINUE READING BELOW
Lady Gaga
Before she was Lady Gaga, she was Stefani Germanotta. But since she started churning out hit after hit, everyone has come to know her as Lady Gaga. She told Flybe Magazine that it was music producer (and former boyfriend) Rob Fusari who started calling her Gaga after Queen's "Radio GaGa." He was texting her when "Radio Gaga" autocorrected to "Lady Gaga." She loved it so much, she kept it as her stage name. She's even using it as her billing in her first feature film A Star Is Born.
Halsey
Halsey is an anagram of her real name Ashley Frangipane. Incidentally, she came up with the name while on the subway heading to the Halsey Street stop. She once joked on Twitter that her stage name meant "doing the most" in Greek.
Lauv
The singer behind "I Like Me Better" shares the story behind his name and says the correct pronunciation ("like the word 'loud' but with a v at the end," he explained on Twitter). His mom's side of the family comes from Latvia and he looked up the word "lion" in Latvian. Ari Leff (that's his real name) says, "Ari means lion and I'm a Leo and I found 'lauva'. So, I got rid of the 'a' and it was just 'lauv' and it just felt right."
Chance the Rapper
His real name is Chancelor Jonathan Bennett. He first started rapping as Chano and formed a group called Instrumentality with his friend J-emcee. His father once suggested that he change his moniker to Chance the Artist. He tells GQ how that used to bother him. Why did rappers have to be called "artists," "musicians," or "recording artists"? For the 23-year-old Chicago native, being called a rapper was pretty much the highest compliment. He wanted everyone to see it that way, too.
The Weeknd
Abel Tesfaye, better known as The Weeknd, shared on a Reddit AMA how he ended up with the stage name. When he was 17 years old, he dropped out of high school and convinced Lamar (of the XO crew) to do the same. They left home one weekend and never came back. He had to drop the "e" because of legal issues, as there was already a Canadian band using the same name.
ADVERTISEMENT - CONTINUE READING BELOW
Lorde
How did Ella Marija Lani Yelich-O'Connor become Lorde exactly? In an interview with 60 Minutes, she shares that it was something she didn't spend too much time thinking about. She's grateful to her younger self for coming up with a cool name that she's probably going to end up using for the rest of her life. "It's that kind of nobility, aristocracy obsession that I had. I just hit upon 'lord' and loved how it sounded. And I guess I was just like it would be cool to add an 'e' to feminize it," she says.
Nicki Minaj
Fun fact: Onika Tanya Maraj started in the business with the stage name Nicki Maraj, before finally settling for Nicki Minaj. She shares in CBS News the origin of her stage name, "[In] one of the first production deals I signed, the guy wanted my name to be Minaj and I fought him tooth and nail. But he convinced me. I've always hated it."
ADVERTISEMENT - CONTINUE READING BELOW
Bruno Mars
Peter Gene Hernandez did not want to be pigeonholed into singing Latin or Spanish music because of his last name. He dropped his Hispanic name and went with a childhood nickname. His dad called him Bruno after pro-wrestler Bruno Sammartino. He tells Parade, "Bruno is after Bruno Sammartino, who was this big, fat wrestler. I was this chunky little baby, so my dad used to call me that as a nickname. Mars came up because a lot of girls say I'm out of this world!"
Calvin Harris
It doesn't sound like it's a stage name, but the DJ's real name is actually Adam Wiles. This was revealed when his ex-girlfriend Taylor Swift thanked him in her acceptance speech at the iHeartRadio Awards in 2016. He chose to go with a "racially ambiguous" name, saying he thought people might not know if he's black or not when they listen to his first single.
ADVERTISEMENT - CONTINUE READING BELOW
Lana Del Rey
The "Video Games" hitmaker was born Elizabeth Woolridge Grant. She went by a few stage names like Sparkle Jump Rope Queen and May Jailer before going by Lana Del Rey, a combination of actress Lana Turner and '80s obscure automobile Ford Del Rey. She says she wanted an exotic name and "reminded [her] of the seaside on the Floridian coast." She thought Lana Del Rey sounded beautiful and it was the kind of name she wanted to shape her music towards.
Share this story with your friends!
---
Help us make Spot.ph better!
Take the short survey
More Videos You Can Watch
Load More Stories