(SPOT.ph) Has the national costume segment replaced Q&A as the most exciting part of any beauty pageant? It has evolved from a mere cultural presentation into its own kind of spectacle—and for better or worse, a wellspring of content for the Interwebs.
When a former Miss Universe-Canada decided to show up as a hockey scoreboard instead of dressing up in an iteration of the maple leaf, or a former Miss Universe-Myanmar gamely carried a movable puppet show on her back and won Best in National Costume for it, we felt that it changed the game completely. Suddenly, Q&A gaffes are no longer as exciting (pardon the schadenfreude) to anticipate.
ADVERTISEMENT - CONTINUE READING BELOW
Surely, Miss Philippines Catriona Gray is playing the aforementioned game in her drive to win the country's fourth Miss Universe title on December 17 in Bangkok. That she wheeled in her own parol to the national costume competition stage despite the odds (electrical issues, carpeted floor) is a testament to her determination to represent the country well. But it also got us thinking of the other times on the Miss Universe stage when the woman, the country, and the dress were all that mattered—and lengthy explanations on social media were unnecessary.
Here are our picks for the best Philippine costumes at Miss Universe. Eight of them were made by the most prolific Pinoy designers and two of them, by way of Colombia. Excuse the resolution of some of the photos; analog and the Internet do not do them justice at all.
Maxine Medina in Rhett Eala (2016)
ADVERTISEMENT - CONTINUE READING BELOW
Recommended Videos
Our hometown bet during the last Manila run of Miss Universe looked modern and sleek in Rhett Eala's interpretation of Mindanao's vinta. Medina's fashion-forward, South Sea pearl-embellished Jewelmer headdress seemed a fitting cap (no pun intended) to a look that refused to give into tackiness or unnecessary maximalism as most national costumes these days—or their designers—do.
Miriam Quiambao in Alfredo Barraza (1999)
ADVERTISEMENT - CONTINUE READING BELOW
There was a time when no one really minded that a non-Filipino created a Philippine national costume—because the dresses were well-designed. Way before the national costume fiasco in Miss Universe 2014, Colombian designer Alfredo Barazza created a tasteful costume for Miriam Quiambao to wear in 1999. Barazza's design was a creative cross between poon realness and the bejeweled Carnival Queen costumes of yore. The dress' colors, predominantly white with slivers of yellow and brown, were inspired by the various hues of sugar grains.
Geraldine "Pebbles" Asis in Louie Mamengo (1987)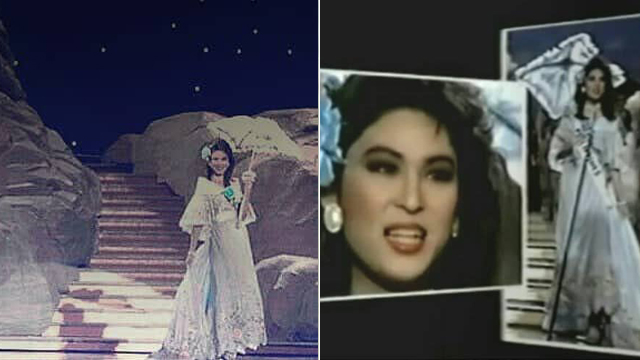 ADVERTISEMENT - CONTINUE READING BELOW
The Maria Clara that Pebbles Asis wore during her turn on the Miss Universe stage was a creation of the late Louie Mamengo (a young Rajo Laurel interned for him back in the day and a pre-Songbird Regine Velasquez got her couture fix from him, too). The powder blue Spanish-inspired ensemble, accentuated by handpainted pastel flowers, was the perfect juxtaposition to Pebbles' oriental features and even worked with her '80s big hair. And look, there's a cute parasol, too!
Aileen Damiles in Pitoy Moreno (1996)
Legendary fashion designer Pitoy Moreno set the standard for national costumes and pageant evening gowns, having dressed many a Miss Philippines through the decades. Among his standout works is the highlands-inspired costume that Aileen Damiles wore in Las Vegas in 1996. Showing grace while carrying what seemed like a stack of clay pots on her head (it surely was just a replica) throughout Fremont Street and onstage, Aileen's costume was as culturally accurate as it could be.
ADVERTISEMENT - CONTINUE READING BELOW
Joyce Ann Burton in Renee Salud (1985)
Joyce Ann Burton comes in at 7:08
Renee Salud's costume worked like magic on Joyce Ann Burton during the Miss Universe national costume parade of 1985. Her sweeping Maria Clara costume seemed the perfect fit, what with the mestiza beauty queen looking like the Noli Me Tangere character herself. Her overall styling adds to the period look: Hair pulled back to a chignon to highlight the panuelo and colonial tambourine jewelry to frame that lovely face.
Pia Wurtzbach in Albert Andrada (2015)
ADVERTISEMENT - CONTINUE READING BELOW
If you happen to frequent Greenbelt and walk by the atelier of Albert Andrada, you would have noticed that the national costume he designed for eventual Miss Universe 2015 Pia Wurtzbach has been on display in his storefront since 2016. The lavish terno features capiz and beadwork from the headdress down and looks like something a pre-war Carnival Queen would wear. And for Albert, it surely is a good luck charm.
Lia Andrea Ramos in Alfredo Barraza (2006)
The Miss Philippines of 2006 worked her ruffled and embellished traje de mestiza to the hilt, putting her own brand of playfulness to a period ensemble that could have taken a more conservative route. But the dress is backless and comes with a floral choker and folding fan that's more Belle Epoque than bridal. Ask any genuine pageant fan today to demo the introduction "Lia Andrea Ramos, 25, Philippines," with abanico in hand and you'll see what we mean—or you can just play this video instead.
ADVERTISEMENT - CONTINUE READING BELOW
Janine Tugonon in Pitoy Moreno (2012)
Janine Tugonon's Maranao-inspired costume for the 2012 show served as a tribute to Pitoy Moreno and a palate cleanser after a slew of Colombian-designed Filpino costumes on the Miss Universe stage. (But that streak would continue for two more years.) The costume is proof that thoughtful Filipino design works for our candidates best: The sheer silver dress was excellently beaded, the maroon sash shows off a tribal pattern, and the tiara and veil kept the entire look queenly.
ADVERTISEMENT - CONTINUE READING BELOW
Margarita "Margie" Moran in Aureo Alonzo (1974)
Conceived and cut by esteemed designer Aureo Alonzo, Margie Moran's white terno is proof that restraint and elegance speak more volumes than any gargantuan concept executed haphazardly. Sure, this was back in 1973, and the national costume game has taken on a new form in this day and age. Moran's costume goes to show that restraint and elegance can easily stand out.
Charlene Gonzales in Pitoy Moreno (1994)
Pitoy Moreno's creation for Miss Philippines 1994 Charlene Gonzales was influenced by two of Mindanao's indigenous peoples, the Bagobos and Higaonons. The gold, feathered headdress is Higaonon-inspired, the Bagobo upper and lower garments were constructed using t'nalak bands and panels, and the Bagobo belt is festooned with glass beads and brass bells. It was a national costume fit for a queen—and isn't Charlene Gonzales exactly that?
Share this story with your friends!
---
Help us make Spot.ph better!
Take the short survey
Load More Stories