Words to Live By From Catriona Gray's Voter's Ed 101
She dropped a video entitled Pinuno: Para Sa Bayan.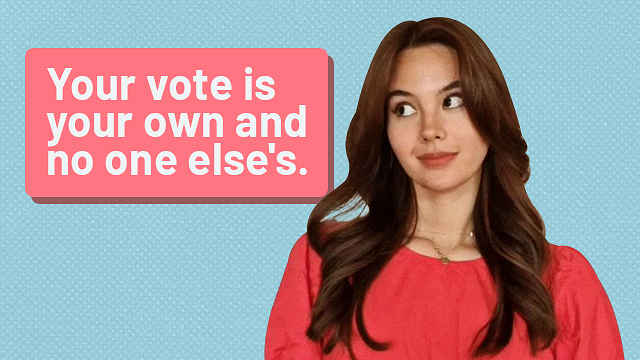 (SPOT.ph) May 9 is just a few weeks away—and if the thought of the country's future has you in Anxiety with a capital A, then Catriona Gray has some hopefully calming words for you. The former Miss U dropped a video on her YouTube channel on April 18, Tuesday, all about prepping for the upcoming, history-making elections. Entitled Pinuno: Para Sa Bayan, she shared her choices for who should lead the country next—while shining the light on how she came to her decision. And for a decision as weighty as your vote for the next Philippine president, we're sure a few words of helpful direction would be appreciated. 
ADVERTISEMENT - CONTINUE READING BELOW
Also read: The Twitterverse Asks: Is Catriona Gray the President of the Philippines?
The first part of the video had Gray sharing five things to look at or ways to qualify which candidate to choose. As follows: Qualified, History, Service, Platform, Values. She then dropped her own votes—incumbent Vice President Leni Robredo and Senator Kiko Pangilinan—but not before making clear that her video was to "empower my audience to be a thinking one." Vote for someone not because your fave artista or celebrity is voting for them, but because you know them to be worthy. 
So in case you weren't able to take down notes, we list down some of the Queen's most valid statements below. 
The best quotes from Catriona Gray's 2022 elections video:
Politics shouldn't just be a topic of conversation reserved for just a few of us but rather a necessity for everyone.
Gray prefaced her discussion by saying that while she isn't an authority figure in the academic or political sense, she does have a platform and wants to be able to use it to educate. She says that all Filipinos should be "not only aware of but understand and partake" in our democracy.
ADVERTISEMENT - CONTINUE READING BELOW
I am merely a Filipino wanting to make the best vote for the future of my country.
Gray's platform allows for way more visibility and reach than the average person—and so, as Spidey's uncle once said "With great power, comes great responsibility." She reiterated that the point of the video was to help people come to their own—and the best possible—decision. "Sharing my stance isn't the aim of this video."
There is no quick or instant way to know all about our candidates; it takes intentional time and a lot of discernment.
The queen explained that it also took her some time to come to her decision, which is why she's dropping the video a few weeks before D-Day. But hey, better late than never. And if someone as busy as Catriona Gray can set aside some time to study the candidates for the sake of our future, then so can you. We all have the same hours in a day as Beyoncé, as they say. 
ADVERTISEMENT - CONTINUE READING BELOW
Everyone deserves the opportunity to make their own opinions based on facts.
Gray reminded everyone that in this day and age, knowledge is practically a privilege. Not everyone in the voting population, or the general population, has access to the Internet—but practically everyone is on social media. Sure there are pros, but it is also where "false narratives" and "unchecked news" circulate. "Those of us with access to these resources need to continue finding ways to get the information into the hands of those who don't," she said.
The leader is not above us—they are equal to us.
By definition, a government official is a public servant—but it seems this basic fact is something people tend to forget. As Gray said, a leader works with the people's best interests in mind, so when choosing your candidate, ask yourself, "When have they been of service to the people when it wasn't convenient or for personal gain?" And don't let the glory of titles and positions fool you either, "If an individual, I believe, really has the heart to serve they will not depend on a title or a position."
ADVERTISEMENT - CONTINUE READING BELOW
Your vote is your own and no one else's.
Gray's closed her Voter's Ed 101 with a reminder that "There is power in a single vote; never allow anyone to make you believe otherwise." Let that simmer. Then equip yourself.
Watch the whole video below:
CONTINUE READING BELOW
Recommended Videos
We are now on Quento! Download the app and enjoy more articles and videos from SPOT.ph and other Summit Media websites.
Share this story with your friends!
---
Help us make Spot.ph better!
Take the short survey
Load More Stories