Fish Tacos for Happiness
SPOT.ph newest blogger, Yvette Tan, talks about her love affair with fish
(SPOT.ph) People have always thought of me as a food blogger, but I've always said that I actually have a personal blog and just happen to write about food. But not any more! Here, I talk about my favorite dishes, the ones that make my life worth living. They may range from street food to courses that I have to save up a month's salary for, all of them equally tasty, but in different ways. I hope you enjoy my musings, and that you'll share your favorite dishes and restaurants as well. Now that introductions have been made, here's my first entry.
My love for steak is well documented on this site, as well as in social media. In fact, it is such a part of me that people are often surprised to find out that I was a pescovegetarian for over a decade before rekindling my romance with prime rib. Vestiges of my fish and veg loving past still cling to my psyche however, and they tend to resurface when I'm in need of comfort after a stressful day. I think I am the only person in the world who will look to fish and a salad as a way to feel better. For me, there's a sweet spot that carbs plus fish plus vegetables hits that even my favorite cake or ice cream tends to miss. When needing an emotional pick-me-up, one of my go-to dishes is fish tacos from Madeca.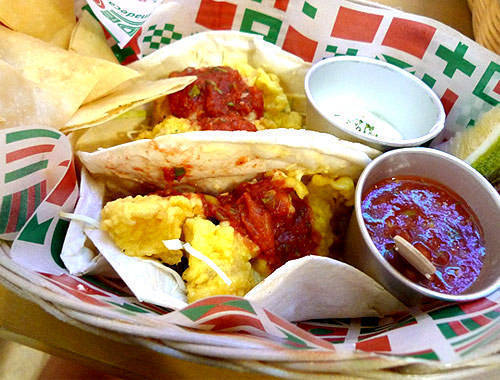 ADVERTISEMENT - CONTINUE READING BELOW
Fish Soft Tacos
Located on the fifth floor of The Podium, the restaurant serves Filipino-Mexican cuisine, marrying the best of the two cultures and coming up with dishes like sisig burritos and lechon kawali soft tacos. I always order the Fish Soft Tacos (Php165) and a single serving iced tea (Php40). The fish tacos are composed of two batter-fried white fish strips set on a bed of shredded cabbage and topped with salsa, the whole thing resting on a tortilla. One order consists of two tacos served with sour cream, more salsa, and fried tortilla chips, the latter quite addictive. The fish tacos can be messy to eat, and there are times when there isn't enough cabbage in the taco (for some people, this is a plus), but I like that the fish strips are always soft, the breading easily giving way to fish whose flavor is boosted by the salsa. The shredded cabbage adds crunch, and if that's not enough, you can always crumble some chips onto the taco for extra texture. I don't do that, however. I eat the chips separately, dunking them into either the salsa or the sour cream, making a game of how to ration the sauces between the chips and the tacos so that I finish everything, but don't need to buy more.
CONTINUE READING BELOW
Recommended Videos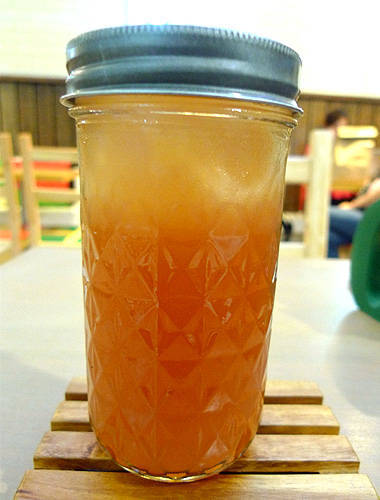 ADVERTISEMENT - CONTINUE READING BELOW
Madeca's iced tea

If you can't abandon meat, try their Lechon Kawali Burrito (Php245). It's your basic lechon kawali meal of pork,
flavored rice, and fried egg, all tightly wrapped in a tortilla. The rice is flavorful, the pork quite soft for lechon kawali, but just right for a burrito, the right ratio of meat to fat making for an exquisite bite. I may be over romanticizing this, but if you're Filipino, a pork-and-rice combo is hard to beat, even if you don't need a spoon and fork to eat it. I don't usually order drinks at restaurants, but I like to indulge in Madeca with a single serving of iced tea (the refillable one is about Php90) for three reasons: one, because it's brewed; two, because it's a relatively small serving; and three, because the glass it comes in is so cute. All iced teas come in thin, textured glasses, but the single serving ones come with a beautiful cover with a stylized floral design. The iced tea is sweet and refreshing, and if it's from a mix, it doesn't taste like one that I can find in the grocery. Madeca has a couple of desserts on their menu, including a chili chocolate cake. By the middle of the month, they will be adding paletas, which are Mexican ice popsicles, to their roster. True to their menu, Madeca's versions are going to be Pinoy-inspired, just in time for the summer rush.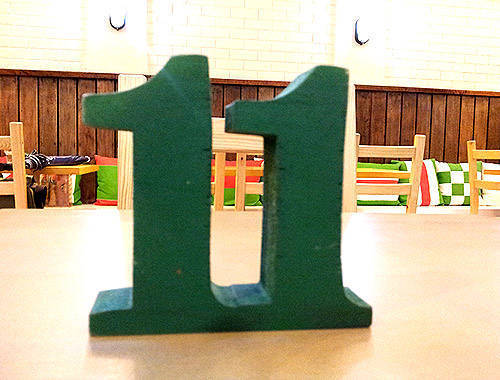 ADVERTISEMENT - CONTINUE READING BELOW
Customer #11
You have no idea how excited I am about this. For someone who, for a time, was addicted to Twin Popsies, having your go-to restaurant announce that they're going to be serving one of your favorite desserts is big news. So yeah, I may profess an undying love for beef cooked medium rare, but for me, steak is something reserved for celebrations. When it's comfort I seek, it's always fish and vegetables, though a popsicle or two wouldn't hurt, either.
---
Help us make Spot.ph better!
Take the short survey
Load More Stories