(SPOT.ph) Most people know me for my love of steak, but not many people know that for 10 years, I was also a pesco vegetarian. My romance with beef started around grade school, when my father brought the family to a kitschy mid-range steak joint jazzed up like a Western saloon, complete with swinging doors, dark wood paneled interiors, and tinkly piano music. It was campy. I loved it, still do. And though it won't make any Top 10 lists, it remains my favorite steak joint in the country.

Here, in this air-conditioned, badly lit restaurant where the steak was always served with gravy poured on your sizzling plate in front of you, so hot that the faint of heart had to hold up their napkins to keep from getting splattered by drops of flying fat, is where I learned to appreciate the joys of near-raw hunks of beef.

Strangely enough, it was also here, my growth inadvertently measured against the glass pane that guarded the eat-all-you-can salad bar, that I learned to adore vegetables. I grew up in a household whose culinary philosophy is that food should be cooked until so wilted or well-done that should all cuisine suddenly rise and revolt against us, the edibles in our house would be too far gone to join the revolution. This is why, faced with two rows of fresh and canned vegetables that looked closer to their natural states than I had ever seen, I was in heaven. Confused, but in heaven.

And so, the restaurant that started my affair with beef also started my committed relationship with vegetables. I grew to love salads so much that one summer, I ate nothing but iceberg lettuce, carrots, and Thousand Island dressing (this was the '80s) just because I wanted to, and lost a few pounds by accident (I have since found those few pounds, by the way; nothing gets past me for long). Long story short, the restaurant, plus picking up Ingrid Newkirk's (PETA's President) book on saving the animals because I judged it by its Berke Breathed-drawn cover, led me on a 10-year vegetable eating spree where I ate no fowl or red meat. I drew the line at giving up seafood though. I became full vegetarian for a week and that is a week I regret to this day.

Anyway, the real reason for this long, digressive introduction is to make the point that, despite my publicized affinity for beef, it is easy for me to live without meat, as I am fortunate enough to be blessed with a real love for vegetables. Yes, I will eat vegetables for fun, which is why I will happily eat at vegetarian restaurants just because they taste good, and not because I'm on some health/ecological mission.

And now, onto the review.

--

A friend had been getting me to try Edgy Veggy ever since it opened along Brixton Street near Pioneer, my old neighborhood. I'd been hearing good things about the restaurant, and was delighted to finally get to try it when I met said friend there for lunch. She immediately suggested that I order the Korean Rice Plate and the Speculoos Banana Peanut Butter Pie, which I did, because Manila is extra hot this summer and the extra heat makes me eat extra lots. Just to let you know, before I left to have lunch with my friend, I had brunch at home.

Unlike many vegetarian restaurants, which have a New Age air about them, Edgy Veggy is very chill and modern, kind of like the apartment you wish you had, but in cafe form. The restaurant holds three tables, a couch area where you can lounge while you read and snack, plus a loft area that isn't being used yet. The air-conditioning is cold, quite impressive for a restaurant given the recent heat.
ADVERTISEMENT - CONTINUE READING BELOW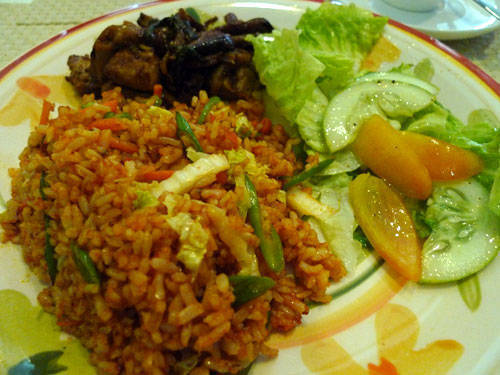 The Korean Rice Plate is good enough that it doesn't have to pretend to have meat in it.
The Korean Rice (P220) is composed of kimchi fried rice with stewed mushrooms, served with a side salad. I'm a sucker for kimchi rice, and Edgy Veggy's does not disappoint. It's quite spicy, and pairs perfectly with the stewed mushrooms, which is quite salty by itself but whose flavor mellows out perfectly when eaten with the rice. I know I'm supposed to try other things on the menu but I'm probably ordering this again when I return.

I had the rice with the Soy Chai Latte Pot (P120), which takes 10 minutes to prepare because it is boiled from scratch. The chai has an earthy taste not found in commercial concoctions.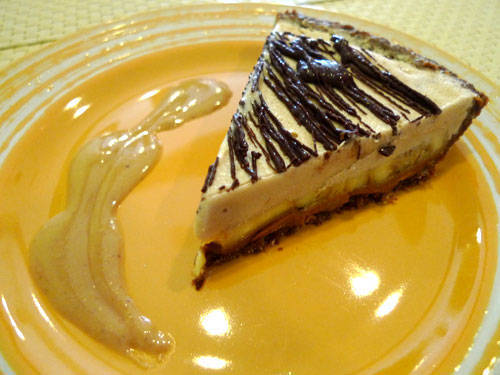 CONTINUE READING BELOW
Recommended Videos
Speculoos may be on its way to being overused, but that isn't any excuse not to try this deliciously addictive pie.


Though I don't usually have dessert, I pounced on the Speculoos Banana Peanut Butter Pie (P175), which came highly recommended. It's basically a banana cream pie, but jazzed up with peanut butter and Speculoos. It is delicious, though a bit steep.

A lot of female writers seem to unintentionally congregate at Edgy Veggy, so if you're looking for a place to feel like a scribbler while chowing down on the good stuff, you know where to go.


I am so glad that Manila is becoming more than open to the concept of vegetarianism, and isn't the vegetable wasteland that it was in the '90s, when, if you told someone that you were vegetarian, they would immediately offer you chicken. I am also glad about the varied choices for vegetarian cuisine, many of which are tasty on their own, without having to be disguised as meat.


Share this story with your friends!
---
Help us make Spot.ph better!
Take the short survey
Load More Stories