Pho the Love of Pho
SPOT.ph blogger Yvette Tan on noodles, beef, broth, and meditation
(SPOT.ph) I don't know how to make this any clearer: I love pho. I love pho so much that if I'm in a mall with a Vietnamese restaurant-any Vietnamese restaurant-eating anywhere else isn't an option. I love pho so much I will eat in restaurants which, from experience, I know have either inconsistent cuisine, lackluster service, or both, with full knowledge that some aspect of the meal is going to piss me off at some point, but diving in anyway just for a sip of fragrant anise-flavored broth and a taste of rice noodles and thinly sliced beef.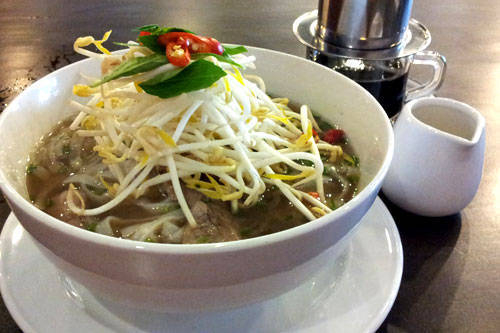 My appreciation for pho started after college, when a couple of friends suggested that we have lunch at a Vietnamese restaurant in Greenhills. Until then, my knowledge of Vietnamese cuisine consisted of spring rolls and... well, spring rolls. I wasn't too keen on having noodles for lunch (I'm Chinese. If I wanted noodles, I'd eat at home.) but I didn't want to be a spoilsport so I let them lead the way and ordered what they ordered, which was Pho Bo, or Vietnamese beef noodle soup.
ADVERTISEMENT - CONTINUE READING BELOW
Pho consists of herbs, meat, and flat rice noodles surrounded by lightly flavored broth. It is served with basil, bean sprouts, lime, and sometimes chili that you can use to flavor your pho to suit your taste. I like to dump everything but the lime in my soup, tearing the leaves before I do so. The lime adds a bit of sourness to the broth that I'm not too keen on nowadays, for some reason. Without the lime, the broth has a faint sweetness, a beautifully subtle meld of beef and spices; star anise and cloves and cinnamon. Done right, the noodles are firm but pliable, the beef so thinly sliced it cooks slightly in the hot broth.
CONTINUE READING BELOW
Recommended Videos
I usually pair my pho with Vietnamese coffee, but the whys of that are for another post altogether.
Restaurant inconsistencies aside, eating pho has become a sort of meditation for me. More often than not, I eat alone, taking time to shred the basil and throw in the chili, swirling everything so that the soup absorbs their flavors before I top it with the bean sprouts, hoping that they stay crisp until I reach the bottom of the bowl. When I say that eating pho is meditative, I don't mean that I close my eyes and inhale its aroma as soon as it is set down in front of me before proceeding to take my chopsticks and gingerly take a bit of meat and noodle, place them on the spoon with some fragrant broth, before putting it in my mouth, savoring the mix of flavors in every bite while an angelic choir sings in my head. My reality is less contrived, and contains far fewer adjectives. This is actually what happens: once I'm done with the bean sprouts, I whip out something to read and proceed to defy my upbringing of it being rude to read at the table by zoning out and pretending that, for however long it takes me to finish my pho, the rest of the world does not exist. It's impolite, slightly messy, and without poise but who cares about appearances when you have your own little world and are happy in it?
ADVERTISEMENT - CONTINUE READING BELOW
Share this story with your friends!
---
Help us make Spot.ph better!
Take the short survey
Load More Stories