'Tis the Season for Torta
SPOT.ph blogger Yvette Tan reveals a must-try secret treat.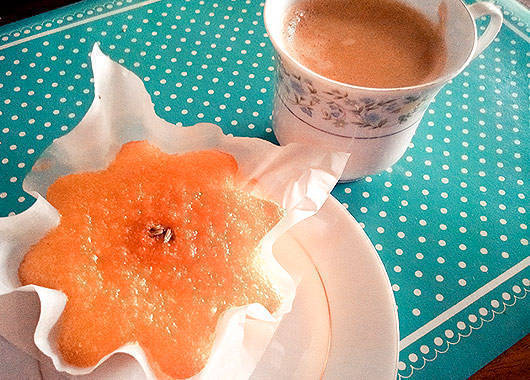 (SPOT.ph) It's always nice to discover something new, especially if it's local, and most especially if it adds a little bit of that something something to a simple merienda or heck, even your noche buena.
Margaret's Torta de Espanola de Cebu is the size of a regular mamon. In fact, it looks like a mamon, except that it is darker, its surface taking on a dusky golden glaze, the middle punctuated by a few anise seeds.
ADVERTISEMENT - CONTINUE READING BELOW
The torta is moist and light and fluffy, the buttery pastry suffused with the tantalizing flavor of anise. When I say tantalizing, I mean it. You take a bite, taste the eggs and butter and milk and think, "This is just another pastry." And then it hits you, this slight flavor, more fragrant than sweet, too subtle to be noticed at first but eventually reaching your taste buds, teasing them with a slight anise flavor that makes you want to take another bite, then another, until you realize that you've eaten the whole thing.
The torta is excellent with coffee, preferably brewed and black, the flavors of drink and pastry enhancing instead of overpowering each other.
"It was my mom, Margie, who started our Torta de Espanola de Cebu business," Sachiko Numano says. "I would assist my mom when she bakes. I would cut the lining, place the anise seeds (on the pastries), and weigh the dry ingredients for her."
ADVERTISEMENT - CONTINUE READING BELOW
Sachiko's love for baking started when she was young. She would watch her mother while she baked, and by the time Sachiko was seven, she was baking as well. She made her first torta when she was nine. "This wasn't my mom's only job. As a single parent raising four children, she had to be a superwoman and find other means to help us survive," Sachiko says, explaining that she had begun seriously helping out in her mom's pastry business by the time she was 11. "I never imagined that I would be baking loads of torta!"
The business started by accident. "My mom didn't have any intention of making it a business," Sachiko says, explaining that her mom started making baked goods to give to friends and relatives. A relative suggested that she sell her product, and pretty soon, the torta could be-and still is-found on the shelves of Shell Select in Magallanes.
ADVERTISEMENT - CONTINUE READING BELOW
What we think of as torta varies according to region. People in Luzon think of torta as a savory dish, like the Spanish baked omelette. Move south, however, and torta is known as both a savory dish and a sweet snack. Like its name says, the Torta de Espanola de Cebu hails from the Queen City, and is mostly associated with towns Argao and Nueva Caceres, and is often topped with grated cheese. "This pastry is prepared by older folks weeks before a celebration. They hang it by windows so that children can reach them and season them before serving."
The best way to enjoy it? "With tea or coffee, topped with shredded queso de bola, or just as is."
If you're looking for pastries to give or enjoy this Christmas season, you might want to consider this tasty southern treat.
For inquiries, contact Margeret's Torta de Espanola de Cebu at 0917-824-2296, 0920-456-3127, or 828-0220. (P198 for box of 6, minimum order 8 boxes; P400 for box of 12, minimum order 12 boxes.)
ADVERTISEMENT - CONTINUE READING BELOW
Recommended Videos
Load More Stories