Halo-Halo: The joy of the mix-mix
SPOT.ph blogger Yvette Tan knows that the end of summer doesn't necessarily mean the end of this icy classic.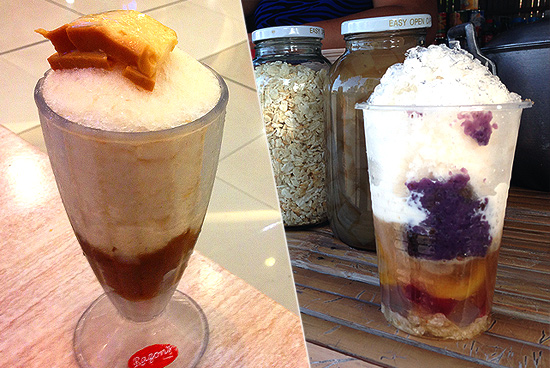 When it comes to sangkap, at Razon's (left), a little goes a long way.
(SPOT.ph) We expect heat during the summer, but this year seems especially vicious, with temperatures reaching a height of 41 degrees Celsius in the metro. Heatstroke is a serious concern these days, so it's important to drink lots of water, stay in the shade, and eat cooling foods like watermelon and fresh greens. Now that I've gotten the public service part out of the way, we can concentrate on the more fun part of summer eating: cold desserts, specifically halo-halo.
ADVERTISEMENT - CONTINUE READING BELOW
Who doesn't love halo-halo? Literally meaning "mix-mix," this concoction of milk, shaved or crushed ice, and various ingredients mostly cooked in syrup is the quintessential Filipino summer treat. A culinary descendant of the Japanese shaved ice dessert kakigori, it has been hinted that halo-halo made its way to Philippine shores via Japanese spies before the advent of World War II. However kakigori found its way into the Philippine menu, one thing is clear—we have made it wholly our own.
What makes a halo-halo? It depends on who you ask. It can be anything from two to a medley of ingredients such as minatamis na (insert name here)—fruit (langka, saba, nata de coco, and kaong) or beans (white beans, mung beans, and garbanzos) stewed in sugar syrup, plus colored gelatin, sago, ube halaya or purple yam jam, ice cream, and leche flan. There are different iterations that use just one sweetened ingredient: such as mais con hielo, which uses corn, and saba con hielo, which has nothing but milk, crushed ice, and sweetened plantains.
ADVERTISEMENT - CONTINUE READING BELOW
Part of the fun is participating in its preparation: you get a tall glass with the sweet stuff at the bottom topped with crushed ice, with milk poured all over the whole thing. All you have to do is mix, mix, mix, until everything is an even slush. A delicious even slush, where one spoonful yields an equal measure of ice, milk, and ingredients, their flavors and textures blending beautifully on the tongue. The ice plays a key factor: the best kinds use ice that's somewhere in between a crush and a slush.
Rations are the key to good halo-halo. This is where your math classes come in. If you can find the proper ratio of ice to milk to sweetened ingredients, let me know so we can go into business together. Some places that have mastered the art of halo-halo rationing, include Milky Way, which goes the classic way in terms of its variety of sangkap, the whole thing topped with their homemade ube ice cream; Razon's, which is so hardcore that it only needs three ingredients: buko strips, mashed beans, and leche flan; and of course, the Peninsula Manila's Halo-Halo Harana, the queen of halo-halo, a combination of heft and flavor, a huge dessert that begs to be shared.
ADVERTISEMENT - CONTINUE READING BELOW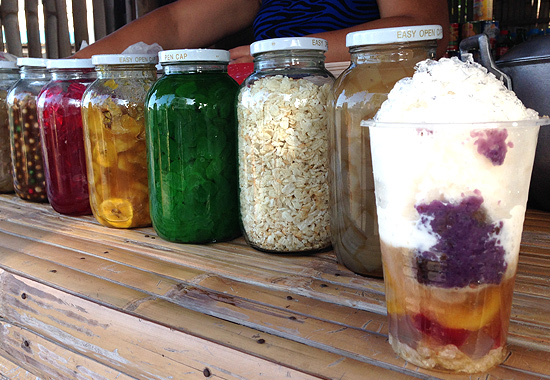 The roadside halo-halo is one of the highlights of summer.
Just as highly valued is your neighborhood stall which magically springs up every summer, usually a plastic table on which the halo-halo ingredients, placed in distinctive glass jars, are lined up, both to entice the buyer and to make the seller's job easier; a styrofoam cooler of crushed ice and collection of plastic cups and spoons waiting nearby. The stall is usually manned by a manang who makes the halo-halo on a per order basis, constructing the dessert right before your eyes.
ADVERTISEMENT - CONTINUE READING BELOW
A glass of good halo-halo can mean the difference between a good day and a great one. It signals a small victory over the elements, as well as a sweet, fun way to keep cool on the hottest of days. And like most snacks, it is also a reminder of bounty: that you have enough money for a snack, and that snack is delicious.
Also read: Top 10 Halo-Halo in Manila (2014 Edition)
Recommended Videos
Load More Stories