The Big Fat Greek Restaurant
SPOT.ph blogger Yvette Tan tips you off on the must-try Greek dishes at Ble.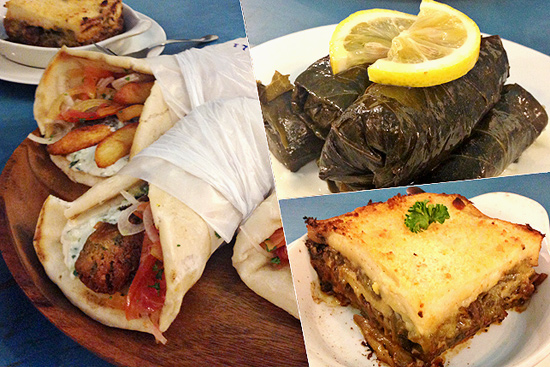 (SPOT.ph) Part of Manila's burgeoning food scene is the quest to find restaurants that serve international dishes that taste as close as possible to the ones served in their home countries. This is exactly what Blé, whose tag line is "Real Greek Food," offers.
Located in BF Homes in Parañaque, Blé, which is Greek for blue, was named after the country's national color. It is run by Yiannis Trifyllis, who is Turkish, and his wife, Aysegul Ozden Trifyllis, who is Greek. They started small, opening a few years ago with just three tables, and have since expanded to Blé+, located in a charming little house that has been converted into a restaurant, offering indoor and outdoor seating, as well as a room for private functions.
Its interiors are sea-themed, the Greeks being known for their seafaring skills. Everything is in blue, white, and wood, accented by colorful dinnerware and the occasional mermaid. One wall sports a big sign that says "Eat Greek," and that is exactly what people go there to do.
ADVERTISEMENT - CONTINUE READING BELOW
Start with mezes, or appetizers. Actually, maybe don't start with them, because they are delicious enough to be eaten as part of the mains.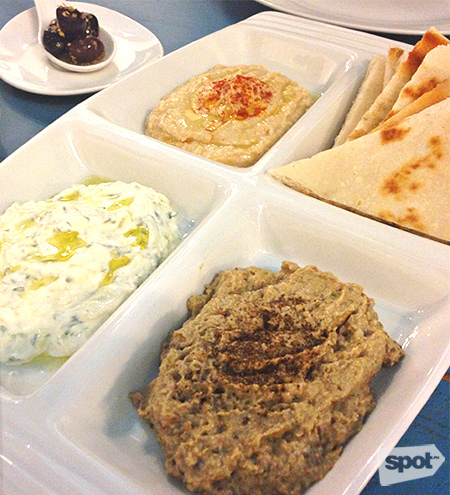 CONTINUE READING BELOW
Recommended Videos
Dip Platter
We started with Blé's Dip Platter, which includes three kinds of dip, plus olives: hummus, which is made with chickpeas, olive oil, and sesame paste; tzatziki, an herbed cucumber-yogurt sauce; and baba ganoush, a smoky eggplant dip. The Dip Platter is served with pita bread, and is delicious. The hummus is generously swirled with olive oil, while the the baba ganoush is substantial and deeply flavored. My favorite is the tzatziki, tart and cooling, standing out from the other, warmer dips. Blé gets its pita bread from a supplier who makes it using the restaurant's own recipe, so it's practically homemade. The olives are a nice, salty punctuation to the whole thing.
ADVERTISEMENT - CONTINUE READING BELOW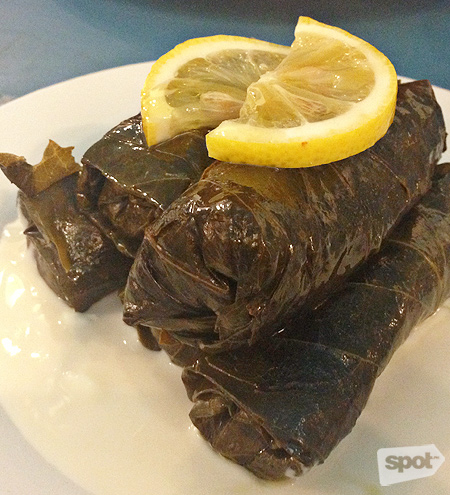 Dolmadakia
We also tried the dolmadakia (dolma in Turkey), one of Greece's signature dishes: grape leaves stuffed with rice and vegetables. It takes a while to make, so if you plan on having this, order it as soon as you sit down so that it can come out before the mains do.
ADVERTISEMENT - CONTINUE READING BELOW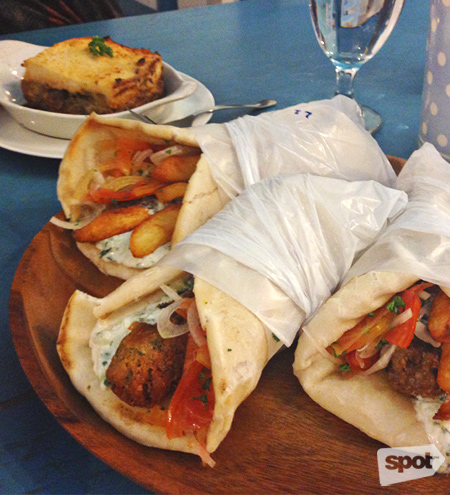 Souvlaki
For a taste of Greek street food, order a souvlaki, a Greek wrap filled with meat, tzatziki, and a vegetable salad. My companions, avid eaters both, picked the Loaded Souvlaki, which is essentially a souvlaki with fries as part of the filling. I was assured that it was excellent.
ADVERTISEMENT - CONTINUE READING BELOW
And then there's the moussaka, the whole reason I decided to write this post. Moussaka is a meat and eggplant-based casserole. To say that Blé's moussaka is good would be an understatement. It wasn't even my order. My friend ordered it and insisted that I try a spoonful. I took a bite, and—I swear I am not making this up—I closed my eyes and started to pound my fist on the table. It was that good.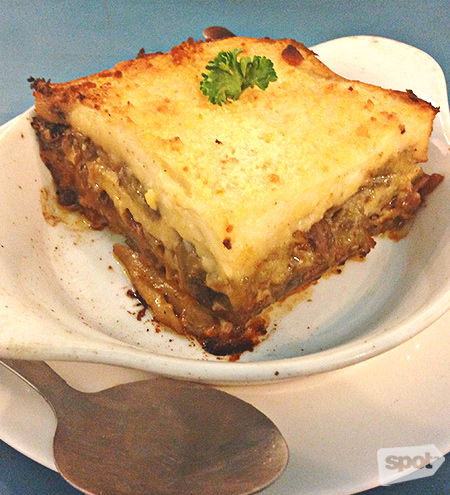 ADVERTISEMENT - CONTINUE READING BELOW
Moussaka
Warm and yielding, the ground meat melding with the eggplant's soft flesh, the tomato sauce bringing everything together taste-wise before receding into the background. It was savory with a hint of beef-sweetness, and so delicious and we were so enamored by it that my friend ended up pushing the dish into the middle of the table and declaring it communal. Blé's menu is filled with delicious selections, but the moussaka, I think, is the star.
You also must, must, must try the baklava. I cannot emphasize how much you have to try this traditional Greek dessert. Blé's baklava is completely made by hand, each of the 45 layers of paper-thin phyllo pastry painstakingly rolled out and layered with nuts, the whole thing drenched in honey. It is sugar in pastry form. Just a teeny square is enough to sate, and it goes very, very well with Greek coffee, preferably black.
ADVERTISEMENT - CONTINUE READING BELOW
There are many delicious restaurants in the south; for a northerner, going to BF is like crossing the border into a different country. And while the list of must-tries in that corner of the metro is quite long, it's safe to say that Blé should be near, if not at the top of it.
Also read:
10 Great Restaurants You Might Not Have Heard About Yet
Neighborhood Guide: 12 More Places to Check Out at Aguirre Avenue, Parañaque
Share this story with your friends!
---
Help us make Spot.ph better!
Take the short survey
Load More Stories