Bamba Star: This Bistro is Everything You Want in Comfort Food
SPOT.ph blogger Yvette Tan finds chic comfort all the way in the South.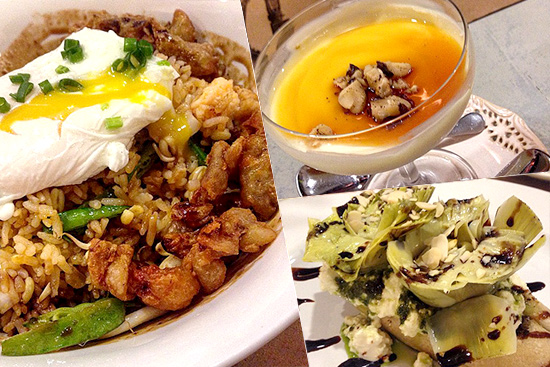 (SPOT.ph) To a northerner like me, the south is a different country, one whose streets, landmarks, and restaurants are unrecognizable, and therefore, exotic. As someone who rarely ventures past Makati, I have always been intrigued by the burgeoning restaurant scene in BF Homes, lapping up stories of them as if they were urban legends of far flung destinations.
The South, I hear, is filled with culinary delights, restaurants as far as the eye can see, small businesses capitalizing on low rent and good location to fulfill their dreams of bringing quality cuisine to hungry customers. I wanted in on this. So when a friend asked if I wanted to accompany her to Bamba Bistro, obviously, I said yes.
Bamba Bistro is located along the main road, with ample parking right across. You'll have to cross a busy street, but such is the price of comfort food. The restaurant is cozy, the tables close enough that you can see your neighbor's order (and perhaps ask the wait staff about that delicious-looking dish), but not quite overhear their conversation.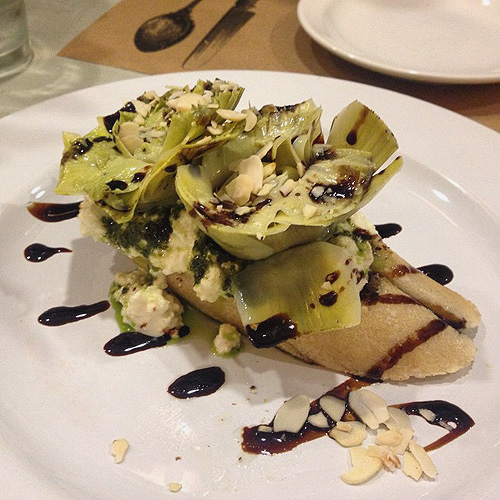 ADVERTISEMENT - CONTINUE READING BELOW
The Artichoke Crostini is a combination of light flavors and textures.
We shared an Artichoke Crostini, artichoke hearts sitting on a basil puree-slathered baguette slice big enough to share, topped with ricotta and sprinkled with sweet balsamic and almonds. The artichoke's lightness is juxtaposed against the starch, while flavor-wise, the balsamic subtly amplifies the flavor of everything on the baguette: the artichoke, the cheese, the spread; the almonds adding crunch for textural contrast.
My friend had the 3-Mushroom Raviolo, a giant raviolo (the singular of ravioli) stuffed with mushrooms, foie gras cream, and caramelized onions, sprinkled with Pecorino breadcrumbs, and drizzled with reduced balsamic. The raviolo was a fourth the size of the plate, the whole thing drenched in white sauce. The dish, as expected of anything mushroom and foie gras, was rich and comforting, a deliciousness that lingers on the tongue, even as it fills the belly and recharges the soul. It is the magic of cream and (extra) fat, a glorious combination that sings to heart, saying "I am here. You are loved."
Of course, too much coddling from cream and fat results in love handles, but that's another story.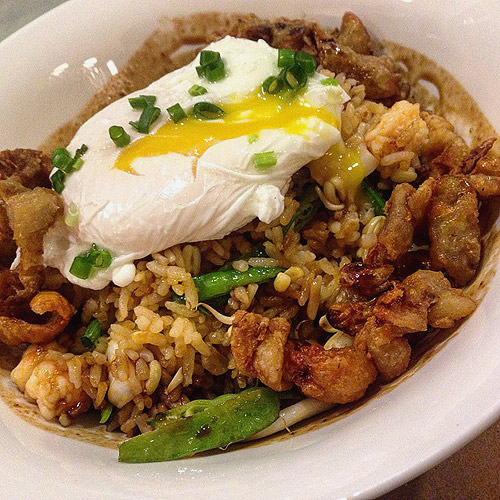 CONTINUE READING BELOW
Recommended Videos
#HangoverKiller Bowl: The name says it all. Rich, heavy, and full of flavor, if this doesn't knock you back to your senses, nothing will.
I picked the #HangoverKiller Bowl—a bowl heaped with Sriracha fried rice mixed with shrimp, squid, chicken skin, and chicharon. The whole thing is topped with tamarind sauce and a poached egg that looks like it was dropped on a mess of whatever the cook could find in the kitchen—as any hangover killer worth its salt should. It tastes glorious, a medley of flavors (spicy, sweet, umami) and textures (soft rice, gooey with sauce and egg, juxtaposed against the crunch of chicken skin and veg) that tell you not to think. Just eat. It so happened that I was suffering from a slight hangover that day, so I can, with authority, tell you that the name is well-deserved, but that you don't have to be hungover to enjoy it, as my sober friend proved.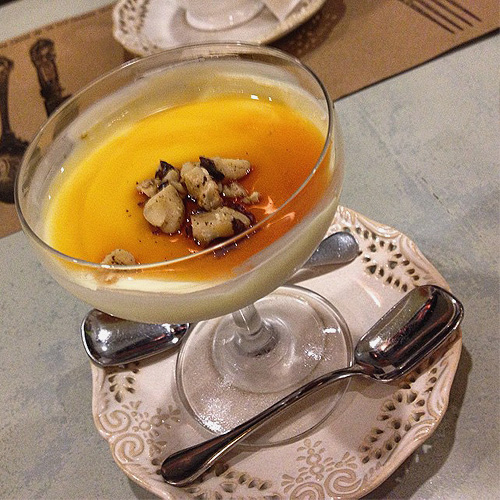 ADVERTISEMENT - CONTINUE READING BELOW
End your meal with a classic dessert like the Vanilla Bean Panna Cotta.
We ended with the Vanilla Bean Panna Cotta, me mooching off my friend, a delicate dessert to punctuate a rather robust meal. The panna cotta is finished with burnt sugar sauce and topped with walnuts, the sauce giving it an air of creme brulee. The nuts added texture, but I personally could have done without. I'm not complaining though, it was good.
If you're in BF and in the mood for feel-good dishes, head over to Bamba Bistro, where they've got comfort food down pat.
Bamba Bistro at 55 Aguirre Avenue corner Arsenio Luz, BF Homes, Parañaque City (519-7097).
Yvette Tan is a lifestyle writer by day, horror writer by night. Pick up her books Waking the Dead and Kaba at select establishments. Find her on Twitter and Instagram (@yvette_tan).
Share this story with your friends!
---
Help us make Spot.ph better!
Take the short survey
Load More Stories