Meet The Big Bear of Green Mango-Bagoong Ice Cream...and Other Crazy Flavors
SPOT.ph blogger Yvette Tan talks to Sebastian's Ian Carandang about everything from Leche Flan Pizza to LGBT activism.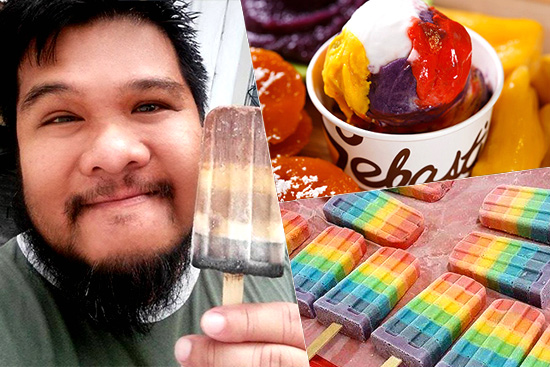 (SPOT.ph) Sebastian's Ice Cream was one of, if not the first, local brands of artisanal ice cream, opening way, way before the word "artisanal" was used to describe such endeavors. The brand wowed customers with its array of well-crafted comfort flavors such as Chocolate Chip Cookie Dough and Butter Pecan before expanding to what was then out-of-this-world offerings such as blue cheese and, more recently, manggat' bagoong, that have become a regular part of the Pinoy ice cream experience.
I asked Ian about what makes his brand tick, and how he keeps Sebastian's offerings (they have ice cream cookie sandwiches, popsicles, andma now, milkshakes, too) fresh and surprising. We also touch on his LGBT advocacy (to any Bears out there, he's single!), his love for music, and how his experiences help shape the way he—and ultimately the rest of us—come to experience ice cream.
How are you?
I'm good! The summer rush is over, and now it's all about planning the remainder of the year.
What have you been up to?
I've actually had a fairly bountiful run in terms of inspiration and ideas for new products, and the challenge now is to be disciplined enough to put the proper promotional effort behind each one to ensure each product gets its full opportunity to find its audience, rather than just push them (the products) out there one after the other to fend for themselves.
I'm a kitchen guy at heart, so marketing and promotion have always been my weakness. I'm working with my friend Myles Jamito, who is not only a brilliant brand manager and consultant, but is one of my closest friends in life, and he's tackling all the things I'm not good at. Expect a more organized effort for our marketing and promotions.
ADVERTISEMENT - CONTINUE READING BELOW
How has the artisan ice cream game changed since you first started?
Much more competition now both in the number of new players and in products: gelato, ice cream cookie sandwich shops, liquid nitrogen ice cream, Korean soft-serve. While it makes things more challenging for me, in terms of the big picture it's great because making Manila into a vibrant ice cream scene the way Italy is known for gelato is a long standing dream of mine. One single brand does not a scene make. The more players with their own points of view, all pushing and challenging each other to be better: that's the ideal.
CONTINUE READING BELOW
Recommended Videos
Did you imagine that ice cream would become a craze when you first started?
No, and even now I don't think it's a craze per se. It will have its peaks and valleys in terms of pop culture prominence, but there is something timeless about ice cream that will always [keep it] woven [into] our culture, and that's a beautiful thing.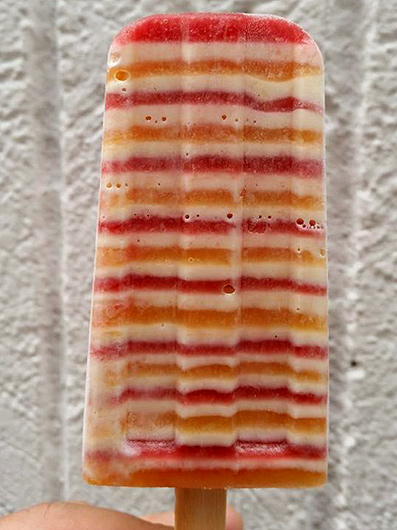 ADVERTISEMENT - CONTINUE READING BELOW
30 layer Peach Melba Fruitsicle: alternating layers of raspberry, vanilla cream, and peach
Sebastian's is known for its imaginative flavors. How do you keep things fresh?
By constantly keeping myself up to date on new flavors, ingredients, and ideas. This means reading food blogs and websites, both local and international, collecting cookbooks, watching food TV like Top Chef, and eating, eating, eating. The more unfamiliar it is, the more I want to try it. And not just desserts, because you never know where the next idea, the final piece of the puzzle that will put everything together, will come from. It's a tough job and a real sacrifice, but never let it be said I was not committed to my work.
What's the biggest challenge you've had to face in the business so far and how did you overcome it?
Definitely the frozen yogurt craze. Bad timing and a tough marketplace very nearly did us in. The only thing that kept us going was sheer tenacity driven by the knowledge or fear that I wasn't really very good at anything else so I had better make this work.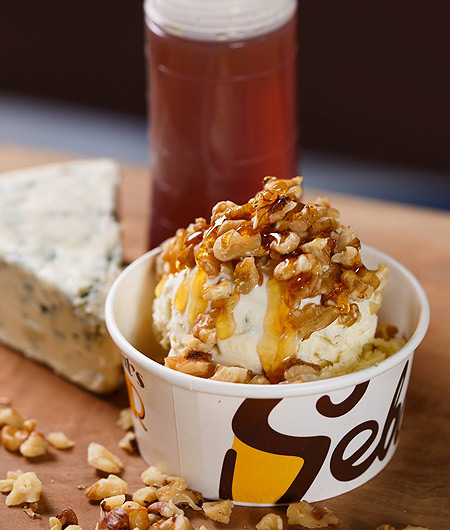 ADVERTISEMENT - CONTINUE READING BELOW
Once in a Blue Mood: blue cheese ice cream best served with walnuts and drizzled with Palawan honey
What flavors are you most proud of?
Once In A Blue Moon. That flavor was never meant to see the light of day and was just meant to be the answer to the question "What would blue cheese ice cream taste like?" The Matinong Boyfriend and Matinong Girlfriend Valentine series. The Green Mango Sorbet with Bagoong. The Leche Flan Ice Cream Pie. These were all flavors that really took on a life of their own and were the ones embraced by the marketplace and went viral (we have never paid for Facebook marketing). It's like writing a hit song; to make something that resonates and makes a connection with your audience is the most gratifying thing in the world.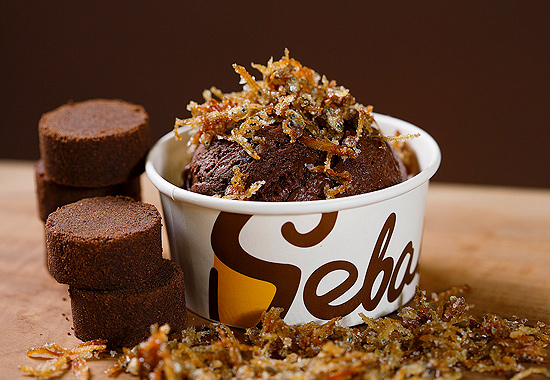 Champorado with dilis in ice cream form? Why not?!
Your ice cream has become an integral part of your LGBT activism. Can you tell us how that came about?
ADVERTISEMENT - CONTINUE READING BELOW
I just wanted to express our advocacy and represent the LGBT community in a cool, fun way, because unlike America where big companies like Nike and Burger King proudly do promotions for Pride events, here in Manila, it's still frowned upon (the recent brouhaha with the Bench billboard where the Ad Council allegedly instructed Bench to conceal two men holding hands was particularly offensive to me). I just decided that instead of waiting for someone else to do it for me, I wanted to be the change I wanted to see.
The Pride Flag is a great color scheme and very visually distinctive and lent itself well to ice cream. Initially it was going to be in ice cream tubs, but once you scooped it, I observed that you immediately lost that pattern. I wanted the product to be a walking declaration of Pride, so I settled on making a striped Pride Paleta, where the colors maintained their look even while you were eating it, rendering every customer an honorary Pride marcher. I did the LGBT rainbow flag and the Bear flag, because I am part of the Bear community and I wanted to represent for my big, husky brethren. WOOF!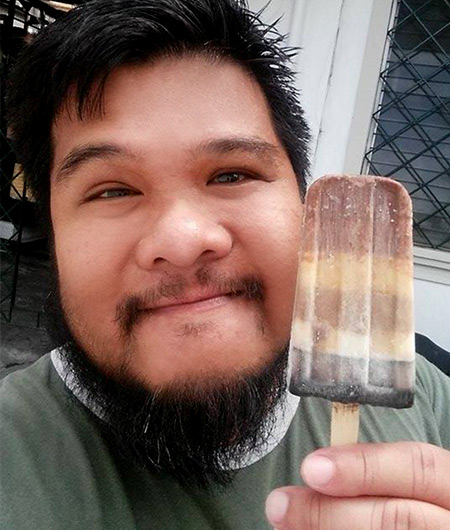 ADVERTISEMENT - CONTINUE READING BELOW
Ian Carandang, the man behind Sebastian's Ice Cream
People look forward to your Valentine's Day offerings. Please tell us how graphic novelist and playwright Carlo Vergara inspired you to come up with the imaginatively named flavors that take the metro by storm every V-Day.
It really just came out of the blue. The November before it came out, I received a text from Carlo simply stating "Your next hit flavor will be called Matinong Boyfriend. Now, go and make it." Since Carlo and I were both single, it really struck a chord. I thought it was a hilarious and fantastic idea, so come February when it was time to make a Valentine flavor, I remembered that idea and ran with it, adding a "Matinong Girlfriend" flavor as well to keep things equal. The response for it was just INSANE and it has now become one of our official highlights of the year. I approach it as a fashion line where I make a new flavor for the names every year, and added new flavors like Closure and Unresolved Issues, which also made a huge impact on the unattached. This was truly Hugot Ice Cream.
Please tell us a fun story about how Sebastian's has made an impact on someone's life.
A good friend of mine was courting a girl he liked who liked ice cream. So one Valentine's Day, he got a pint of our Flowers and Chocolate (Rose Petal Jam Ice Cream swirled with Bittersweet Chocolate Ice Cream) for her as a present instead of the traditional flowers and candy. She had never seen anything like it before and was amazed. They are currently celebrating their third year together.
ADVERTISEMENT - CONTINUE READING BELOW
How do you like to spend your free time?
My hobby is music. I like to write my own songs and perform them, either solo or as part of my band The Cellar Doors (currently on hiatus). Other musical projects I am working on are The Bearytones, an all-male a cappella group like Pentatonix but composed of large, burly men with beards; and I just formed an all-girl ukulele band called The Potatoes with my nieces aged 12, 10, and 8 where we cover songs from cartoon shows like Steven Universe and Regular Show.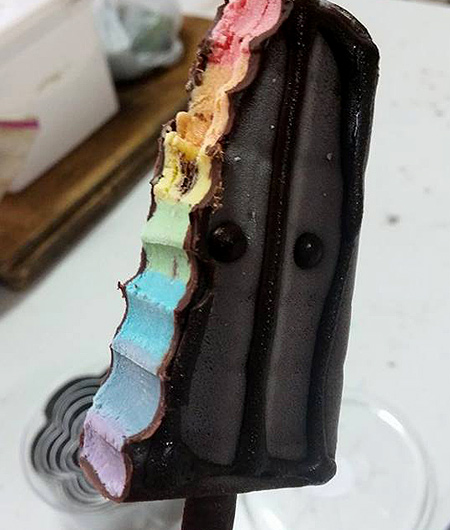 The Chocolate Closet: coming to Sebastian's stores near you as soon as Ian's friend comes out of the closet
Tell us about the closet project you just launched and how the public can get their hands on it.
The Chocolate Closet is basically one huge gag on a good friend of mine whom I love dearly and is still not out to his family. We were driving in the car one time and he joked that he would make a competing brand of ice cream to undermine me. So I started riffing on what kind of ice cream he, a closeted gay man, would make. I settled on a rainbow striped ice cream bar full of fruity fabulousness, which would then be dipped in a soft chocolate shell, concealing said fruitiness is a monochromatic shell of conformity. As a final touch I added little details to the chocolate shell to make it look more like a closet. When you bite into it, the hidden rainbow colors come bursting out.
ADVERTISEMENT - CONTINUE READING BELOW
The combination of chocolate and fruit is not the most elegant combination I have ever done (I generally prefer pairing chocolate, which has a pretty dominant flavor, with ingredients like peanut butter or coffee instead of fruit), and it could be argued that the Rainbow bar tastes better without the chocolate shell, which is kind of the whole point. Conceptual consistency!
Since it's a tongue-in-cheek silly project, it's not an official Sebastian's product and won't be available at the shops. However, if anyone is seriously interested in trying it, it is available for special made-to-order batches, good for weddings, anniversaries, and coming-out parties.
The Chocolate Closet is actually the second name for it because the original name was WAY too revealing of my friend's identity so I had to change it. But I told him that the moment he finally does come out, I am reverting it back to its original name and will serve it at all Sebastian's branches to celebrate.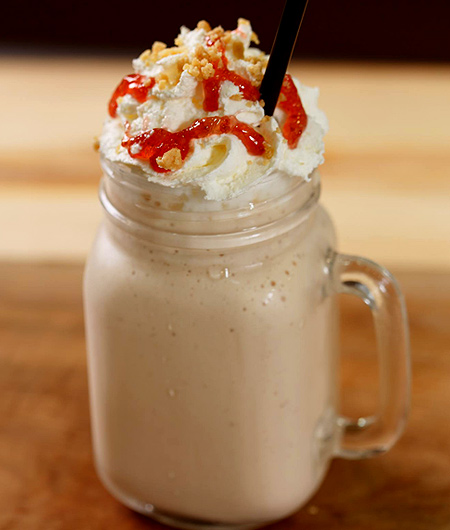 ADVERTISEMENT - CONTINUE READING BELOW
Peanut Butter & Jelly Milkshake from Sebastian's new Milkshake line
What can we expect from Sebastian's in the coming months?
Many things actually. We're finally working on our website, and are launching a new product line which is our take on a Filipino Classic Ice Cream preparation, done through the Sebastian's filter. After that, we have another new product line to launch, and in mid-November, we'll be doing stuff we've never done before. You will all have to wait and see. It's all going to be delicious.
What do you wish more people knew about Sebastian's?
That my name is not actually Sebastian. I'm not egotistical enough to name my shop after myself. My friends would no doubt disagree with that, but whatever.
Share this story with your friends!
---
Help us make Spot.ph better!
Take the short survey
Load More Stories