Fish for Breakfast: The simple beauty of the isda-silog
SPOT.ph blogger Yvette Tan declares her love for breakfast food, particularly this fishy rice bowl.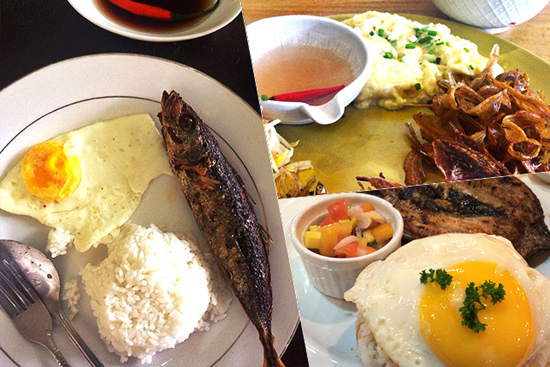 (SPOT.ph) No matter what time you wake up, you have to agree that breakfast is extremely awesome. I eat breakfast every day, even when I get up around noon. Breakfast food just seems so warm, loving, and cheerful. It is the doting grandmother of food, the one that fusses over you before sending you off with a kiss and wishes for a good day.
If you asked me what my favorite breakfast food is, I wouldn't be able to answer you. I like them all. Pancakes, toast, soy milk and Chinese crullers, steak and eggs, silogs. Ah yes, silogs. It's hard for a Filipino not to appreciate the beauty of a good silog. Your choice of breakfast meat or fish, some garlic fried rice, and a gorgeous fried egg or two, done just the way you like it. I like mine with a runny yolk and whites that are crisp around the edges. It's a carb and double protein whammy guaranteed to get you through the day.
ADVERTISEMENT - CONTINUE READING BELOW
And while I admire a good tocino, appreciate exceptional longganisa, and tend to salivate at the thought of a well-executed tapa, my favorite thing to pair with rice and egg in the morning is fish. It doesn't have to be the traditional bangus; almost any sort of fried fish is fine. Pair it with atchara and vinegar with a bit of chili mashed into it, have the whole thing with a cup of coffee, and I'm ready to face the day. Or afternoon. Or evening. I'm not picky.
If you share my love for this kind of breakfast, here are six (sort of) restaurants that I make a beeline for when I'm in the mood for isda-silog.
CONTINUE READING BELOW
Recommended Videos
The most bonggang bangus around
Casa Roces
Located inside the Malacañang compound, Casa Roces can be a bit fussy to get to, but some of its dishes make the trip worth it. Their Tinapang Bangus (P210) is a visual treat, the egg scrambled with mustard leaves and stuffed inside the split-open fish. It's served with ubod salad instead of atchara; a refreshing punctuation to a savory dish. Casa Roces also has some of the most gracious wait staff in the metro.
ADVERTISEMENT - CONTINUE READING BELOW
Casa Roces is at 1153 J.P. Laurel Street corner Aguado Street, San Miguel, Manila (488-1929); open daily from 10 a.m. to 10 p.m.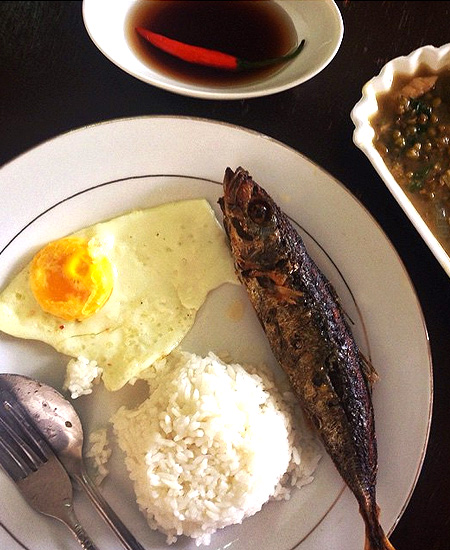 Filipino comfort food: There are some days when nothing beats the galunggong and munggo combo.
Via Mare
Eating at Via Mare is, for me, a step back in time. Growing up, it's where I learned to eat bibingka, got my fix of sago't gulaman, and later, chowed down on their Tinapang Bangus (P235), Crunchy Boneless Dilis (P190), and Spicy Tuyo Flakes (P180). The restaurant's three choices of fish for your silog is both a blessing and a curse: you're glad you have the choice, but when it comes down to things, you're not exactly sure what to choose. I usually pick the dilis, because the tuyo can be a bit too salty for me, and I can get bangus almost anywhere. The scrambled egg it's served with is arguably one of the best in Manila.
ADVERTISEMENT - CONTINUE READING BELOW
Via Mare is at G/F Shangri-La Plaza, EDSA Garden Way, Mandaluyong City (631-1933); open from 11 a.m. to 10 p.m. (Monday to Thursday) and 10 a.m. to 11 p.m. (Friday to Sunday).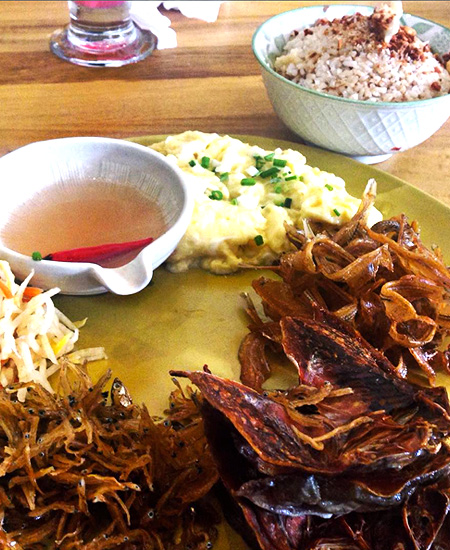 Kafe Batwan
Everything in Kafe Batwan's extensive menu is delicious, but one of my favorite dishes is still the good old Dried Fish Platter (P320). It's got three kinds of fish, which means more choices in terms of texture on your plate. It's topped with kesong puti and served with scrambled eggs and garlic coconut rice. Why it took this long for anyone to serve garlic coconut rice as part of a Filipino meal, I'll never know.
Kafe Batwan is at 122 Joya Lofts and Towers, Amorsolo Drive, Rockwell, Makati City (625-51660); open daily from 7 a.m. to 10:30 p.m. (Read more about Kafe Batwan.)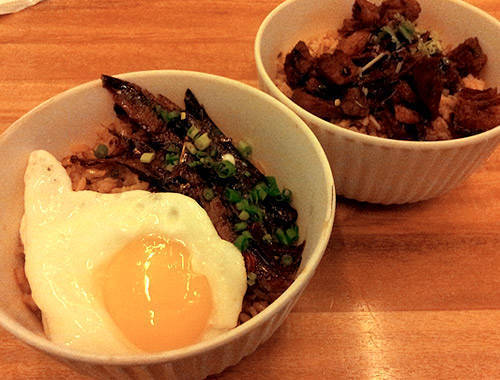 ADVERTISEMENT - CONTINUE READING BELOW
Recovery Food
I have conflicting feelings about Recovery Food. I've written about it before: on one hand, everything that I've tried on their menu is delicious; but then almost every visit I've had (I've only been to the original Fort branch) has ended in disaster. Their wait staff seem to be more obnoxious than most, probably because they know that people will always come back for the food. I love the S.S.T. (P180/regular, P280/Full Recovery, which I get with Talangka Rice for an additional P35). The tuyo is spicy-sweet (hence, the name), its flavors, combined with the egg and crab fat rice, is decadent, the kind of thing that should be outlawed for making you feel so good. It's been a long time since I've had it, though. I'm still weighing the pros and cons of good food vs. bad service.
Recovery Food is at G/F Crossroads, 32nd Street corner 8th Avenue, Bonifacio Global City (511-7312); open for 24 hours.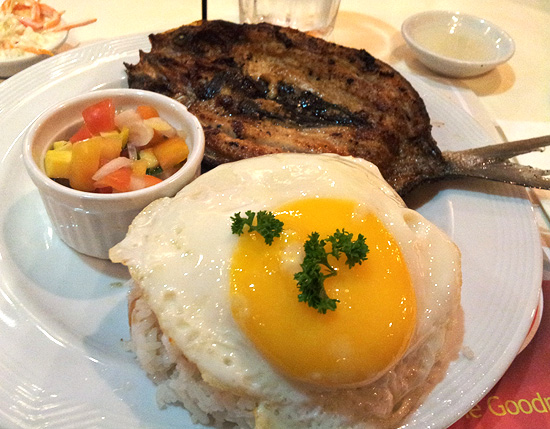 ADVERTISEMENT - CONTINUE READING BELOW
Pancake House
Pancake House is another one of those restaurants that evoke nostalgia. I still miss the water glasses filled with gloppy ketchup, mustard, mayonnaise, and pickle relish they used to have on every table. Now the restaurant doesn't even have pickle relish. My usual go-to since I was a child is the Chocolate Chips (sic) Pancake (P169/two pieces), but I've recently realized that their breakfast fish dishes hold their own as well. I've only had the Daing na Bangus (P284), though I plan to return to try the Smoked Golden Tinapa (P246). The Daing na Bangus is one whole milkfish served with garlic rice and mango salsa. The bangus is plump, its soft, almost buttery fat clearly discernible, the whole thing fried to a beautiful, golden brown. You could feed two people with that thing; just order extra rice. Or if you're me, the whole dish is just right.
Spin around with your arm raised and your finger pointed. Stop spinning and open your eyes. Walk in the direction you find yourself pointing in. It will lead to a Pancake House. (But just in case, here's a list of Pancake House branches.)
Jollibee
I was going to add Jollibee to the list because I am a fan of their Crispy Bangus (but only during breakfast, when it comes with a fried egg), but it seems that they have pulled it from the menu. If anyone from Jollibee is reading this, please feel free to tell me that I am wrong, and that this is all a bad dream, and that I should head to the nearest Jollibee branch to get my bangus fix.
ADVERTISEMENT - CONTINUE READING BELOW
Throw a stone; you're likely to hit a Jollibee branch. Please tell them I want the Crispy Bangus back!
Yvette Tan is a lifestyle writer by day, horror writer by night. Pick up her books Waking the Dead and Kaba at select establishments. Find her on Twitter and Instagram (@yvette_tan).
Share this story with your friends!
---
Help us make Spot.ph better!
Take the short survey
Load More Stories