Bar Pintxos y Mas proves that Manila's tapas game is tops
SPOT.ph blogger Yvette Tan explains the beauty of Spanish cuisine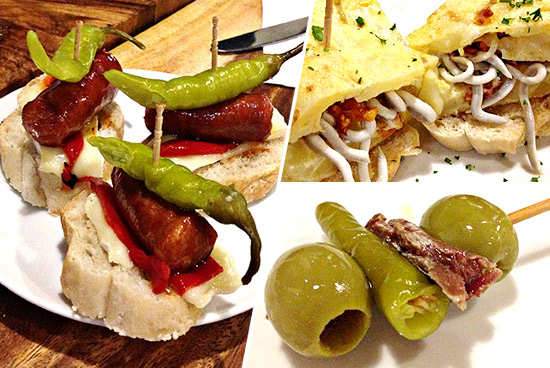 (SPOT.ph) Grace, a friend of mine, had been raving about Bar Pintxos y Mas for a while. "You have to try it," she told me way back when.
That further became "We have to go there" to "They're not open Sundays" to finally "They're open Sundays, I've invited Fabian, let's go!"
Fabian is the super cool Fabian Mangahas, who was still working on a Sunday night, taking calls in between tapas, er, pinchos, er, pintxos (pronounced "pinchos").
Tapa vs. Pintxo
From what I understand, pintxos is the Basque version of the light Spanish drinking snack. It's the Basque word for pincho, which comes from the word pinchar, and means "to pierce," referring to the toothpicks that hold the pintxos in place.
We pay for our tapas in Manila, but they sometimes come free in Spain, where one of the main differences between tapas and pintxos seems to be that the former is sometimes free and the latter is always paid for.
I know this is a simplistic explanation; I'm just beginning to learn about Spanish food in depth. I'm sure many readers know more than I do, and I invite them to share their knowledge in the comments section. But meanwhile, back to the food.
Open Bar
Bar Pintxos is only on its soft opening, but it's already getting rave reviews. Though it's located in Alabang, it's not hard to get to, especially on a Sunday night—though you do have to find your way to the entrance, which faces its building's indoor parking lot. The food menu is relatively small, allowing for maximum choices for maximum satiety. Their drink selection is extensive by comparison, with many alcoholic beverages—lots of wine, beer, and even their own pale ale—to choose from. Grace and I order sangrias; Fabian asks for Estrella Galicia.
ADVERTISEMENT - CONTINUE READING BELOW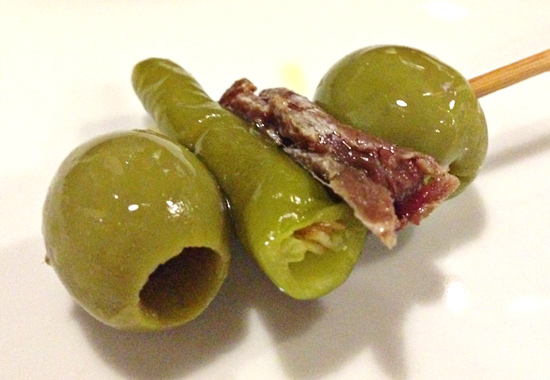 CONTINUE READING BELOW
Recommended Videos
We start with the Gildas (P50/piece) or anchovy, olives, and pickled pepper all skewered together on a cocktail stick (Isn't that so much fancier than saying "toothpick?"). It's salty, but that's an oversimplification. The ingredients are salty in different ways; the anchovy rich in sea flavor and brine, the olives with their distinctly subtle herbaceousness, the pepper with its heat-infused salinity. It's a many-layered starter that sets you up for a night of drinking.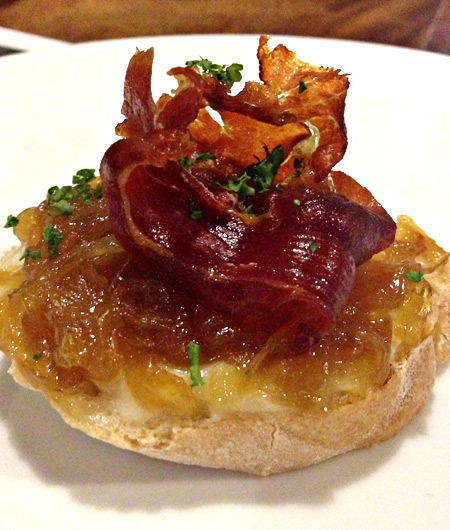 ADVERTISEMENT - CONTINUE READING BELOW
My favorite was the Brie-Cebolla (P90/piece): brie, caramelized onions, and crispy jamon on toast, the ham curled into itself and perched delicately on top, like a ribbon on a birthday gift. This, I could eat every day, the brie and the onions similarly soft in texture, with the onions having slightly more give, their sweetness enhancing the brie's buttery flavor. The ham not only looks like tinsel, it feels like it too; the elaborate (and tasty) icing on an already tasty cake. This is a bad metaphor, unless, like me, you really, really, really like cake.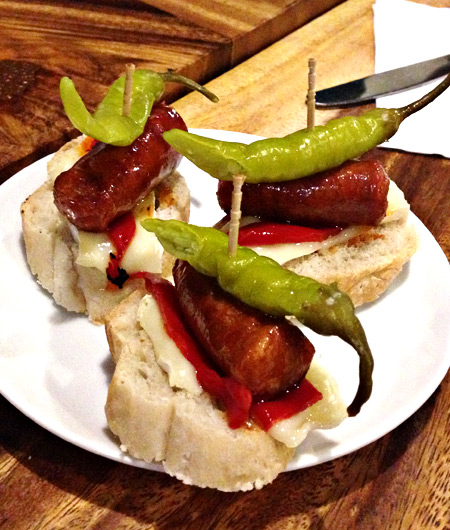 Then comes the Chistorra Queso (P150)—chistorra, cheese, and peppers—the sausage spicy and fatty, its flavors practically melting into that of the cheese, the peppers providing contrast, brightness, and dimension, keeping the rich open-face from becoming one-sided.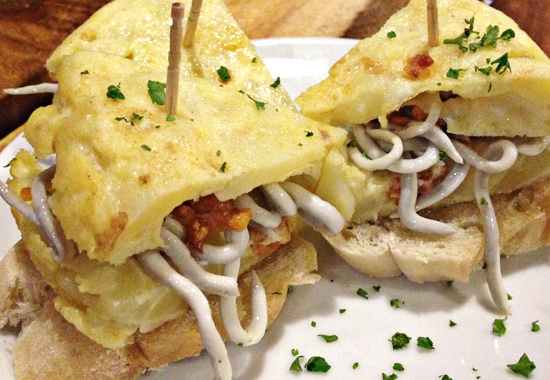 ADVERTISEMENT - CONTINUE READING BELOW
The Tortilla-Gulas (P85/piece) or potato omelette, baby eel, and crunchy garlic is a favorite, the eel looking like a mass of worms trying to escape from between an omelette and some hard bread. The flavors are soft, with a tantalizing texture that beckons you to bite, and bite again.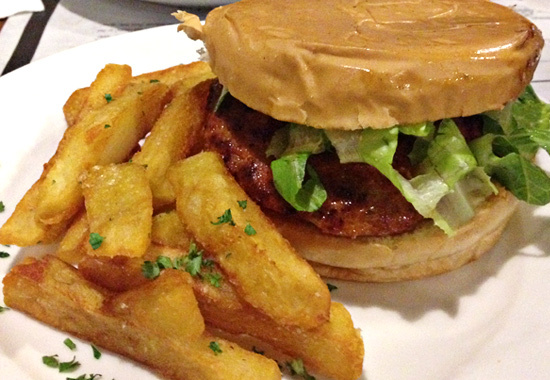 We split the Chorizo Burger (P280), which comes barely dressed with garlic cream cheese and butter lettuce. This almost no-frills burger lets the patty speak for itself. I'm not a fan of chorizo, but my friends, avid eaters both, assure me that it is really, really delicious.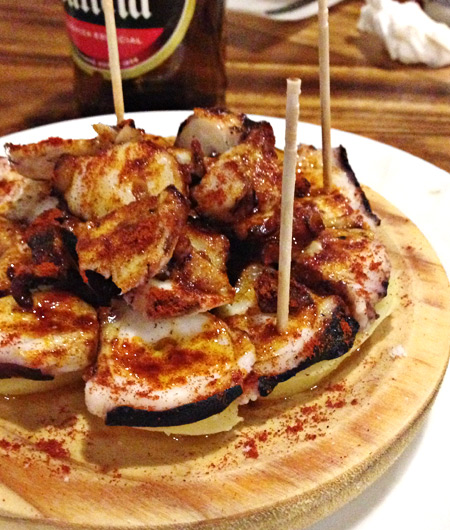 ADVERTISEMENT - CONTINUE READING BELOW
The Pulpo a la Gallega (P490), octopus with potato and pimenton in olive oil, is beautiful in its simplicity, the flavors layered on top of each other, much like the dish's presentation.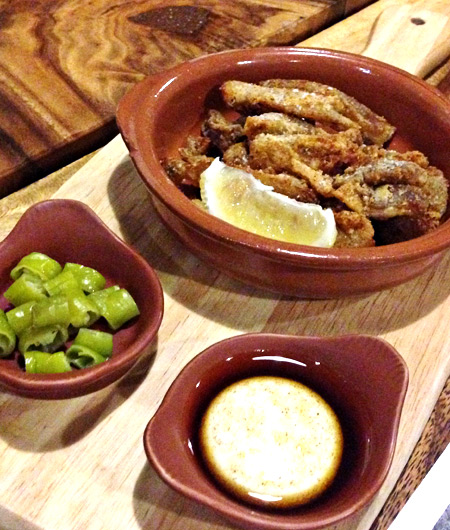 Oreja de Cerdo (P275), or crispy pigs ears, sound painful, but as anyone who loves sisig can guess, tastes great. Squeeze lemon on top and eat with the accompanying peppers and aioli, and you have yourself one of the best tapas, er, pintxos, in town.
There are a lot of families at Bar Pintxos y Mas on any given night, as well as groups of friends, and couples on dates. This can only mean that Bar Pintxos does a good job of pleasing different palates.
Bar Pintxos y Mas is at G/F Gesu Building, Don Jesus Boulevard, Alabang, Muntinlupa City (831-0065); open from 8 a.m. to 9 p.m. (Monday to Thursday) and 8 a.m. to 12 a.m. (Friday to Saturday). Read more about Bar Pintxos y Mas.
ADVERTISEMENT - CONTINUE READING BELOW
Yvette Tan is a lifestyle writer by day, horror writer by night. Pick up her books Waking the Dead and Kaba at select establishments. Find her on Twitter and Instagram (@yvette_tan).
Share this story with your friends!
---
Help us make Spot.ph better!
Take the short survey
Load More Stories