Meet and Eat: Traveling Spoon brings travelers and hosts together over dinner
SPOT.ph blogger Yvette Tan sits down with the founder of Traveling Spoon.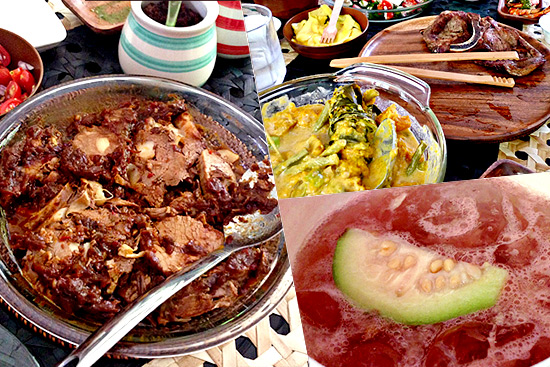 (SPOT.ph) I was invited to a delicious lunch hosted by Isi Laureano of Chili Asylum (more about her in another post) for Traveling Spoon, an international company that links travelers with local hosts who can provide them with an authentic local experience.
The platform, now two years old, has been written about by agencies like CNN and The Huffington Post. The Traveling Spoon was founded by Aashi Vel and Steph Lawrence, who met at the Haas School of Business in 2011. Their company came about over their shared dream of building a community of like-minded travelers who love food, stories, meeting people, and getting off the beaten path.
Isi's Filipino-themed lunch consisted of Ensaladang Pako (Fresh Fiddlehead Fern Salad) with Raw Honey Calamansi Dressing, Inihaw na Baboy (Grilled Porkchops and Belly), Ginataang Kalabasa at Inihaw na Sugpo (Squash Cooked in Coconut Milk with Grilled Prawns), brown rice, and a bunch of Filipino condiments like bagoong and atchara.
ADVERTISEMENT - CONTINUE READING BELOW
Earnest Bakes calamansi pie is deliciously tart. If you like sour but creamy desserts, you'll love this.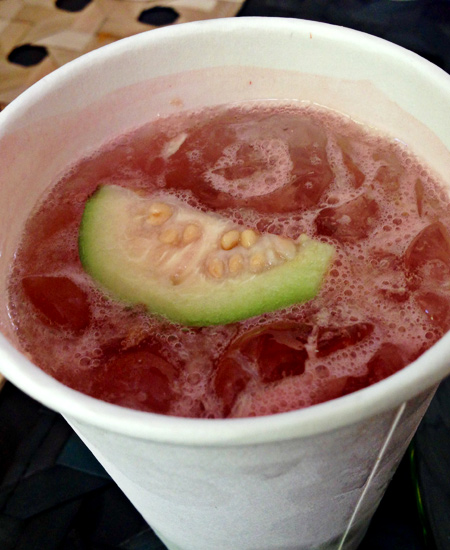 CONTINUE READING BELOW
Recommended Videos
Liquido Maestro concocted a light guava-based punch that kept conversation flowing.

Drinks were provided by Kalel Demetrio of Liquido Maestro, who concocted a santol and coconut water (a.k.a. buko juice) iced tea and a guava punch. For dessert, we had some of Earnest Bakes' calamansi pie (again, more about her in a different post), my favorite dessert.
Afterwards, I sat down with Traveling Spoon co-founder Aashi Vel and asked her about what brought her to our shores.
How long have you been in Manila?
Not long enough. I'm just now realizing how amazing the food is here. I've been here for about five days now; I spent a few nights in Palawan and a few nights in Manila, and I leave tonight, unfortunately.
You should come back.
ADVERTISEMENT - CONTINUE READING BELOW
I would love to! Especially now, just trying out these amazing local regional foods and this new santol fruit cocktail and drink; I'm so enamored by what the Philippines has to offer.
Tell us a bit about Traveling Spoon.
Traveling Spoon is an online platform that connects travelers with really authentic and meaningful cultural food experiences. Travelers can share either a cooking class or a meal and a cooking class with a local host in her home. The goal is to provide meaningful travel experiences because so often, you travel to a country, you stay in a hotel, you eat in a restaurant, you don't meet the locals. You don't know what it's like to try their food and learn about their culinary and cultural traditions. We really want to change travel. We really want to make it more meaningful for people so that when they visit a country, they learn what it feels like to be from there.
What made you start the platform?
My co-founder and I started over two years ago. We met in business school and I started it because I was in Mexico and had a hard time trying to find really authentic Mexican cuisine. Mexican food is amazing, but I had a hard time finding it. One day I was passing this woman's home and she was cooking and I looked through the window and I said, 'That's where I want to be. Cooking and eating and learning about this woman's culture and history. Just hearing her stories and sharing that.' That's why we started Traveling Spoon.
ADVERTISEMENT - CONTINUE READING BELOW
It's why I like to travel. I like to learn from people. I love to not only see what's different about our cultures but also how similar we all are at a very basic level, and to make new friends, to learn new recipes. Another goal is to preserve culinary traditions. So often, kids leave their homes and they're in cities and they don't cook as much, and all of these incredible recipes and food traditions that have been passed down through generations are being lost, so this is one way to keep it alive, to have people share it with the rest of the world and for us to try things that we would never have thought of.
Why the Philippines?
We are in 16 countries in Asia, 35 cities. I've heard that the Philippines is a tropical wonderland and I knew there's got to be amazing food. I'm particularly passionate about showcasing local Filipino cuisine because I feel that in restaurants in the Philippines, you're not able to find really traditional food. You find a lot of dishes which are fantastic, but I don't see much vegetables, I don't see many spices, and I know it's a tropical nation that has all of this hidden somewhere. As I visit people's homes and learn about their grandmothers' recipes, I'm just realizing how incredible the food is and I want to be able to showcase the Filipino culture and the food to the rest of the world.
ADVERTISEMENT - CONTINUE READING BELOW
And what I really loved, in addition to the food, is the people. Everyone is so friendly, so happy, so polite. It's a really hospitable culture and I want to showcase what Asia has to offer and what the Philippines has to offer—in terms of their culture and traditions—to the world. That's why we want to launch, and we will be launching pretty soon.
When do you guys plan to launch in the Philippines?
Once we bring on a few great hosts in Manila, which we're certainly on our way to doing, we'll be launching Manila as a destination in the next few weeks.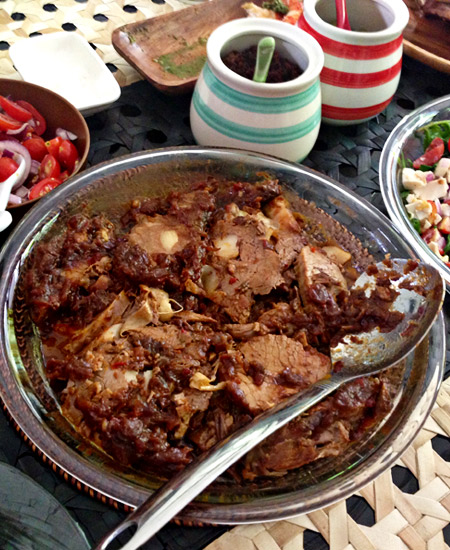 Isi's mechado, the star of the show. I took some home and it was still good, even when cold.
How many people have you met on this trip?
I've met three to four great hosts. One of them is from the north and a couple of them from the Visayas...and what I'm finding out is how different the cuisines are, which I wouldn't have known had I just gone to a restaurant and tried just the food that you normally get.
ADVERTISEMENT - CONTINUE READING BELOW
[One of] my favorites so far has been this dish which was shrimp cooked in crab fat and coconut milk. Sinfully delicious. I could not stop eating it. It was so yummy. And of course you've tried adobo, but adobo is different in everybody's home, and the adobo that you find in someone's home is just incomparable. You just can't find that quality and that flavor in a restaurant.
And today, I met Isi and had a delicious meal. My favorite dish was the mechado: just the richness of flavor, the caramelization of the onions, the tomatoes—delicious. I don't even eat beef, but I tried that gravy and I could not stop. It was delicious. And it was really fun to meel Kalel. He has such a vibrant personality and his drinks are reflective of that, being able to combine all these different flavors and fruits that I've never heard of. I'd never heard of santol before I tried it in the drink and it's got such a heady, beautiful perfume.
How do travelers and hosts benefit from the experience?
I can't be happier with what I'm doing because it allows me to connect [with different] types of people: We have travelers on one side, to give them a really authentic, meaningful experience, and also our hosts on the other side, giving them the opportunity to make money doing what they love—cooking, feeding people, seeing the happiness on those faces when they eat their food.
Like I was saying earlier, our hosts want to be hosts because they want to share their culture, they want to practice their English, they want to meet people from around the world, they want to show off their cooking skills. It is so fun to be in the center of all of this, connecting travelers and hosts. And the reviews we've gotten from our travelers make everything so worthwhile. We've gotten travelers who've said that they spent three weeks in Southeast Asia and the Traveling Spoon experience was the highlight of their trip.
ADVERTISEMENT - CONTINUE READING BELOW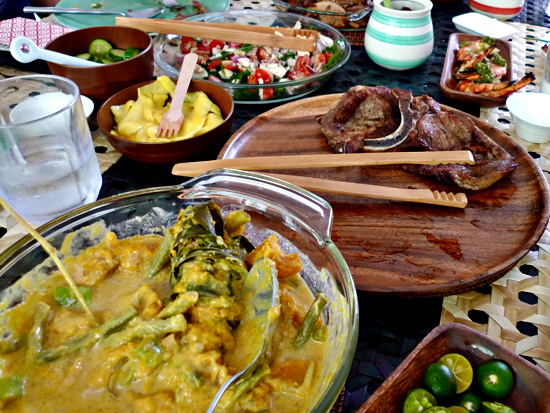 A Filipino feast
How can people who want to become hosts join?
We find the best home cooks around the world and we are looking for people who are warm and hospitable and looking to share their culture and their culinary traditions. If you're someone who thinks of yourself as a cultural ambassador of your region or country, we would love to have you on our platform.
You can go to our website travelingspoon.com and you can apply to become a host. You fill out a little form about who you are, where you're from, and why you're passionate about food, and we will have a Skype interview about your background and your passion.
One-hundred percent of our hosts have been personally vetted by a member of our team. When it's convenient for you, we'll set up a time to test the food, eat the food, meet you, and learn a little bit more about where you live and what kind of food you serve. It's a stringent sort of vetting requirement and if you pass that, then we invite you on board to become a partner.
ADVERTISEMENT - CONTINUE READING BELOW
What have you learned from working on Traveling Spoon?
One of the biggest things is what a catalyst food is in getting people to share their lives and their histories. Food is a natural icebreaker; you can connect with anybody no matter what their language or cultural differences, over food. And that's what I've learned: You can make the world a smaller place just by offering these food experiences because people can connect with each other and learn from each other.
We also learned a lot about managing expectations and making sure that how we describe a host is really important to the traveler, so they understand whether they want to try northern cuisine or southern cuisine. We [talk] in detail about who our hosts are and what kind cuisine they serve, and that's why we vet every single host—not only to make sure that they have an amazing experience, but it's a human experience. We want to make the right connections.
I've learned that it's always amazing to follow your passion. I've always been passionate about food and travel, and I could not be happier with my career, being able to build these connections in the world.
Yvette Tan is a lifestyle writer by day, horror writer by night. Pick up her books Waking the Dead and Kaba at select establishments. Find her on Twitter and Instagram (@yvette_tan).
Share this story with your friends!
---
Help us make Spot.ph better!
Take the short survey
Load More Stories