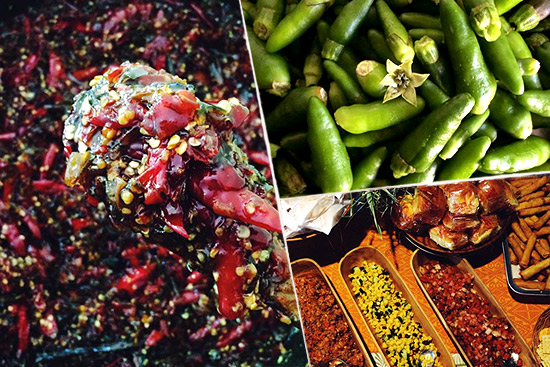 (SPOT.ph) I met Isi Laureano while I was writing for a cooking show that aired on cable TV. She was supposed to be our food consultant. We kept in touch even though she had to back out from the project, and I'm glad we did because aside from being a wonderful person, Isi is an awesome cook. She runs a home-based business and also participates in bazaars. Her vegetarian chili is a regular in my freezer, and her chili chutney is always part of my stable of condiments. I recently tried her mechado, and it is insanely delicious. I don't like mechado, but I salivate at the thought of this. It's that insane. I realize that I've been selfish, keeping this source of good food to myself, so I thought I'd share it with you. After all, friends share food.
What have you been up to lately?

As of summer 2015, Chili Asylum has been very busy with bazaars and events. I also participated in the second Annual Chili Festival; that gave me more connections to farmers and enthusiasts.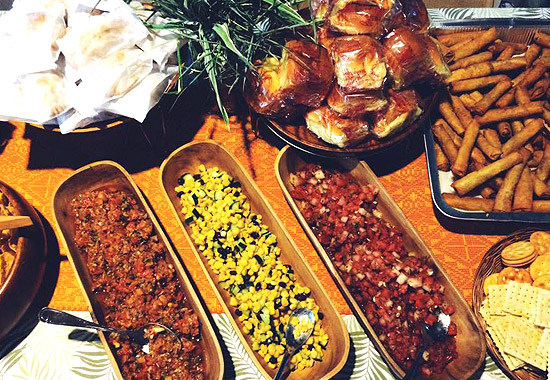 ADVERTISEMENT - CONTINUE READING BELOW
A Chili Asylum spread
Please tell us a bit about Chili Asylum.
Chili Asylum was an idea that developed because of my friends who hang out in our home. I usually cook a meal where chili con carne or salsas are present, because it's everybody's favorite. I started making more types of chili dishes and they were always a hit. I started selling it through friends and bringing it to family gatherings. My cousin told me he remembered me when he went to this store in California called Taco Asylum, and said that I should call myself Chili Asylum.
Chili Asylum is home based. I purchase my own ingredients from different local sources, I am purist in the things I use. I am particular and I always do it on my own. My uncle, who is a great cook, inspired me to develop more products—I also offer pickled peppers, chili chutney, and pineapple habanero jam. I love pickling and fermenting to make unique products out of local peppers. I am not fond of imported stuff. I didn't want to make a hot sauce, because everybody's doing it, but maybe soon I will.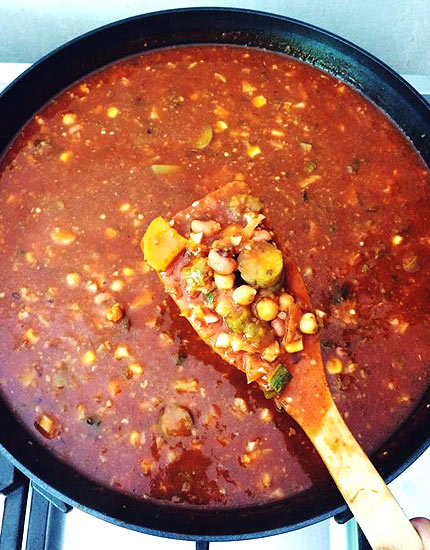 Isi's vegetarian chili
What are your bestsellers?
My vegetarian chili and corned beef chili—I make sure I make my own corned beef, I am not fond of the canned ones. My watermelon salsa was first used as a side dish for a friend's grilled salmon dish and became an instant hit. The chili chutney was a happy accident in my kitchen, when I over boiled some pickled peppers and saw how its natural sugars turned my peppers translucent. I added my uncle's raw honey from his bee farm in Iloilo, and now it's one of the more unique products on my list. It is an alternative to the sweet chili sauce you see from grocery stores. I also have pickled peppers, which are just our local green chilis (pangsigang) that are mistaken always for jalapeños. They are great alternative for imported canned jalapeños. All my products are all natural, I don't use chemicals or the like.
How did you get into the bazaar scene?
I got into the bazaar scene when Yummy magazine invited me to participate in Yummy Eats. It was a successful event, and since then, I have been invited to most bazaars in Manila. I choose the best ones and have found more clients and connections through them.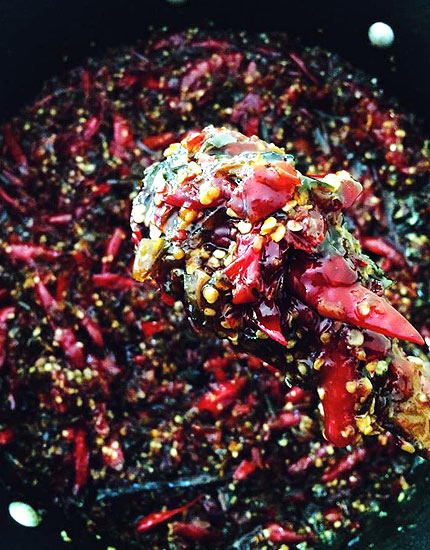 ADVERTISEMENT - CONTINUE READING BELOW
Chili chutney, up close and personal
As a vendor, what for you makes a successful bazaar?
I think a successful bazaar will happen when you organize it very well, take care of the vendors—marketing them well is the best thing they can do for us. Also, it would be nice if they curated the vendors, say, a bazaar full of home-based businesses.
What do you love most about catering?
I only cater to small art galleries. I started at Secret Fresh Gallery because of Jason Moss' exhibit last year. They have been booking me ever since. I also did a couple art galleries recently. It's been fun to see a lot of people liking cocktail food that I make from my home kitchen. It's also much more favorable because I can also showcase my other creations to the public.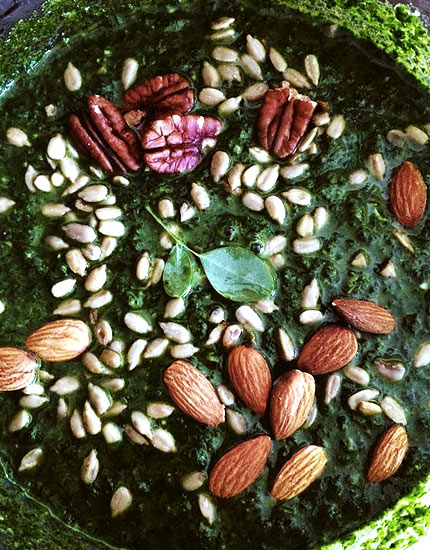 The beginnings of pesto
Please tell us about Seven Spice Shop. What is it, what spices do you offer, and how can people buy from you?
Seven Spice Shop really is my first home-based business. I've been doing it for more than 10 years now. My aunt was my gateway to get spices in other countries because she travels often. I handle a lot of whole spices that you don't really see in the grocery stores or market. Since the boom of the culinary scene, a lot of culinary students don't know where to purchase their spice ingredients. I started selling and posting online via Multiply, and even home makers and home cooks started to get from me.
I do not have a minimum; people can buy even just one tablespoon of a spice. I have a list of spices on my Facebook page. Many get cardamom, mace, fennel seeds, and mustard seeds from me. I also make spice mixes for other clients.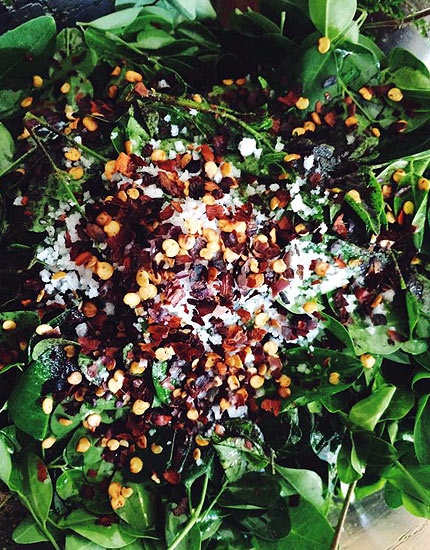 ADVERTISEMENT - CONTINUE READING BELOW
The beginnings of chimichurri
What item are you proudest of and why?

I think one item I am really proud of is our family recipe of mechado. It's my uncle's recipe. Each time I serve it, people forget their names. Some say it is life-changing. It really is one of our family's best-kept secret recipes.
I am also proud to say that I have made some mark in Manila's chili pepper community. I would love to collaborate more with other chili pepper farmers and map out the peppers in the Philippines. I've collaborated with Amy Besa (of Purple Yam), with the Department of Agriculture, and with the best people in the farm business. I am proud to say that all my products are all local, homegrown, and homemade.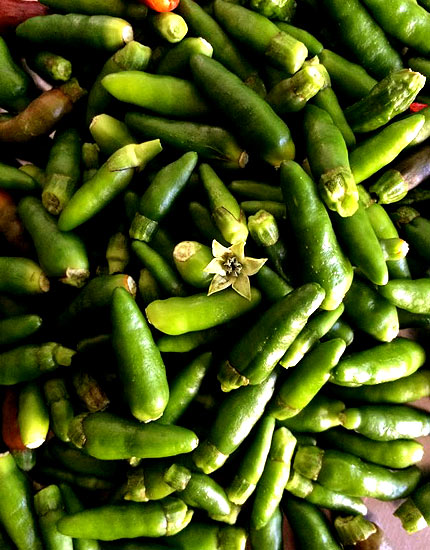 Bird's eye chili pepper, or siling labuyo from Isi's garden
What are your plans for the coming holiday season? Will you be in any bazaars this last few months of 2015? If so, where?

I have been part of Steady Sunday Bazaaro in Tomato Kick, Malingap Street, Teachers Village, Quezon City that happens every second and last Sunday of the month. I will be showing up in some more catering events of Secret Fresh and other events around the Metro. I will also be partnering with restaurants who would be using my products (fresh to pickled ones) in their dishes.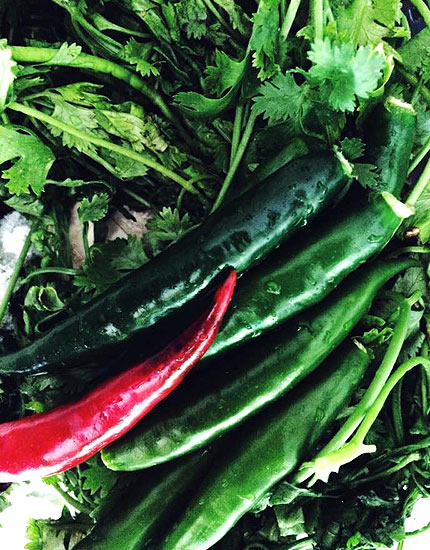 Fresh peppers
How can readers buy your goods?

They can message me on my Facebook page or contact me at 0919-818-1220. They can also go to Steady Sunday Bazaaro. I post about most event updates on Instagram (@isipanini) so they can follow me there.
Yvette Tan is a lifestyle writer by day, horror writer by night. Pick up her books Waking the Dead and Kaba at select establishments. Find her on Twitter and Instagram (@yvette_tan).
ADVERTISEMENT - CONTINUE READING BELOW
Share this story with your friends!
---
Help us make Spot.ph better!
Take the short survey
More Videos You Can Watch
Load More Stories