Earnest Bakes makes baked goods that let Pinoy ingredients shine
SPOT.ph blogger Yvette Tan loves a good dessert that brings local to the fore.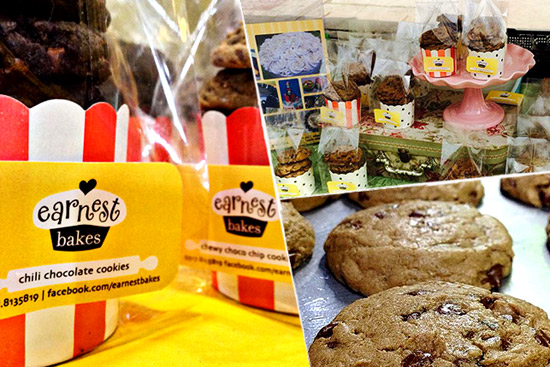 (SPOT.ph) If you ask me what my favorite local dessert is, I would tell you that it is calamansi pie; specifically, the one from Earnest Bakes. I don't remember when I first tried Earnest Zabala's sweet treat, only that from then on, I was hooked. It's tart—incredibly tart—by Pinoy standards, and that's exactly what I love about it. It's a delicious balance between subtly sweet and face-cringing sourness. I usually pair it with a cup of hot black coffee and try to limit my eating to after meals, but of course, I fail miserably. A whole pie never lasts longer than a couple of days in our household. Literally a couple of days. I counted. Slowly, I began to discover her other baked goods, as well. She makes a mean chili chocolate chip cookie, and her tres leches cake is something to write home about. But it's the calamansi pie that fills my dreams and keeps me up at night. If you like tart desserts, try it and you'll understand why.
How did Earnest Bakes begin?
It wasn't until my third year or so of sporadic baking that I started giving out some of my baked goodies as gifts. A couple of friends encouraged me to start selling them, but it was only a few years ago (and after much convincing from my dear husband) that I really took on the challenge.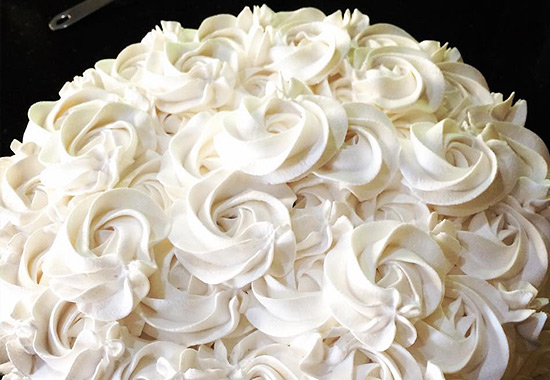 ADVERTISEMENT - CONTINUE READING BELOW
Tres Leches Cake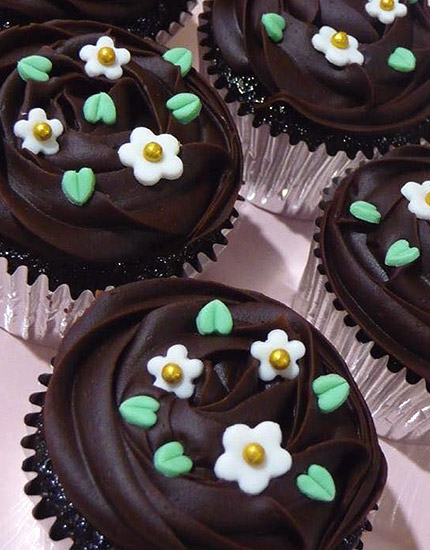 CONTINUE READING BELOW
Recommended Videos
Choco Chocnut Cupcakes dressed up for an event
What are your bestsellers?
Calamansi Pie, definitely! The calamansi pie came about when a friend asked me to come up with a local version of a key lime pie. She was supposed to open a café somewhere in hip Cubao and she wanted me to be her dessert supplier. I think it was around this time when I started thinking of baking stuff that have Pinoy ingredients in it.
A close second is my Choco Chocnut Cupcakes with chocolate ganache frosting. I just love the idea of a "buried" Chocnut amid all that chocolate goodness.
The third bestseller would be the Tres Leches Cake, which is a light cake soaked in three kinds of milk and topped with cream. A friend, after one bite, exclaimed, "It's like I'm a kid again." I guess it's all that milky goodness.
ADVERTISEMENT - CONTINUE READING BELOW
Another constant is the custom cakes which I make in partnership with Jovan de Ocampo, who does the fondant décor. Not surprisingly (as we are geeks ourselves), many of our collaborative cake projects center on the more geeky themes such as Game of Thrones, Doctor Who, and Star Wars.
How did you get into the bazaar scene?
My first foray into the bazaar scene was via the massive Maginhawa FoodFest, which happened last year, October 2014. Prior to that, I used to be a saling-pusa in my friend's food stall in Eastwood, but I was just getting [off] my feet then, so to speak.
It was during the Maginhawa FoodFest when I first experienced the joy of seeing people (not just friends and family) enjoying my baked goodies. It was such a great feeling. I was smiling the whole time, I think. Of course, it helped, too that I was sold out that day. Then again, everyone was sold out that day, haha!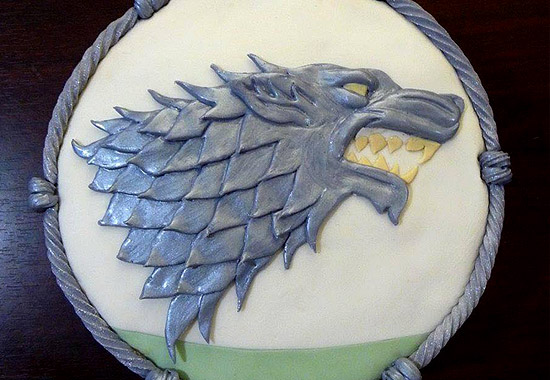 ADVERTISEMENT - CONTINUE READING BELOW
Game of Thrones-themed cake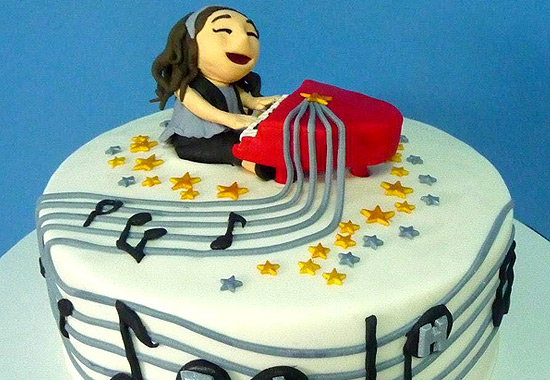 Singer Isha as a Peanuts character. This was her birthday cake last year.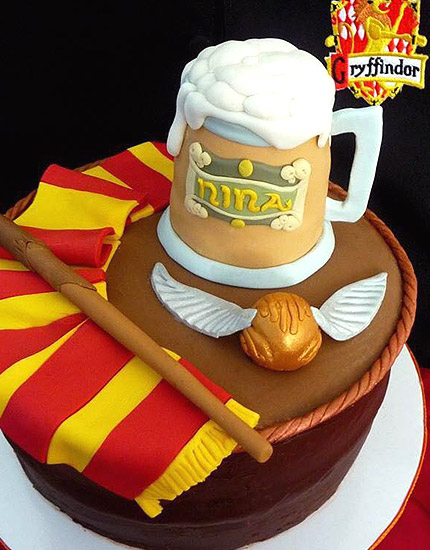 Harry Potter-themed cake (all cake decor by Jovan de Ocampo)
As a vendor, what for you makes a successful bazaar?
For me, a successful bazaar is where I am able to forge a connection with many people through the baked goodies that I serve. Whether it's sampling the stuff I have or coming back for seconds, there's something to be said about folks letting you be part of their precious family weekends. I deeply appreciate that. One of my private joys during bazaars is seeing someone come back for another serving of Calamansi Pie (or cookies). I get giddy when that happens.
ADVERTISEMENT - CONTINUE READING BELOW
I think a bazaar also succeeds when it finds a way to create a sense of community among its food concessionaires. It's something I learned from JJ Yulo of Pinoy Eats World when I was invited for Manly Eats at the Podium. He really fostered this kind of camaraderie among all purveyors. As my first major outing, that really left an indelible mark.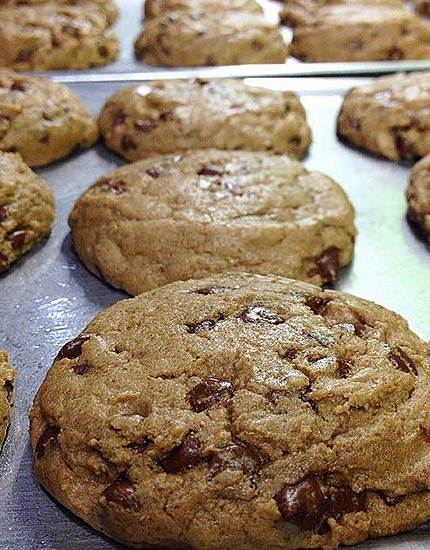 Chocolate Chip Cookies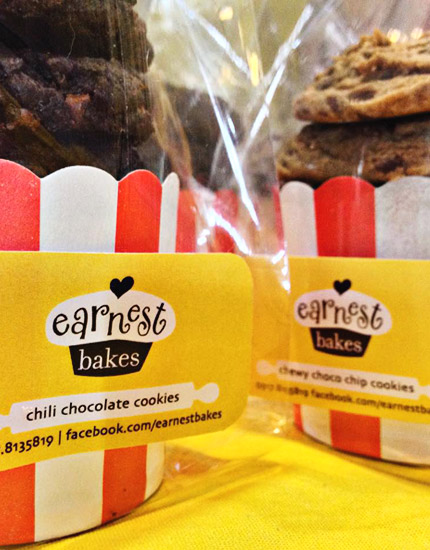 ADVERTISEMENT - CONTINUE READING BELOW
Packed cookies
What do you love most about baking?
It's the fact that something delicious and happiness-instilling comes out of seemingly common ingredients. I salute the men and women who first thought and perfected the act of putting butter, flour, and eggs together to come up with lovely treats. What sorcery!
I've always liked working with my hands. I am constantly amazed at how, at the end of a process that involves measuring flour, creaming sugar and butter, and generally pouring and mixing stuff, you open your oven and out comes a cake or a batch of cookies where before, there was only batter or dough. "Of course, you need to be precise," I can still hear Heny Sison good-naturedly intone that Saturday morning.
I also like frosting cakes and I am happy to note that I have improved considerably since the first time I picked up a frosting bag and attached a frosting tip to it.
What item are you proudest of and why?
I guess it would be my Calamansi Pie, mainly because of the way people respond to it: how their faces light up when they first taste it, as if they can't believe how something as tart as our own calamansi (normally a soy sauce partner) could be the highlight of a sweet treat. It has also opened doors for me. Through it, I met some really great people in the food industry.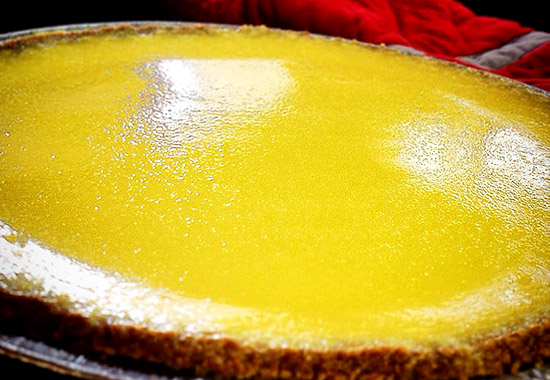 ADVERTISEMENT - CONTINUE READING BELOW
Calamansi Pie
What are your plans for the coming holiday season?
The holiday season is really the busiest and I am normally tied to my oven for hours on end. I am, once again, trying to come up with a holiday-themed product (I hope I'm successful this time). Although, past experiences have shown that what's normally ordered are our year-round treats like Calamansi Pie, Choco Chocnut Cupcakes, Rhum Cakes, and chewy chocolate chip cookies.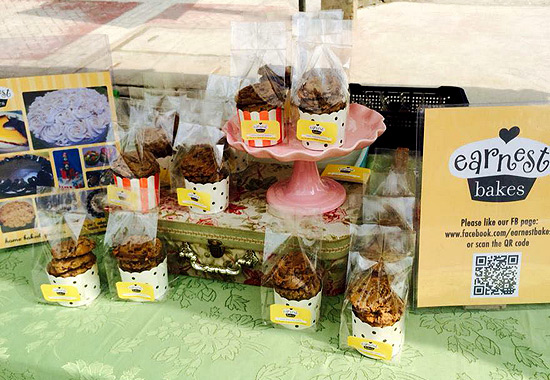 Earnest Bakes at a bazaar
How can readers find your goods?
For now, Earnest Bakes will be a regular at the Steady Sunday Bazaaro at Tomato Kick, Malingap Street, Teachers Village, Quezon City. This happens every second and last Sunday of each month from 12 p.m. to 6 p.m. We usually announce all bazaar outings via our Facebook page and on our Instagram account (@earnestbakes). Inquiries may also be coursed through this number: 0917-813-5819.
ADVERTISEMENT - CONTINUE READING BELOW
Yvette Tan is a lifestyle writer by day, horror writer by night. Pick up her books Waking the Dead and Kaba at select establishments. Find her on Twitter and Instagram (@yvette_tan).
Share this story with your friends!
---
Help us make Spot.ph better!
Take the short survey
Load More Stories