Crust and Crumb: From Photographer to Panadero
SPOT.ph blogger Yvette Tan chronicles the dual life of Aldwin Aspillera.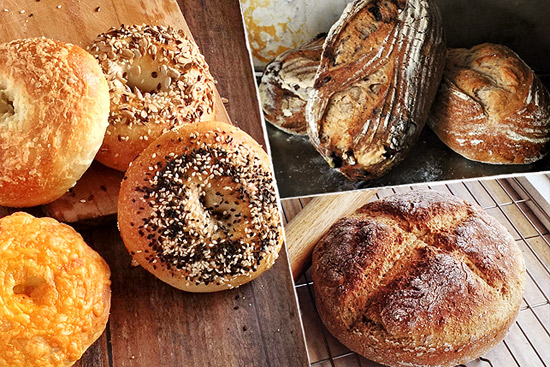 (SPOT.ph) Before he was a baker, Aldwin Aspillera was one of the top magazine photographers in the country (look at his photos for SPOT.ph). He still is, but ever since temporarily dropping everything to pursue another one of his passions, he has been juggling both photography and baking—and excelling at both. If you ask people where to get good rye bread, someone will invariably say, "Crust and Crumb." I asked Aldwin about his journey as a photographer and a baker, and why embracing both makes him happy.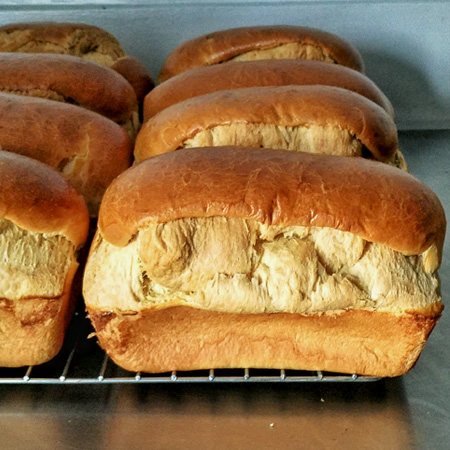 Makes you wish for breakfast
How are you and what are you up to nowadays?
I'm good. Kind of tired, but good. I'm still trying to figure out how to juggle two businesses while keeping sane.
How did you get into baking? Do you remember specifically what piqued your interest in the craft and when you fell in love with the process?
ADVERTISEMENT - CONTINUE READING BELOW
I've always been interested in the kitchen ever since I was young. My parents had a restaurant and my tita had a panaderia. I literally grew up in the kitchen. So, naturally, I wanted to be involved in the culinary profession since I was a kid. That dream was only sidetracked when I graduated from high school. I wanted to go to culinary school but there weren't any good culinary schools back in the day and studying abroad wasn't financially viable.
Fast forward a few years later, I've already found stability (or a semblance of it) in my photography career and finally I could afford to send myself to culinary school. I was supposed to take a Saturday-only class in Global Academy, but I somehow wound up in a Fundamentals of Baking and Pastry class by Chef Junjun De Guzman in Center for Asian Culinary Studies. That's where I really got the feel of being a baker.
CONTINUE READING BELOW
Recommended Videos
I remember liking the degree of control I had with baking. That was what made me like baking in the first place, but it was the sense of fulfillment that I got when I started to bake for family and friends that made me fall in love with it. There is something really magical about being able to bake a birthday cake for your nephews and watch them be amazed that their cake was made by their own tito.
How long were you a photographer before you decided to become a baker?
ADVERTISEMENT - CONTINUE READING BELOW
I started taking pictures in 1998 and started baking 2011. I'm still a photographer, but I screen my projects these days. It's really hard to juggle two very demanding jobs and still come out sane. That's why I made a conscious effort to be more efficient in accepting shooting jobs.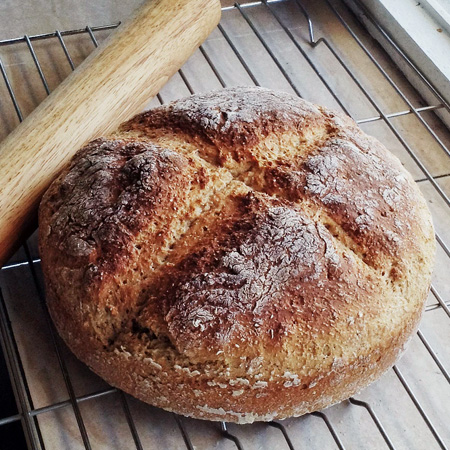 Rustic bread made fresh
Is there a special reason behind the name Crust and Crumb?
None really. Me and my partner, Mich Demavivas, just thought that it sounded good. And for bread bakers, a good crust and a good crumb are always good signs of a good loaf of bread.
Why did you decide to concentrate on bread? How did you decide on which kinds you were going to provide?
When I started baking I was actually concentrating more on cupcakes, cookies, and cakes. Then I realized there were already a hundred other bakers who were selling cupcakes, cookies, and cakes. Most of them were really good. So I figured, why not find something else that's relatively less saturated and something that I've always loved since I was a kid? It was bread.
ADVERTISEMENT - CONTINUE READING BELOW
Our bread list is actually still evolving up to now, but we started with bread that I've always liked. Our product list is actually just bread that I love. We've gotten rid of some and added others, just to evolve with the demands of the market. The bottomline is, it doesn&rsquo>t make our menu if it's something that I don't like eating in the first place.
Was it hard to get people to try your stuff? What are some of the crowd favorites?
Yes and no. With social media it's so easy to post a photo of something that I baked on IG and get comments of where they could get the stuff. So, in a way, it's easy to ask someone to try your products just as long as you have it posted on FB or IG. On the other hand, recently we've been encountering a lot of the anti-carb/anti-gluten contingent. It's really hard to convince them that bread is not bad for you. Of course they would say otherwise.
Some of our crowd favorites are the Spanish Bread, pan de sal, Cheese Pullapart Loaf, Chococinnamon Loaf, brioche buns, and squid ink buns.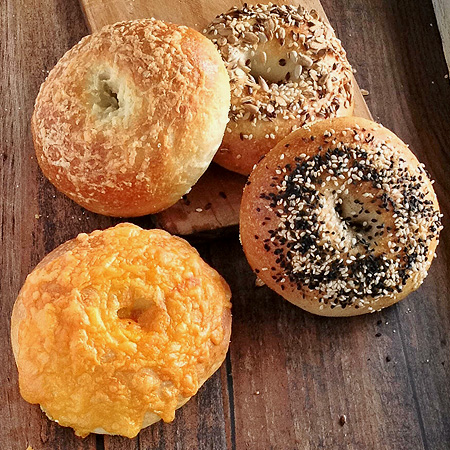 ADVERTISEMENT - CONTINUE READING BELOW
Bagels topped with different yummy things
Which breads are you proudest of?
I'm really proud of our Cheese Pullapart Loaf. It was just something I played around with in the kitchen. It has undergone a lot of changes through the years, each evolution becoming better than the previous one.
Why did you decide on a delivery service in conjunction with your booths in bazaars?
Because we believe that everything should be baked fresh. We're not like other bakeries who make a lot of bread and try to sell everything within the day. We've always baked to order. Since we can't afford a retail space as of yet, we decided to just do delivery.
How do you balance baking and photography?
With a lot of prayer. Hahahaha! Seriously. It's been crazy so far. First thing I had to do was to learn how to delegate my work. As a photographer, I've always been used to doing things on my own. But with the bakery, I had to learn that I can't do it all by myself and expect to still be alive by the end of it all. So first of all, I had to train a couple of bakers. Then, as I've said, I made a conscious effort to streamline my photography work. In other words, I had to learn how to work smarter. Produce the same output while putting in less work. I'm still trying to get the hang of it but I'm getting there.
Tell us an amusing customer story that involves your bread.
ADVERTISEMENT - CONTINUE READING BELOW
I have a cute story but it involves my Pineapple Upside Down Cake. I remember getting a Facebook message from someone in San Juan asking if he could order the cake. I made one and delivered it to their home. When I got to the house, I was met by a little boy and his two other little siblings. They were all giddy and excited, as if they were up to no good. When they handed me their payment, it was all in small bills and coins. Their yaya told me that the kids have been saving up their allowance so they could buy their parents a cake because it was their anniversary. I wanted to comp them the cake but I knew that it would negate their perceived value of the cake that they worked hard for. So, I ended up just waving the delivery fee. Hahahaha!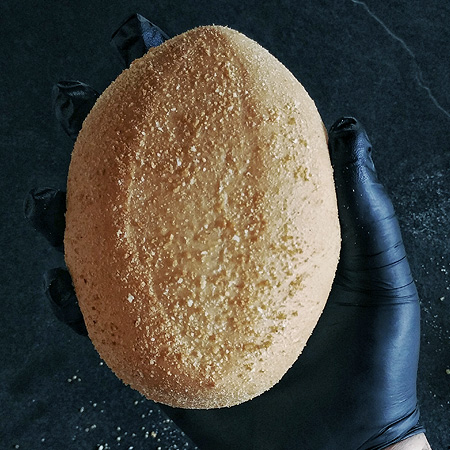 Pan de sal larger than the palm of your hand
ADVERTISEMENT - CONTINUE READING BELOW
What do you love about being a baker?
I tell you, there's something really special about waking up in the morning and having freshly baked pan de sal out of your own oven. I guess it's the thrill of being able to make the bread that you eat on your own and not buying it from the supermarket or the neighborhood panaderia. Plus, as I've said, if you have hungry little nephews roaming around the house, it's always handy to have a batch of freshly baked cookies to keep them happy.
Aside from the delivery service, where can we find Crust and Crumb? Any bazaars or weekend markets?
Actually, for this year, we decided to rest from the bazaars first. We've recently shifted to supplying restaurants and cafes with their bread needs. Our list of clients is growing and we wanted to focus on this first. Right now, we operate out of my house. Our dream is to be able to afford to get our own place and open up a retail space somewhere in Makati or even Alabang.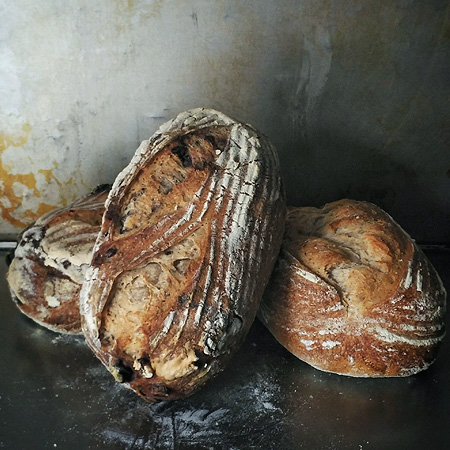 ADVERTISEMENT - CONTINUE READING BELOW
Now there's no excuse to not have fresh bread.
What can we look forward to from Crust and Crumb this latter half of 2015?
For this year, as I've said, we're lying low a little in terms of retail. We're going to focus first on our supplying and hopefully, hopefully open up our own little retail store in 2016.
For updates and information on Crust and Crumb, visit their Facebook page.
Yvette Tan is a lifestyle writer by day, horror writer by night. Pick up her books Waking the Dead and Kaba at select establishments. Find her on Twitter and Instagram (@yvette_tan).
Share this story with your friends!
---
Help us make Spot.ph better!
Take the short survey
Load More Stories